Recently I got the chance to dream of Italy while reviewing the Tim Hortons Extreme Italian Sandwich. The sandwich was originally introduced as a limited-time special, but it was so popular that the company decided to offer it as a permanent lunch item! My boys both loved this flavourful sandwich and I loved introducing them to some fresh new flavours.
But Tim Hortons wanted to know what you thought of the Extreme Italian Sandwich too, so the company provided ten of my readers with a $10 gift card so that they could give it a try and share their thoughts. The reviews are in and here's what readers had to say!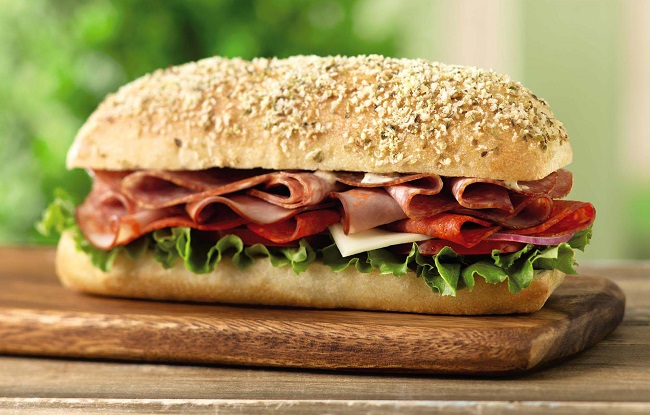 The toasted parmesan herb bun was crusty on the outside, yet soft & moist on the inside with lots of flavour. The abundant layers of ham, capicollo, genoa salami, & pepperoni were very fresh and extremely tasty all melded together. The mozzarella cheese, shredded lettuce, tomatoes, & creamy sundried tomato sauce truly enhanced the delightful taste of all of the ingredients, to ensure that the sandwich is moist and bursting with a bold zesty essence. We will highly recommend it to all of our friends and family to try. ~Roseanne R.
I split the sandwich with my daughter and half a sandwich was more than enough. It was very filling. I actually would have preferred a little less meat. That's something I don't think I have ever had to say before! The sauce was great. I would definitely buy it to use at home if it was available. The bun was a little disappointing. We were hoping for a bit more flavour. We didn't find it that much different from their regular buns. Overall though, we both enjoyed it. It has lots of taste and is such a nice change from the same old thing. ~Lori J.
First off, it was a good sized sandwich. The sundried tomato cream sauce and meat were very good, but I couldn't really taste the cheese on it. The bun was good but it was really disappointing that almost all of the herbs fell off of it. One really big drawback was the fact that there were onions on it. I really hate onions and there was no description at all of the sandwich and I had no idea they were included, unfortunately. For the price point, I don't think I would get it again. ~Haylie L.
If I could do Tim Horton food reviews all the time this would be my heaven. Let me wipe the drool from the corner of my mouth before I begin. The Extreme Italian Sandwich is delicious, the flavours from the different meats, the freshness of the bread, the mouth watering sauce!My tummy says thank you Tim Hortons, thank you. ~ Chandra C.
I LOVE the Tim Horton's Italian sandwich!!! The best way I found to have it is toasted. It gives the bread the right amount of crunch. I was also impressed with how much ham capicollo, genoa salami, pepperoni are on the sandwich. They didn't skimp on the meat! I love the taste of the sundried tomato sauce as well.. so yummy! I did find that there was a little too much parmesan on the bun for me. I would definitely be getting this sandwich again, and again. And at $4.99 you can't go wrong. Such a great deal!! ~Melanie B.
The package/wrapping said grilled but it was not. The bun was fresh and so was the meat, cheese, red onion and tomato. There was ample meat 4 slices of salami, pepperoni and ham to be exact. The only sauce was on the top of the bun and it was so small that we could not taste it at all. I added mayonnaise to the top and bottom as well as a bit between the 12 slices of meat. This improved it to a degree. The bun was soft and had a nice flavour and texture but the sandwich just tasted like a meat sandwich with no real EXTREME or ITALIAN flavouring. I was expecting an Italian type sauce (oil, vinegar, seasoning) In all honesty I give this a thumbs down. ~Jo-Anne P.
First impressions: there's quite a bit of meat put into this. The fixings were pretty much as described; it's all there. As for the quality of the fixings: they were really fresh. So fresh that the sliced tomatoes still had that tomato juice thing (you know it if you've ever cut a tomato). Thankfully, it doesn't make the sandwich soggy. But what it does lead to is some dripping of tomato juice/water and *maybe* some of the sauce down the end of sandwich. So make sure to eat the sandwich over something you won't mind getting messy (like the sheet the sandwich comes wrapped in). Now for the taste: I loved it. The meats they chose were good in both taste and in the fact that they all fit neatly on the bun. I also loved the sauce. Sometimes a plainer (in flavour) sauce will disappear under seasoned meats like the ham capicollo, genoa salami, and pepperoni of this sandwich. But the creamy sundried tomato sauce didn't. So I was able to taste and enjoy everything. I can't imagine anything wrong with the sandwich. There are similarly sized sandwiches that are cheaper, but not that much. Here, you get a wonderful selection and arrangement of meats and sauce on a lovely Parmesan bun. And priced at $4.99, it is hard to beat this kind of value. ~Zoey J.
Thanks so much to my fabulous reader review team for their honest and thorough reviews, and a huge congratulations to Roseanne R, who was randomly selected to receive a $25 Tim Hortons gift card. With five out of seven rave reviews, it seems like the Tim Hortons Extreme Italian Sandwich is a pretty good bet for anyone that loves bold Italian flavours. Just make sure that your Tim Hortons puts on plenty of that tasty sundried tomato sauce!