Candles are something that I loved when I was living alone in my twenties, but after I had children, I stopped using them for quite a while. I worried about my toddlers bumping into furniture containing lit candles and I decided that for the time being, candles just weren't worth the risk.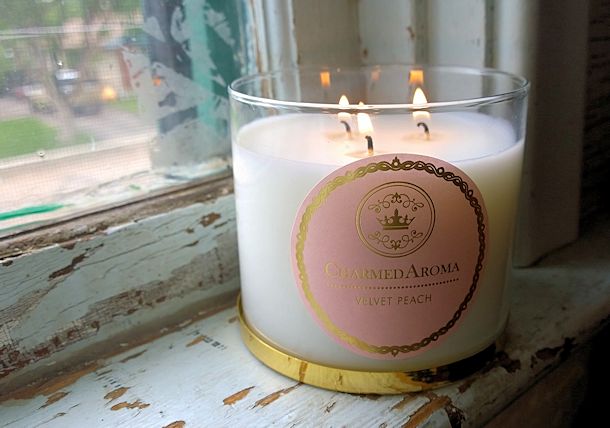 Now my boys are older and the peaceful light and scent of a lit candle is something that I can enjoy once again. And Charmed Aroma recently sent me one of its innovative candles to help me "rekindle" my candle love. These candles come in a wide array of great scents and each one features a piece of jewellery worth between $10 and $5000!
I received the Velvet Peach candle to review and the scent was absolutely heavenly. I tend to favour fruit scents over floral ones, so I was happy that I had received a candle with a scent I would enjoy. The candles feature three wicks that help intensify the aroma when the candle is burning. And after a few hours, the gold foil package inside reveals itself so that it can be carefully removed with a pair of tweezers!
Charmed Aroma wants to let you experience its candles for yourself, so the company is very generously offering one lucky Mommy Kat and Kids reader their own Charmed Aroma candle, a $25 value! To enter to win, just take a look at the Charmed Aroma candles and leave a blog comment about which candle scent you think would be your favourite.
Since these candles combine two gifts in one, they're a fabulous choice for gift-giving as well as for treating yourself to something special. Get one for someone you love or pick a favourite scent and see whether you're rewarded with a sweet charm bracelet, a pretty chain or maybe even a gorgeous ring worth $5000!