I am a huge fan of organic chocolate and for years now, my all-time favourite brand has been Green & Black's.
From simple white, milk and dark chocolate varieties to exotic choices featuring sea salt, toffee and ginger, every Green & Black's Organic chocolate bar I've tried has featured a rich, distinctive flavour that's simply irresistible. And while I love snacking on one of these decadent bars, I love cooking with them just as much!
Last spring I used Green & Black's Organic dark chocolate to create a light and delicious Dark Chocolate Orange Raspberry Tiramisu, and it was definitely a popular recipe.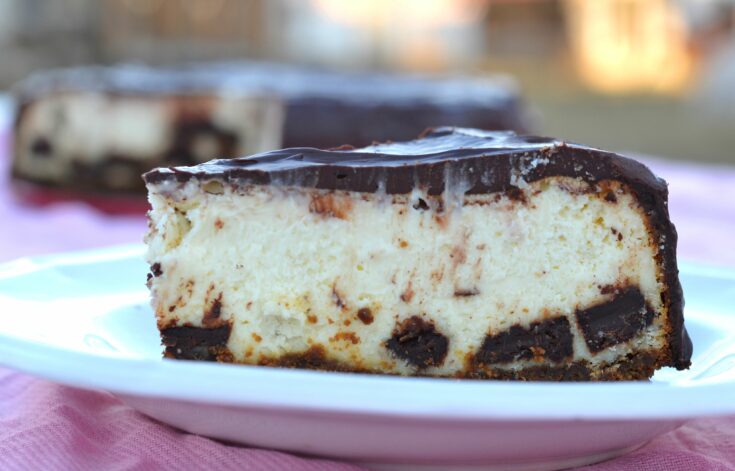 But this year I wanted to create something a little more decadent and so I decided that it was time to add my beloved Green & Black's Organic chocolate to one of my other all-time favourite foods…cheesecake!
To liven up the dessert a little, I chose Green & Blacks' Organic Ginger Dark Chocolate and paired it with a gingersnap crumb crust and a dark chocolate glaze for a dessert that was sweet, spicy and totally irresistible.
I think my favourite thing about this recipe was the way the cool, creamy ginger cheesecake filling paired so well with the dark, spicy chocolate. In fact, with the ginger flavour, it would be a great choice for the holidays as well.
But my ginger cheesecake was also the perfect delicious end to a light summer meal and due to it being a cool dessert, it was delicious as an indulgent afternoon snack on a hot day.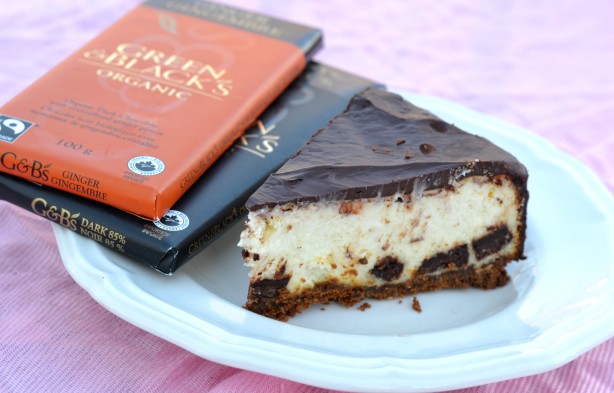 Green & Black's Organic chocolate is one of those indulgences that is always going to be a favourite with me, and cooking with it is just as good as eating it alone too!
Looking for a little lighter cheesecake recipe to try? This scrumptious Berry Cheesecake is sure to be a winner! Whether you're a fan of fruit or addicted to chococolate, there's no going wrong when it comes to cheesecake!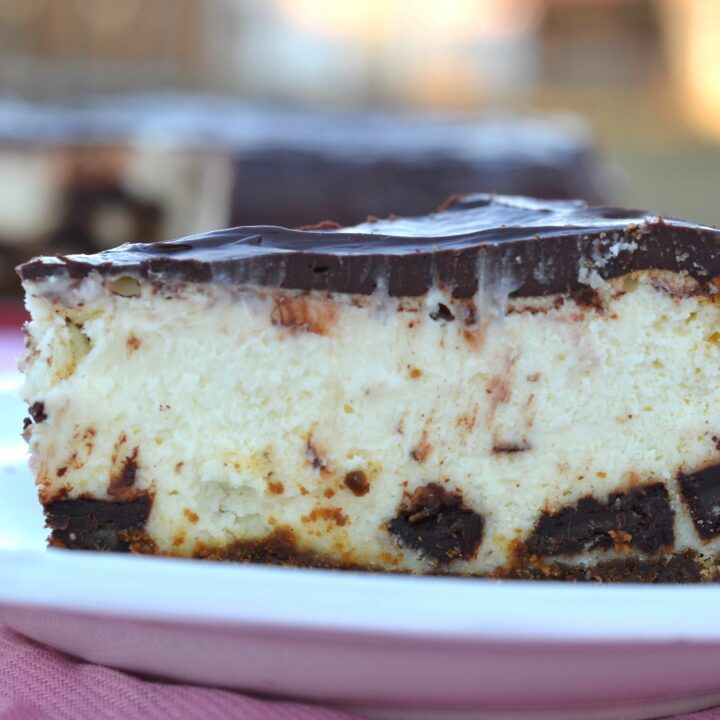 Dark Chocolate Ginger Cheesecake
Total Time:
1 hour
5 minutes
A cool and creamy cheesecake studded with the spicy sweetness of Green & Black's Organic Ginger Dark Chocolate. Perfect for any time of year!
Ingredients
20 Gingersnap cookies, crushed (about 1 ½ cups crumbs)
¼ cup butter, melted
3 250 g packages cream cheese, softened
3 eggs
¾ cup sugar
½ cup sour cream
2 100 g bars Green & Black's Organic Ginger Dark Chocolate
1 100 g bar Green & Black's Organic 85% Dark Chocolate
½ cup whipping cream
Instructions
Heat oven to 325°F.
Mix cookie crumbs and butter; press onto bottom of 9-inch springform pan.
Beat cream cheese and sugar in large bowl with mixer until blended. Add sour cream; mix well.
Add eggs, one at a time, beating on low speed after each until blended. Break Green & Black's Organic Ginger Dark Chocolate into squares and stir into batter. Pour over crust.
Bake 45 min. or until center is almost set. Run knife around rim of pan to loosen cake. Cool completely and remove rim of pan.
Bring cream to a simmer in small saucepan on low heat. Break Green & Black's Organic 85% Dark Chocolate into squares. Remove pan from heat. Add chocolate; stir until completely melted.
Pour chocolate over cheesecake, covering completely. Refrigerate at least three hours or overnight.
Nutrition Information:
Yield:

12
Serving Size:

1 grams
Amount Per Serving:
Calories:

492
Total Fat:

37g
Saturated Fat:

21g
Trans Fat:

0g
Unsaturated Fat:

12g
Cholesterol:

138mg
Sodium:

313mg
Carbohydrates:

35g
Fiber:

1g
Sugar:

23g
Protein:

7g