Maybe it's because I live in a province that's known for harsh winter weather, but as far as I'm concerned, there is nothing more wonderful than being outside once warm weather has arrived in Saskatchewan. In fact, for the last two weekends I've been in the back yard relaxing in a lawn chair reading almost from dawn until dusk!
While my boys are usually outside with me as well, they spend those sunshine-filled hours playing on the swing set, jumping on the trampoline or running through the sprinkler. But even when they were younger, I found plenty of ways to have fun outside with them. This month, the Playtex Mom Trust asked me to share a few of my favourite outdoor activities with infants and toddlers. If you have a baby in the house, these are my top three ways to have fun outside with your baby this summer!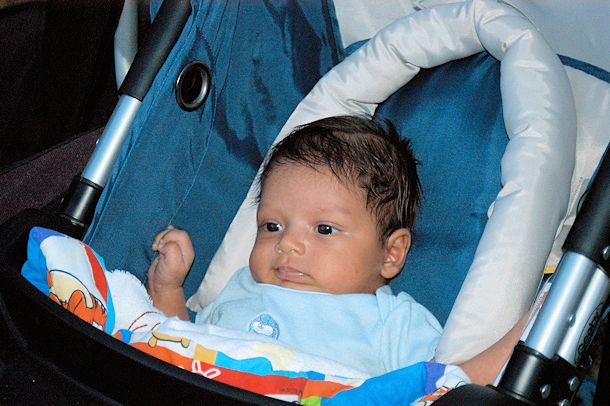 Get Walking
Not only is walking great exercise, it's a chance for your little one to see more of the world around him. Even a simple walk around the block exposes a baby to new sights, sounds and smells that help expand his knowledge of the world. I used to make a daily trip to the post office each day pushing my baby in the stroller, with occasional longer walks to run errands or visit the park. He loved relaxing in his seat in the shade as we walked!
Take it Out Back
Instead of trying to plan a big outing for you and baby, just head to your own back yard and enjoy your regular daily activities in the fresh air and breeze. Set up a playpen in a shady spot for when baby needs to take a nap, spread out a blanket for older infants and toddlers to sit down with you and have a snack or bring out a few favourite toys for some relaxing and unstructured playtime! Don't forget a drink for baby; the new insulated Playtex PlayTime Sippy Cup is a great choice for outdoor fun!
Make a Splash
Even a young baby benefits from time in the water. Whether you sign up for a Parent and Tot class at a local pool, head to a nearby beach to let your little one dip their toes in the waves or even just visit a splash park, making sure your little one is comfortable in the water will pay off when it's time for him to learn to swim. I took Parent and Tot swimming classes with both Zackary and Benjamin, but I think the beach was always their favourite place to experience water even as infants. They just loved sitting down to dig in the sand and have the waves tickle their toes!
There are so many other ways to have fun outside with your baby this summer, and every outdoor experience is a learning experience too when a child is so young. So pick out a few of your favourite outdoor activities, think about how you can include your child and get ready for a fun-filled summer with your little darling!