If there's one thing that I love about living in a small town, it's the high number of small, family-run businesses to which I have access. And one of my absolute favourites is our local butcher shop, Jerky Boys Meats. As the name implies, the shop's jerky is its claim to fame; nobody I know has ever tried it and not ended up hooked. But the shop also offers homemade sausage and burgers, fresh and tender cut-to-order steaks, chicken, ribs and so much more.
I don't eat a whole lot of meat compared to some, but when I do I like it to be of the best quality and I take extra time to ensure that I prepare it perfectly. For steak, an indulgence that I mainly save for summer, that usually means a thick ribeye that's cooked medium to medium-rare and topped with whatever indulgent extras I'm craving at the moment. Fresh lemon juice, a drizzle of extra virgin olive oil and a sprinkle of kosher salt is a top pick if I want the flavour of the meat to really shine through. Garlic butter and sautéed mushrooms are my favourite toppings if I want to make my meal even more rich and luxurious.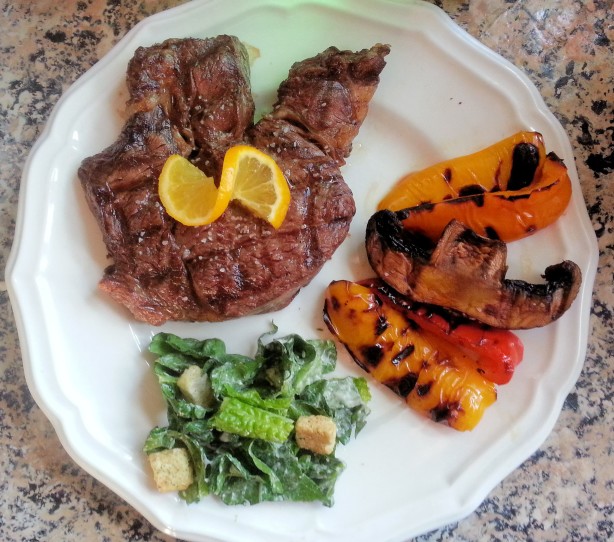 But no matter how I'm topping that butcher shop steak, it has to be cooked just right. And while I tend to usually use the barbeque to cook my steaks, the new T-fal OptiGrill promised perfect results without any effort on my part, and that was too sweet of a concept for me to pass up! The new OptiGrill is the ultimate indoor grill for anyone that is picky about having their food prepared just so. With six different food settings and an intelligent design that automatically senses the thickness of food and cooks it to perfection, you literally don't have to do anything but put your meat on the grill and close it up!
As someone that has tried and failed to become a better meal planner, my favourite feature of this grill is the fact that it is able to defrost food from frozen as well as grilling it. So often I forget to take meat out for supper and defrosting it in the microwave always leaves food partly frozen in the middle and cooked too much at the edges. Now it doesn't matter if I've taken out chicken breasts in the morning; I can just pop them frozen onto the grill, hit the defrost button and the chicken will thaw first and then grill to perfection without my doing another thing!
While I've been a fan of our local butcher shop for years now, specialty butcher shops have been growing in popularity across the country in the last few years and recently T-fal celebrated the trend with the T-fal OptiGrill Favourite Butcher Contest! The winning butcher, Kyle Iseke of D'Arcy's Meat Market in St. Albert, Alberta, was thrilled with the win and with the chance to put the T-fal OptiGrill to the test. It's since become a favourite in his shop since the results are always perfect! With the rising popularity of the local butcher, about 24% of butchers in Canada work in specialty shops with some even offering full-service experiences such as demos and butchery classes. And that percentage is only likely to increase as Canadians continue to embrace the "real food" trend and move away from processed convenience choices.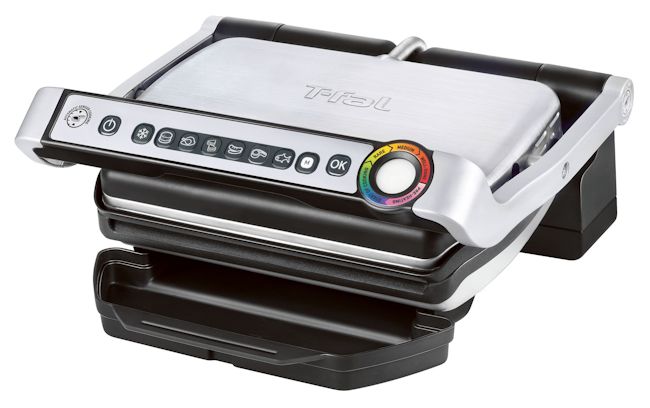 Craving a delicious piece of meat from your favourite butcher now? You're in luck because T-fal Canada is very generously offering one lucky Mommy Kat and Kids reader their own T-fal OptiGrill, a $260 value, to help you enjoy perfectly grilled meals too! To enter to win, just leave a blog comment about what you would cook up first if you won! While I've been loving using the T-fal OptiGrill for steak, sausages and chicken breast, I must admit that I can't wait to try grilling up a sandwich too!
With three patents, multiple options for all your favourite foods and technology so advanced that it gives you the perfect meal every time, the OptiGrill is a must-have addition to any home, whether you're a demanding chef in search of the perfect steak or just a busy mom that doesn't have time to hover over a barbeque to get the results you want. Find it at The Bay, Sears, Walmart, Canadian Tire and other popular retailers across Canada and get ready to enjoy meat made just the way you want it!
a Rafflecopter giveaway