If there's one thing that most people know about me, it's that I absolutely love my cat, named Racer by my oldest son. As the only other female in the house, she immediately latched onto me even as a kitten and I have to admit, I can't resist her complete devotion. But Racer's also a bit of a spoiled princess, which often means extra work for me! She refuses to drink tap water, for example, and only drinks bottled water if it's in her favourite gold-rimmed china dish. She also adores aged cheddar cheese and if I try to eat a slice, I can pretty much guarantee she's going to come running out from wherever she's been napping and accost me until I share it with her.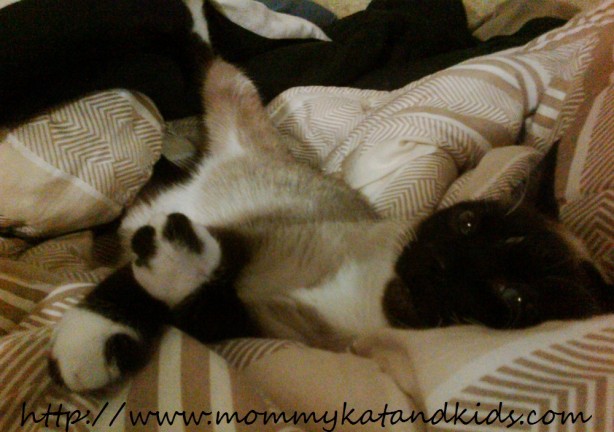 For the most part, though, my Racer is very self-sufficient and I love that about her. But the one thing that I don't love is cleaning her litter box! Racer is no petite princess and she fills up the litter box in no time. And if I don't clean it quickly enough, she'll sometime pee on the floor beside it as a not-so-subtle hint that I need to get to work!
Fortunately, the only pet ownership task that I really don't enjoy has now been made easier for me forever thanks to PetSafe Canada's Simply Clean Litter Box System! This innovative litter box automatically cleans itself as your pet uses it so it's always fresh and ready for your cat. I recently received the litter box to review and I couldn't wait to see how it worked.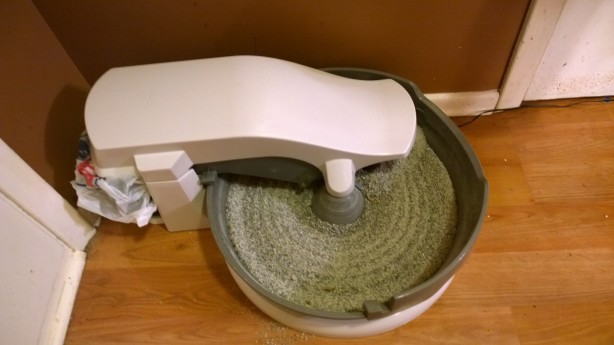 One of the things that impressed me most about this system was that the design really considered the needs of the cat as well as the human. While a litter box that cleans automatically might sound fabulous to me, there's no way that Racer would have used it if the operation had been noisy or awkward. The unique round design of the litter box lets the unit rotate slowly and almost silently to avoid startling my precious princess. And I was happy to see that she went from her previous rectangular litter box to the round design without hesitation.
Once she uses the litter box, the round main portion simply rotates in a circle, eventually carrying solid waste under a covered dome and up a ramp into a disposal bin at the back. All I have to do is empty the bin every few days! Keeping a litter box clean has never been easier.
For those that prefer canines to felines, PetSafe Canada also offers an innovative waste removal system for dogs. The Pet Loo is essentially a backyard in a box. Available in three different sizes, it features a realistic grass-like top with a sturdy angled base that lets liquid collect in a removable jug underneath. It's ideal for small spaces, apartments, potty training and those times when you just can't let your dog out of the house.
PetSafe Canada wants to make life a little easier for pet-lovers, so the company is very generously offering one lucky Mommy Kat and Kids reader their choice of either the Simply Clean Litter Box System, a $140 value, or the Pet Loo System, a $160 value! To enter to win, just leave a blog comment about which system you would choose if you won.
I am so happy that the one job Racer gives me that I really didn't enjoy has been made so much easier now, and I know Racer is too. Though occasionally a slight sound from the litter box startled her at first, it didn't stop her from using the Simply Clean Litter Box at all and after just two weeks she doesn't even notice the slight rustling of the litter. If you have a cat or dog and you're looking for an easier way to deal with cleaning up after them, PetSafe Canada's Simply Clean Litter Box and Pet Loo are sure to impress. Cleaning the litter box simply can't get any easier!
a Rafflecopter giveaway