I absolutely love vegetables that flower, from broccoli and cauliflower to zucchini and spinach. But of all the flowering vegetables, asparagus is easily one of my favourites. It's such a seasonal treat with its fresh and versatile flavour and it's absolutely loaded with essential vitamins and minerals.
I've actually been known to eat asparagus raw by the stick, but I also love cooking it as a side dish and, with a great asparagus cream sauce as an accompaniment, asparagus quickly goes from everyday to gourmet.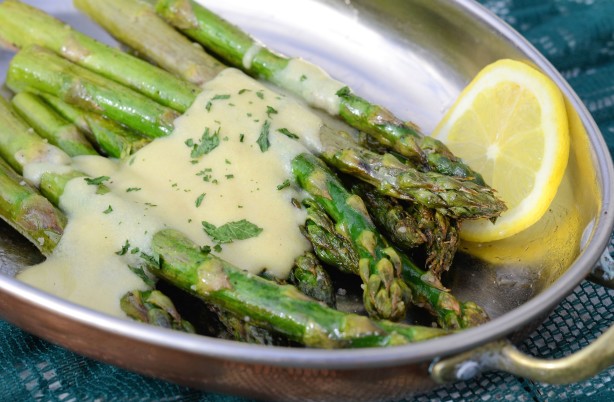 Because I wanted to make an asparagus cream sauce that didn't actually use dairy, I decided to use Silk Organic Unsweetened soy beverage to create a Dijon cream sauce for my asparagus. To really bring out the flavour of the vegetable, roasting it seemed like the best option.
The result was a side-dish that was ready in less than 15 minutes, contained even more added nutrients thanks to the addition of the Silk Organic, and tasted absolutely amazing.
Roasted asparagus has a sweeter flavour than traditional boiled or steamed asparagus, which makes a tangy asparagus cream sauce like this one the ideal accompaniment. The flavour of the mustard is really what makes this sauce, so I made sure to use high-quality Dijon mustard for the best results.
The lemon juice adds the perfect extra bit of tang and one of the best things about this cream sauce is that if you prefer it a little more tart, you can just add a bit more lemon juice!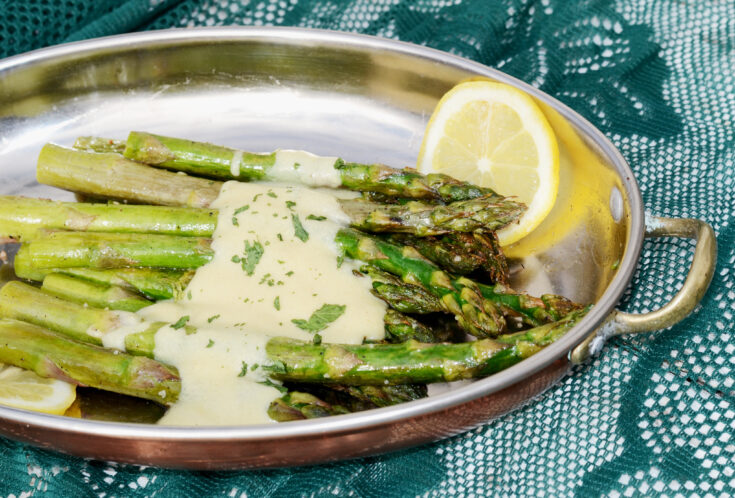 The other nice thing about this sauce is that it is versatile. I personally prefer it over asparagus, especially because it's widely regarded as one of the world's healthiest foods, but it would also be delicious over steamed green beans or broccoli.
And with the bonus of added calcium, protein and Vitamin D from the Silk Organic Unsweetened beverage used in the sauce, this is one vegetable side dish that will have you beaming. Healthy eating really can be delicious with the right ingredients!
Looking for other creamy dairy-free recipes? This dairy-free broccoli soup is perfect on a cool day!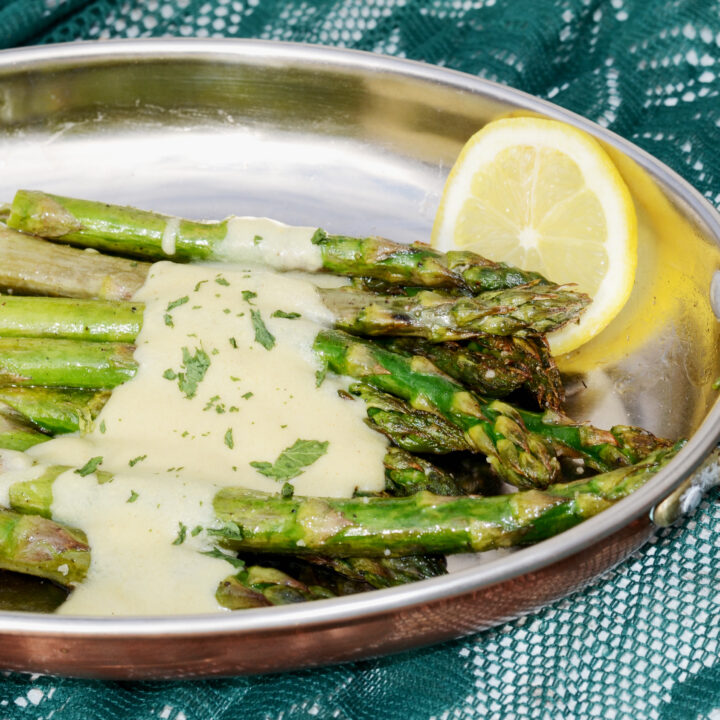 Roasted Asparagus with Dairy-Free Dijon Asparagus Cream Sauce
Sweet asparagus and tangy Dijon mustard pair perfectly in this simple side dish
Ingredients
2 lbs. fresh asparagus spears
3 tbsp. extra virgin olive oil
1 ½ tbsp. flour
1 cup Silk Organic Unsweetened beverage (or substitute whole milk)
2 tbsp. Dijon mustard
2 tsp. lemon juice
Salt and pepper, to taste
Instructions
Preheat oven to 400 degrees.
Wash asparagus and trim off tough ends. Place on baking sheet and drizzle with 2 tbsp. olive oil, salt and pepper, shaking sheet until asparagus is coated.
Place asparagus in oven and roast for approximately 10 minutes, shaking pan to turn asparagus halfway through cooking.
Meanwhile, combine remaining 1 tbsp. olive oil and flour in small saucepan over medium heat until smooth.
Gradually stir in Silk Organic Unsweetened beverage. Cook, stirring constantly, until thickened and bubbly.
Whisk in mustard and lemon juice. Season to taste with salt and pepper.
Spoon sauce over roasted asparagus and serve immediately.
Nutrition Information:
Yield:

6
Amount Per Serving:
Calories:

108
Total Fat:

8g
Saturated Fat:

1g
Trans Fat:

0g
Unsaturated Fat:

6g
Cholesterol:

0mg
Sodium:

228mg
Carbohydrates:

8g
Fiber:

3g
Sugar:

2g
Protein:

4g