For years now, I have been in love with the personalized products available from Stuck on You. My first experience with the company was when I received a set of its gorgeous designer Name Labels for my oldest son to use on his Kindergarten supplies.
But what I really love about Stuck on You is the fact that the company offers so many other handy personalized products perfect for any time of year.
And summer is no exception! Recently Stuck on You offered me the chance to check out a few of its products perfect for summer fun and I was only too happy to oblige.
With both camping and swimming on our agenda for the warm summer months, I decided to get a pair of personalized summer PJs for Zackary and a personalized beach towel for Benjamin.
One of the things that consistently impresses me about Stuck on You is how quickly the Australia-based company's products arrive once I place my order. In less than two weeks, the items were at the door and my boys were rushing off with their new treasures.
The quality of the Beach Towel that Benjamin received had me impressed as soon as I removed it from its protective plastic. The towel is incredibly thick and soft, with cute blue and white stripes running across it. In one corner, Benjamin's name is embroidered in white.
My youngest son hadn't had a proper beach towel and he fell in love with this one immediately. We took it on our recent trip to North Dakota and it sure did come in handy when we headed to a local waterpark one afternoon. Not only was it easy to know which towel was Benjamin's, the large size was perfect for keeping him cozy when he was done playing in the water.
Zackary's Summer PJ Set was just as useful, and completely adorable too! The lightweight fabric made them a great choice for summer and the style is such a fun one.
Striped long pants pair with a cute solid t-shirt, but it's the pretend back pants pocket featuring Zackary's name that makes these pyjamas completely irresistible to me! They'll be the ideal choice for our family camping adventures this summer since they provide full coverage but are still nice and lightweight.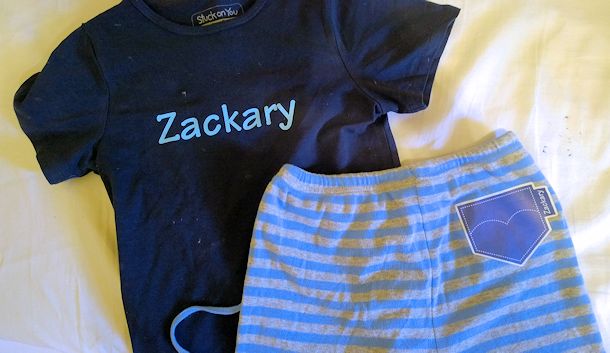 These products are ideal gifts for children with summer birthdays and of course, any present that actually features my boys' names gets an especially good reaction from them.
Browse the assortment of personalized products on the site and see which ones might add a little extra fun to your child's summer. From puzzles to artist kits to t-shirts, there's something for every child at Stuck on You!