I love cooking and I am always excited to learn something new when it comes to perfecting different dishes. And even though I've been cooking since I was eight years old, one of my most important lessons in the kitchen didn't come until I was an adult. That lesson was this: the right tools make a big difference in the results.
When I first moved out on my own, I bought the cheapest set of cookware I could find and I used it for years. After having children, I gradually started upgrading my kitchenware and almost immediately, I knew I'd been missing out. From a few cast iron frying pans to a proper set of quality cooking knives, quality items don't just make preparation easier, they make the finished dish better too.
But I still hadn't upgraded to a top-quality set of pots and pans when to my delight, T-fal came to my rescue and offered me the chance to cook up something delicious with the Jamie Oliver 9pc. Professional Stainless Steel cookware set. I 'd been wanting to master Bolognese Sauce for quite some time but I hadn't had the proper size pot to do it, so with my new cookware in the cupboard, I set out to tackle this family favourite.
The nice thing about Bolognese Sauce is that while it is time-intensive (over three hours from start to finish), it really isn't that labour intensive. An occasional stir of the pot every twenty minutes or so is all the sauce needs. And since my pot featured triple-layer high impact bonded base featuring two of the best conductors, copper and aluminum, I knew that my sauce would simmer evenly the entire time it was on the stove.
The other nice thing about this sauce is that it freezes fabulously, so making a double or triple batch ensures quick future meals. Just take the sauce off the burner and allow it to cool before adding the cream, then package it up for the freezer!
Personally, I'm a big believer that fresh herbs make everything better, and at this time of year there are plenty of them! I mixed in about quarter of a cup of minced oregano, dill and basil at the same time as the cream to add some extra flavour to the dish. The results were fantastic!
And cooking with the T-fal Jamie Oliver Professional Stainless Steel cookware was fantastic as well. Once more high-quality cookware had made the difference in the results of my meal; even if I'd had the perfect size of pot for my sauce, I know that it wouldn't have simmered as evenly and the flavours wouldn't have blended as well if I'd used a cheaper cookware set!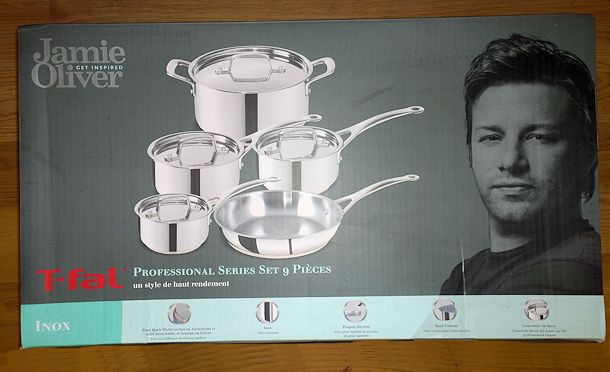 I can't wait to cook up something else with this set now that I've seen for myself how great the results are. The quick and even heating makes cooking an absolutely breeze and I love the stylish look of the stainless steel too. Find the T-fal Jamie Oliver Professional Stainless Steel cookware set online or exclusively at Hudson's Bay and add that extra something special to your cooking!
Bolognese Meat Sauce
Cook Time:
2 hours
30 minutes
A hearty meat sauce that freezes well and makes a great weekend dinner!
Ingredients
1 small onion, chopped
1 carrot, chopped
1/4 cup chopped bacon
16 ounces lean ground beef
3/4 cup white wine
1 28- ounce can diced tomatoes, drained
1 cup beef or chicken stock
salt and freshly ground black pepper
1 cup cream or milk
1/2 cup chopped fresh herbs, optional
Instructions
Combine onion, carrot and bacon in large saucepan over medium low heat. Cook, stirring occasionally, until the vegetables are tender, about ten minutes.
Add the ground beef and cook, breaking apart meat, until all pink is gone. Add wine, raise heat to medium high and cook stirring occasionally, until most of liquid has evaporated.
Add diced tomatoes and stock to saucepan. Turn heat to low and simmer for about an hour, stirring occasionally.
Sprinkle sauce with salt and pepper and cook for at least another hour, until most of the liquid has evaporated and the sauce is very thick.
Add cream and herbs, if desired, and cook for another 15-30 minutes, stirring occasionally. Serve over cooked pasta, topping with fresh Parmesan cheese if desired.
Nutrition Information:
Yield:

4
Serving Size:

1 grams
Amount Per Serving:
Unsaturated Fat:

0g