Fairly often when I'm working, I'll need to scan documents and pictures, either to post on my website or to send to others. Since I work upstairs on my laptop and my combination printer and scanner is downstairs, it's always a hassle having to stop what I'm doing to go to another part of the house and use my device.
Now, D+Oi has come up with an innovative way of making scanning while working incredibly easy. The company's new ZCan+ Scanner Mouse lets you scan in seconds using your computer mouse, so you never have to move somewhere else to get your scanning done! I received the new mouse to review and I was sure it would help me save time while working.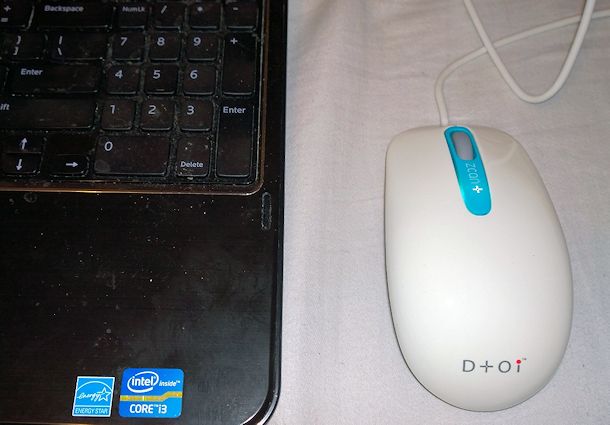 The mouse was quite simple to set up. I just plugged in the cord, let the driver software install and then downloaded the necessary scanning software from the website. After a quick installation, I was ready to test out the scanner on the mouse and see how it worked. Taking a scan is as simple as pressing the center button on the mouse and moving it over the image to be captured. Another press of the button stops the scan ad lets you save it.
The nice thing about the D+Oi ZCan+ Scanner Mouse is that it doesn't just scan images; it comes with the option of immediately converting the scans to text, translating scans to another language or sharing the scans on social networks. So not only do I save time while scanning, I also save time after since my document is immediately ready in the format I need for editing or sharing with others!
To help you save time while working, D+Oi is very generously offering one lucky Mommy Kat and Kids reader their own ZCan+ Scanner Mouse, an $80 value! To enter to win, just leave a blog comment about your favourite feature of this mouse. And if you just can't wait to own one, the mouse is available on Amazon.com for $79.90! Zcan+ Scanner Mouse also now has a wireless version! Zcan Wireless goes live on Indiegogo on Jul 29, 2014. It's even more portable and convenient now!
From quickly scanning and sharing news articles and photos on my social networks to scanning documents to edit or email to others, the ZCan+ Scanner Mouse has made scanning while working so much easier and faster. Not having to run downstairs to take scans is so nice, and having the different scanning options makes this mouse even more versatile than my large scanner! Best of all, the mouse travels with me so I can scan on the go too! For quick, convenient and portable scanning, you can't go wrong with this new mouse from D+Oi!