I've loved Hidden Valley Ranch dressing since I was a child and while I knew it was great for all kinds of delicious recipes, it wasn't until I created these simple Tuna Cashew Ranch Lettuce Rolls that I realized my favourite salad dressing is also gluten free!
While I don't have problems with gluten, I know that many do and I love having a repertoire of easy and delicious recipes that are appropriate for friends and family with food sensitivities.
So I was only too happy to embrace the challenge when I was given the chance to create another gluten-free recipe featuring Hidden Valley Ranch dressing.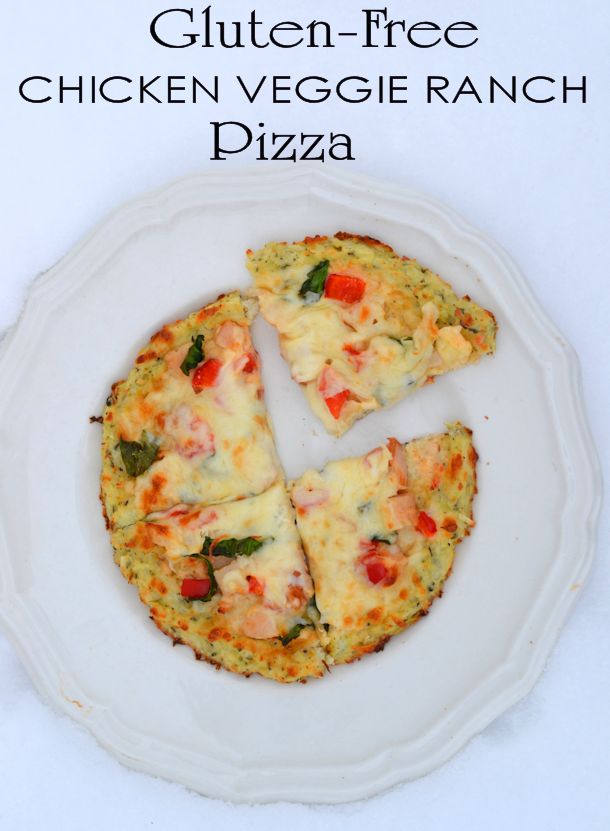 One of the challenges with gluten-free recipes is recreating some of the traditional flour-based foods that are such favourites. But I do love a challenge and so with the help of Hidden Valley Ranch dressing, I created a gluten-free Chicken Veggie Ranch pizza!
The cauliflower crust was an absolute winner in this recipe, but there are two important steps for making it work. First, squeezing as much water as possible out of the cooked cauliflower is essential. Second, the ¼ cup of rice flour helps absorb any extra moisture in the vegetable for a crust that holds together properly.
I chose the Spicy variety of Hidden Valley Ranch for this recipe because I thought it would pair well with my chosen veggies, and I was right! But this meal would be equally delicious with traditional Hidden Valley Ranch as well and I can't wait to try it that way next time.
Overall I couldn't have asked for more from this recipe. It was satisfying, tasted just like real pizza and was completely gluten-free. I'll definitely be making it more than once over the holidays when friends with specific dietary needs come to visit!
If you can't eat gluten, this is a recipe you have to try. The satisfying flavour and great texture of the crust are sure to make this a new favourite!
Gluten-Free Chicken Veggie Ranch Pizzas
Hearty and authentic individual pizzas made gluten-free thanks to a clever cauliflower crust!
Ingredients
1/2 head cauliflower, cut into florets
1/2 cup mozzarella cheese, shredded
1/4 cup rice flour
1 tsp. dried parsley
1 egg
1 tbsp. garlic, minced
1/2 cup Hidden Valley Ranch dressing, any variety
1/2 cup chopped cooked chicken
1/4 cup red pepper, chopped
1/4 cup onion, chopped
1/4 cup fresh spinach, chopped
1 cup mozzarella cheese, shredded
Instructions
Preheat oven to 450 degrees.
Using food processor, grate cauliflower until finely minced.
Place grated cauliflower in saucepan with 1/2 cup water over medium-high heat and bring water to a boil. Reduce heat to medium, cover pot and steam cauliflower until tender, about 15 minutes.
Remove from heat and drain cauliflower as best possible. Add cold water to pot to cool completely, then carefully pour water and cauliflower into a strainer lined with cheesecloth or a clean dishtowel. Squeeze water from cauliflower to remove as much as possible.
Combine drained, cooked cauliflower, first amount of cheese, rice flour, parsley, egg and garlic in bowl. Mix until thoroughly combined.
Line a baking sheet with parchment paper or a silicone baking mat. Divide cauliflower into two equal portions and form each into crust shape about 6-8 inches around. Bake for 10 minutes.
Remove crusts from oven and spread 1/4 cup Hidden Valley Ranch dressing over each crust. Top each pizza with half of the chicken, pepper, onion, spinach and cheese. Return pizzas to oven and bake 5-10 minutes, until cheese is melted and bubbly.
Let cool for 2-3 minutes and serve.
Nutrition Information:
Yield:

2
Serving Size:

1
Amount Per Serving:
Calories:

750
Total Fat:

53g
Saturated Fat:

17g
Trans Fat:

0g
Unsaturated Fat:

32g
Cholesterol:

207mg
Sodium:

1154mg
Carbohydrates:

33g
Fiber:

5g
Sugar:

9g
Protein:

35g