When it came to using an eReader, I was a tough sell. I loved the feeling of holding a book in my hands and voraciously turning the pages. But one Mother's Day weekend I was thinking about how to spend some gift cards I'd collected, and I decided to purchase a Kobo Glo. Within days of it arriving, I was addicted to my eReader.
One of the reasons I love my Kobo Glo so much is the fact that I can have so many books stored on a device that's the same size as a small paperback novel. That convenience has actually caused me to read more than I did before having the eReader. And so when the Kobo eStore recently released the top ten best-selling books of 2014, I couldn't wait to see if I had read one or two of them already.
Gone Girl – Gillian Flynn

The Fault in Our Stars – John Green

Insurgent – Veronica Roth

Allegiant – Veronica Roth

Divergent – Veronica Roth

The Goldfinch – Donna Tartt

Written in My Own Heart's Blood – Diana Gabaldon

The Rosie Project – Graeme Simsion

The Husband's Secret – Liane Moriarty

Philomena – Martin Sixsmith
To my surprise, after checking the list I saw that I had actually read five of the top ten books! Of course, since the entire Divergent series had made the top ten, my having read all of those wasn't terribly surprising. I had also read The Rosie Project and Gone Girl earlier in the year, and both were excellent.
Personally, though, my own top book pick for 2014 was The 100 Year Old Man Who Climbed Out the Window and Disappeared by Jonas Jonasson. While the title may be a mouthful, the book itself is light and easy to read with a plotline that's entertaining, often absurd and ultimately heart-warming. Whether you're reading about 100-year-old Allan's current adventures or his past exploits, you're sure to admire his endless optimism.
And while I enjoyed the Divergent fantasy fiction series, I found Cinder, Scarlet and Cress, the first three books of The Lunar Chronicles by Marissa Meyer, even better. These books blend science fiction and fantasy in an absolutely brilliant way, with each book's starring character being loosely based on a fairy tale. The only downside to reading this series is the fact it isn't finished; once you're hooked you'll have to wait to read the final book in the series, Winter, when it comes out in November of 2015!
No matter which books you can't wait to read, you'll find them at the Kobo eStore. And for any book lover on your shopping list this Christmas, the new Kobo Aura H2O is a gift that is sure to get a great reaction. This newest eReader from Kobo is waterproof and dustproof so it can be taken anywhere without a problem. From beach to bathtub to bed, this is one Kobo that you won't have to worry about damaging…no matter where you love to read!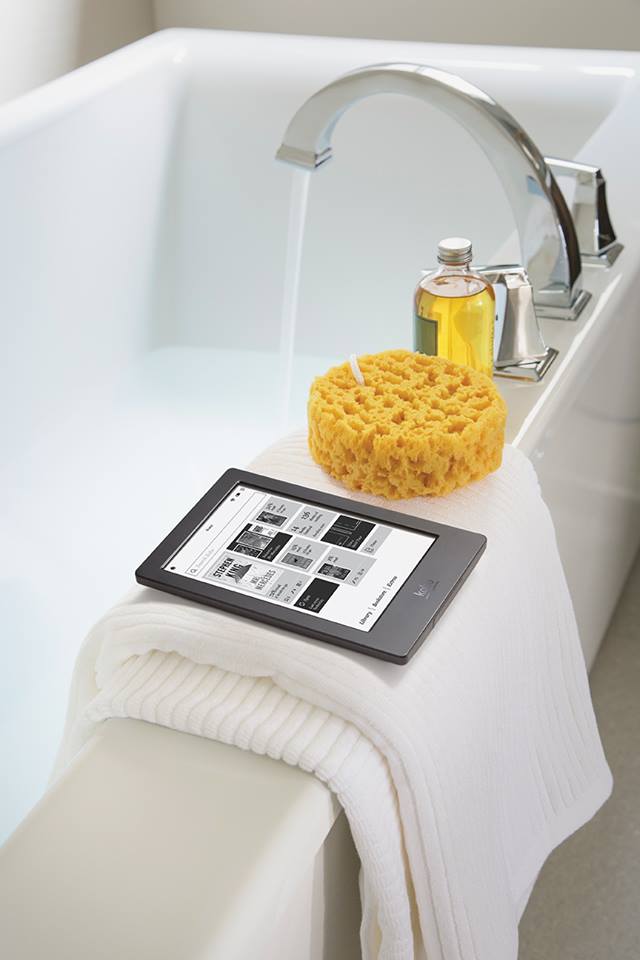 And if you don't have a Kobo eReader yet, that doesn't mean you can't enjoy all the amazing books available in the Kobo eStore. With the Kobo app, you can access the store and read books on a device you already own! I have a few friends that prefer reading on a tablet to using an eReader, but that doesn't need to slow them down with the Kobo app installed! In fact, since I often don't carry my eReader with me while doing errands, I have the Kobo app on my phone so that if I find myself waiting at the doctor's office or standing in a long line, I can read a few pages of my latest book.
With 2015 almost here, I'm already planning the books I'll read in the New Year. Personally, I'm making The Goldfinch by Donna Tartt my next must-read. Interestingly enough, this Pulitzer Prize-winning novel was Kobo's most downloaded and least completed novel of the year. Some speculate that's because it's quite lengthy, but I'm no stranger to long books and I just can't resist checking it out myself! From romance to fantasy to mystery, the Kobo eStore really does have something for everyone, so download the app, load up your Kobo with hot new books and get ready to read your way into the New Year!
Disclosure: I am part of the PTPA Brand Ambassador Program with Kobo and I received compensation as part of my affiliation with this group. The opinions on this blog are my own.