There's nothing sweeter than the holidays and this Christmas Pure Via wants to help you enjoy those simple pleasures that make life so sweet in a very special way! I'm already a huge fan of Pure Via since this naturally sourced sweetener made from Stevia lets me bake up tasty holiday treats without adding extra calories. And now Pure Via is helping Canadians "Tune in to Pure" with a free Pure Via Holiday Recipe and Song Book created with help from Jewel!
While there are many of Jewel's songs that I enjoy, I do have a special fondness for her holiday music and this downloadable songbook/cookbook features two traditional holiday songs adapted by Jewel: It Came Upon a Midnight Clear and Angels We Have Heard on High. The digital book also features additional bonus songs by Jewel, tasty recipes, some of Jewel's favourite photos and song lyrics!
Personally, I can't wait to try the Tune in to Pure cookbook's Cinnamon Cider on a cold winter's night. Curling up with a mug of this warming beverage while listening to one of Jewel's holiday songs is Christmas bliss to me! And indulging is even sweeter when desserts and beverages are made with zero-calorie Pure Via. In fact, Pure Via is one of the only sweeteners I use because it doesn't affect blood sugar levels. Whether I'm whipping up a tasty drink with Pure Via Liquid or baking a sweet treat with Pure Via Granulated, I know the results will be healthy and delicious!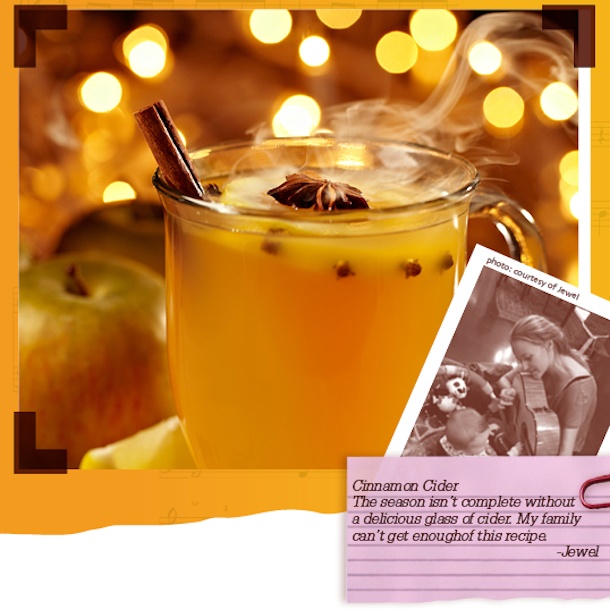 Pure Via has all kinds of fun and free offers available periodically so if you want to be one of the first to learn about new extras, make sure to like the Pure Via Canada Facebook page and follow @PureViaCA on Twitter. It's a great way to learn about all the newest recipes and special offers from Pure Via Canada.
This free downloadable cookbook/songbook is such a sweet way to add extra holiday spirit to my home, whether I'm in the mood to cook up something delicious for my family, relax with some great music or both! In addition to the holiday music, Pure Via is even offering live never-before-released acoustic performances of two of Jewel's hit songs! And the recipes are sure to inspire Christmas cheer. Download your copy of the Tune in to Pure with Pure Via and Jewel Holiday Recipe and Song Book and make your holidays even sweeter this year!