Gifts from the hit Disney movie Frozen have been one of the hottest trends of the holidays this year and if you're still looking for that perfect Frozen toy for your little fan, Showcase has you covered with Canada's largest selection of Frozen merchandise! These are my personal top four favourite Disney Frozen toys available at Showcase:
Best Frozen Toy for Girls – Royal Sisters Dolls 2-Pack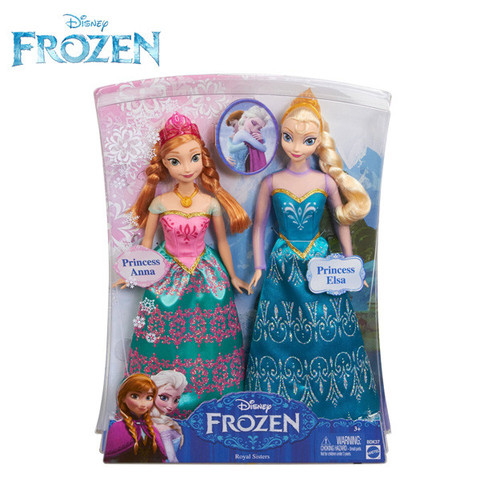 For the little princess that can't decide whether Anna or Elsa is her favourite, this two-pack containing both dolls is the perfect gift. The dolls are dressed in sparkling dresses and crowns inspired by the movie fashions and are available for just $19.99. Little girls will love acting out their favourite scenes from the movie with these fun and stylish dolls!
Best Frozen Toy for Boys – Talking and Pull Apart Olaf
If your little one loves the charming talking snowman as much as most kids, this gift is sure to please! The Olaf toy pulls apart and connects back together, something that's sure to keep kids entertained for hours. And with the push of a button, kids can listen to Olaf share jokes and signature phrases from the movie! Currently on sale for $19.99, Olaf is guaranteed to result in grins and giggles on Christmas morning!
Best Frozen Stocking Stuffer – 9 Roll Sticker Box
Every child loves stickers and with nine rolls of Disney Frozen stickers in this handy set, there's enough for everyone that has a stocking hanging on the mantle this year. Divide the stickers among a group of children or surprise one lucky little one with the entire set. With a price of just $1.99 for all nine rolls, this inexpensive gift is sure to delight kids of all ages!
Best Frozen Home Décor – Fleece Throw Blanket
While Showcase offers an extensive assortment of Disney Frozen home décor ranging from nightlights to bed sheets, my personal favourite is the cozy fleece throw blanket available for just $19.99. Not only is it perfect for keeping little ones warm on a cold winter day, it also has a great unisex design that makes it perfect for boys and girls alike!
No matter what's on your child's wish list this Christmas, the huge variety and great prices on Disney Frozen merchandise at Showcase will help you ensure that your child's holiday dreams come true. And best of all, you can enjoy free shipping and delivery that's guaranteed by December 24 when you shop online! Browse the products and find that perfect gift today.