While there is plenty to do in Orlando, Florida, there are a few destinations that are special favourites with visitors and one of those is Universal Orlando Resort. Movie fans are sure to fall in love with the parks immediately, and the rides will put smiles on the faces of any thrill-seeker.
If you're heading to the park and looking for things to do at Universal Studios Orlando and Islands of Adventure, these are seven experiences you won't want to miss.
Riding a Broomstick on Harry Potter and the Forbidden Journey
This ride is the main attraction when visiting The Wizarding World of Harry Potter – Hogsmeade in Islands of Adventure. Waiting in line is a highlight in itself, as visitors are able to wind through Hogwarts Castle and experience the magic of the movie brought to life. Even the famous talking pictures are there!
But it's at the end of the ride that the fun really starts. Riders soar through the air on a broomstick with Harry and his friends in a combination of real sets, animatronics and wrap-around projection screens that had me convinced I'd actually been flying.
Having a Duff at Moe's Tavern in Springfield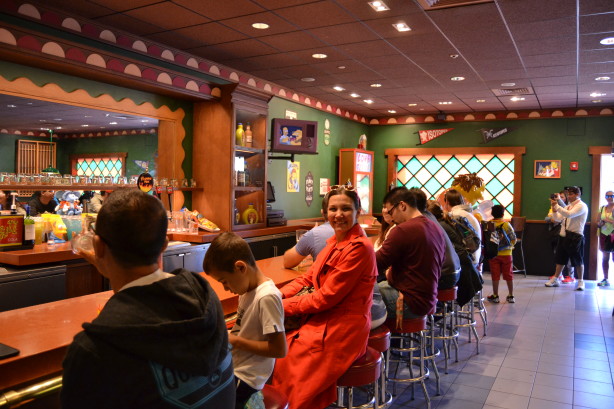 There are a few fun-filled rides in Springfield that are well worth visiting, but for me the true highlight of this area was simply walking down the streets of Springfield itself.
And of course, no visit to the Simpsons' hometown would be complete without stopping at Moe's Tavern for a Duff or a world famous Flaming Moe. The authenticity of the bar is sure to bring back memories of all those favourite episodes of The Simpsons.
Getting Wet on Jurassic Park River Adventure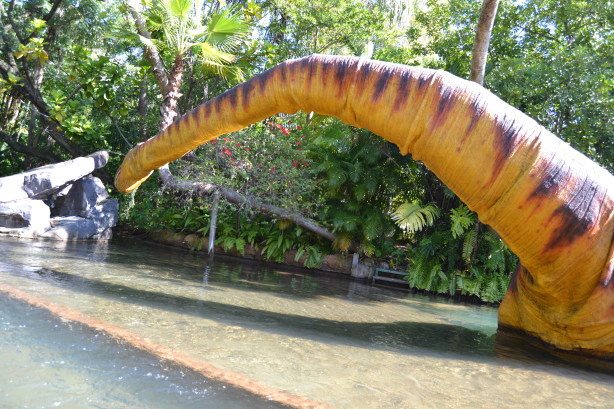 With the new Jurassic World movie due to be released in June, this ride is a must for both old and new fans. Set up to initially imitate a peaceful raft ride through a functional Jurassic Park, disaster suddenly strikes when the raft goes off course and ends up trapped in an area filled with carnivorous dinosaurs.
The ride ends with a narrow escape from a Tyrannosaurus Rex and a huge splash as the raft plummets out of danger. Fair warning…expect to get surprisingly wet on this ride!
Strolling Through Seuss Landing
Even as an adult, Dr. Seuss remains one of my favourite authors of all time and his whimsical view of the world is brought to life in vibrant colour in Seuss Landing. While the area and its rides are geared mainly towards younger children, it's still well worth visiting if you're a fan of the books.
In classic Seuss style, there are no straight lines anywhere in this portion of the park. Instead, curving roads and twisting turrets abound. Make sure to grab a snack at the fabulous Circus McGurkus Café Stoo-pendous!
Riding the Hollywood Rip Ride Rockit Roller Coaster
There are plenty of amazing roller coasters throughout the Universal Orlando Resort, but for the ultimate in thrills and chills, the Hollywood Rip Ride Rockit is a must-experience attraction. The vertical lift hill at the beginning sets the stage for the wild and fast ride to follow, with the coaster reaching speeds of up to 105 km per hour.
To add to the fun, riders can choose a track from a list of thirty different songs and listen to the music throughout the ride. If you're going to request a front seat at any of the roller coasters in the park, make it this one!
Going Shopping in Diagon Alley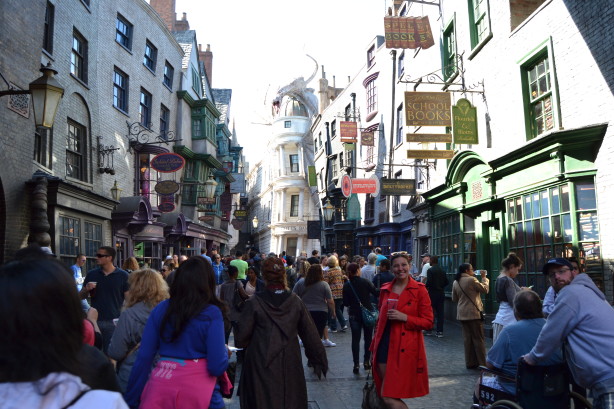 Anyone that's ever wished they could step out of the ordinary world and into the hidden magical world of Harry Potter can have their dreams come true in Diagon Alley. The genius of this area was, for me, the way its entrance is presented to visitors as a completely normal London street, albeit with a few distinctive features fans of the series will immediately recognize. Number 13 Grimmauld Place nestles hidden on the street, while the Knight Bus and its conductor wait for wizards in need of transportation.
But walk through the openings in a very nondescript brick wall and suddenly, you've entered Diagon Alley. Grab a Butterbeer to refresh yourself and keep an eye on the stone dragon atop Gringotts bank. Every so often, he'll let out a flaming roar.
Posing for a Picture with Jaws
While the hugely popular Jaws ride in Universal Studios Florida is no longer operational, the famous Jaws display remains and is easily one of the most popular photo locations in the resort.
Grab a snack and a drink at the nearby Chez Alcatraz and then get ready to let Jaws take a bite out of you. While the ride may be gone, the legend of Jaws lives on and having a picture taken with this iconic movie star is something that everybody should do when visiting the resort.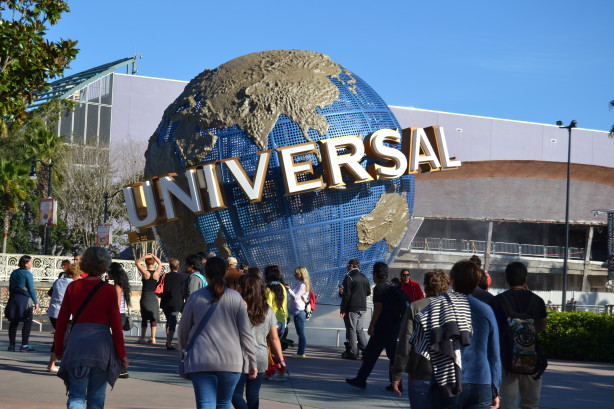 Of course, these are just a few of the attractions filling the two parks, and there's many more things to do at Universal Studios Orlando! So give yourself plenty of time to explore and discover your own favourites.
Whether you prefer the combination of suspense and speed in The Mummy: The Ride or the high-flying fun of the Duelling Dragons roller coaster, there's more than enough to keep you entertained. Check out the full list of attractions, grab your tickets and get ready to discover the many things to do at Universal Studios Orlando for yourself!