It's no secret that my family loves the Orlando area. From golf courses to amusement parks, we've explored the popular tourist destination to its fullest, and found many of the best things to do in Orlando with kids.
Like most families, our top priority when in Orlando is usually visiting the theme parks! Checking out all four parks at Walt Disney World in one day was exhausting, but amazing. And we all loved the rides and pop culture at Universal Orlando.
But I knew from our many trips down International Drive that the city itself had just as many things to do in Orlando with kids. And so, on our most recent vacation, I decided that we would spend a day exploring some of the best family attractions and activities the city has to offer.
Wondering where to start when looking for things to do in Orlando with kids? This one-day itinerary had the whole family smiling when we headed home!
A Ride on ICON Orlando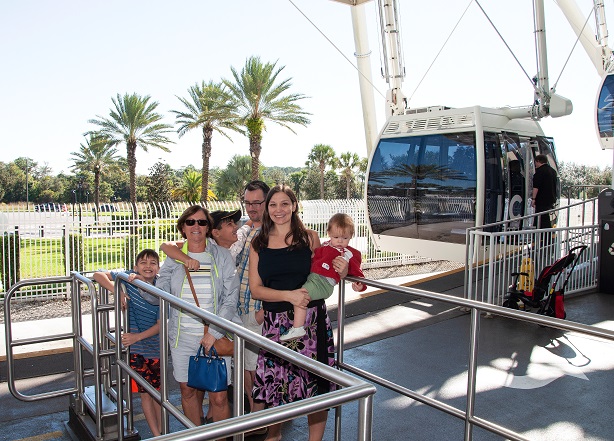 We started our day with a ride on the ICON Orlando observation wheel. This 400 ft. ride is the largest observation wheel on the United States' East Coast. It's a popular nighttime attraction, since the city and theme parks look so magical when they're lit up. But it's equally enjoyable during the day, and we loved finding all the places we'd visited in the past from above!
The building that houses ICON Orlando also features some other great family-friendly attractions. Madam Tussaud's wax museum is perfect for those that love taking fun family photos, and the SEA LIFE Orlando Aquarium has plenty of learning and hands-on fun for lovers of ocean life.
On this occasion, though, we decided to let the two oldest boys try out the 7D Dark Ride Adventure. This fun first-person shooting experience has seven dimensions: light, wind, sound, motion, smell, and user interaction, all while playing a 3D video. The two boys loved racing through the futuristic world and battling one another for the top spot.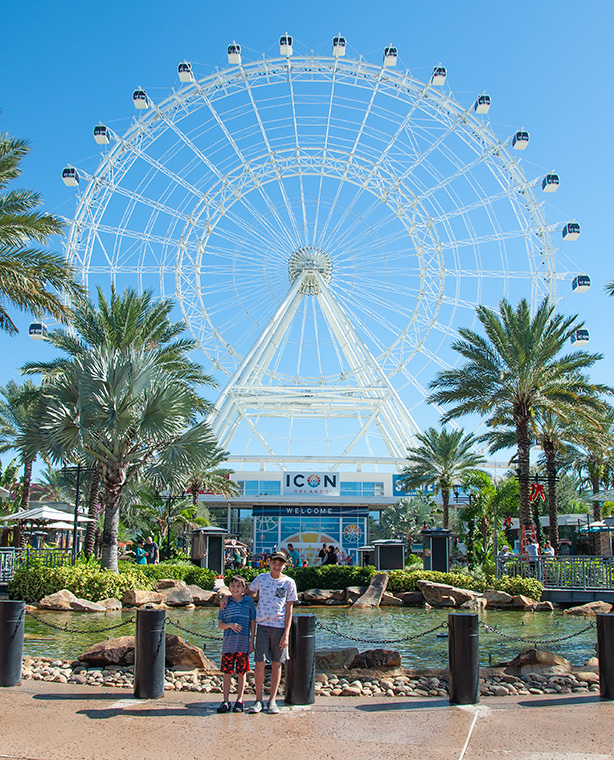 Then, we headed out of the building to explore some of the surrounding shops and activities.
The ICON Orlando 360 complex has a beautiful fountain and artificial grass area in front that's a popular spot to relax and take photos of the ICON Orlando wheel itself. There's also an arcade, a skeleton museum and, my boys' personal favourite, the Sugar Factory candy shop!
But we were getting hungry, so we decided to choose a restaurant for lunch. Tapa Toro, a Spanish fusion tapas restaurant, looked too good to resist and we headed inside for our meal.
Lunch at Tapa Toro
We started with a couple of cold tapas: Tomato Rubbed Bread, Iberian Caesar Salad and Roasted Eggplant Dip. The homemade dressing on the Caesar salad was incredible and definitely made it my personal favourite.
Next, we tried hot tapas including Fierce Potatoes, Meatballs, Ham Croquettes and Spanish Fritatta. I was surprised and impressed by the Ham Croquettes; they had a creamy texture and rich flavour that I couldn't get enough of!
For the main course, we had Chicken and Chorizo Paella. There's nothing quite like paella and at Tapa Toro, we had the fun of watching it made right in front of us!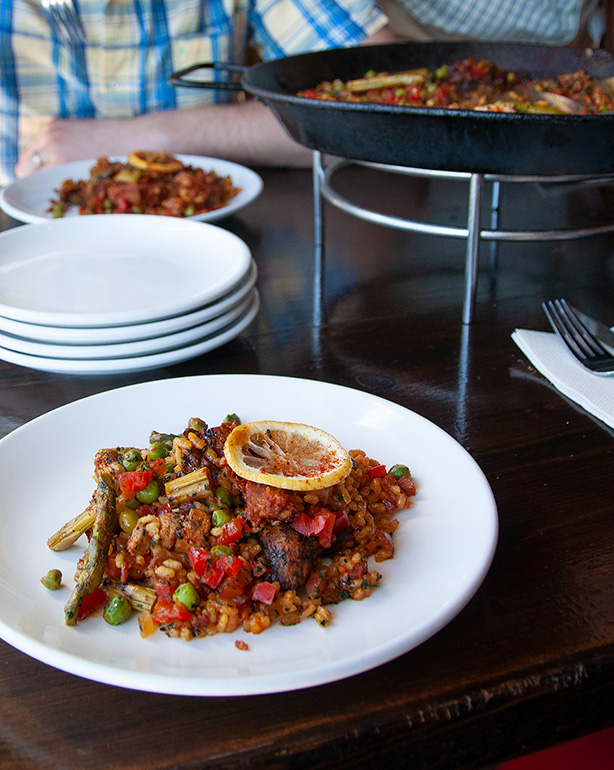 When the dish came to our table, I couldn't wait to dig in. And the blend of rice, vegetables, chicken and smoky Chorizo sausage was every bit as delicious as I had hoped. In fact, the paella was so good that my husband still occasionally mentions it to this day!
We finished off our experience with fresh and hot Churros Tapa Toro served with dulce de leche and chocolate sauce. I've always liked churros, but I've never had them freshly made before. Simply put, they are a must-try. The plate went from full to empty within seconds!
Mini Golf at Pirate's Cove
With our stomachs filled to bursting, it was time to get some exercise, and have some more fun! So we walked across the street from the ICON Orlando 360 complex to Pirate's Cove: The Original Adventure Golf.
When it comes to atmosphere, there's just no beating Pirate's Cove. The pirate-themed course features everything from waterfalls to caves to a hole played on a pirate ship!
History lovers will enjoy reading along with stories of pirate life, told in snippets at each hole, and both adults and kids can choose from the Captain's Course or the more difficult Blackbeard's Challenge course.
Since Cormac was too young to actually play, I walked through the course with him as he watched his family. There was plenty of visual stimulation to keep him occupied, and I loved taking a closer look at all the details in the course's decorations as well!
At the end of the game, children are treated to a pirate loot bag featuring an assortment of pirate gear. And of course, we had to snap a picture of our boys in the gallows!
Flying High at iFly Orlando
Having had some fresh air and exercise, we were all in the mood for something a little more exciting. And there's no better place for excitement than iFly Orlando! The iFly company makes the fun of skydiving accessible to everyone with indoor wind tunnels that simulate the real skydiving experience.
We signed up for two flights each, with a Virtual Reality skydive as a final treat. Once we were signed in and had chosen which VR experience we wanted to finish with, it was time to gear up and get ready for fun!
I was surprised by how much instruction was needed before we headed to the wind tunnel. To properly control our fall, we needed to be in a special position with our hips down, our arms out and our legs bent back behind us.
We also learned some signals our instructor could use to help give us tips inside the tunnel. With the wind blowing so hard, talking to each other isn't an option! He mentioned how important relaxing was, and showed us a special signal for when we needed to relax more.
Then it was time to fly! Watching the two boys was especially fun for me and they both did an amazing job. And when it was time for me to fly, I loved every minute of it!
Our instructor told us that physically, the experience was exactly like actual skydiving (though it was much different mentally, of course!). And after sailing around in the wind tunnel, I can't wait to try actual skydiving some day!
The VR experience came last and we'd all chosen the Wingsuit Base Jump, since it contained more movement and scenery than the free-fall VR options. With our special helmets on, we each had the chance to leap off a cliff and sail through the mountains. It was by far the highlight of the experience, and I highly recommend adding it onto a flight package.
Dinner at Taverna Opa
After such a thrilling experience, we did a little more walking down International Drive. The boys loved strolling by the upside-down Wonderworks building and we seriously considered stopping in and letting them explore the exhibits.
But we decided instead to head to Pointe Orlando, an outdoor complex featuring various restaurants, shops and activities.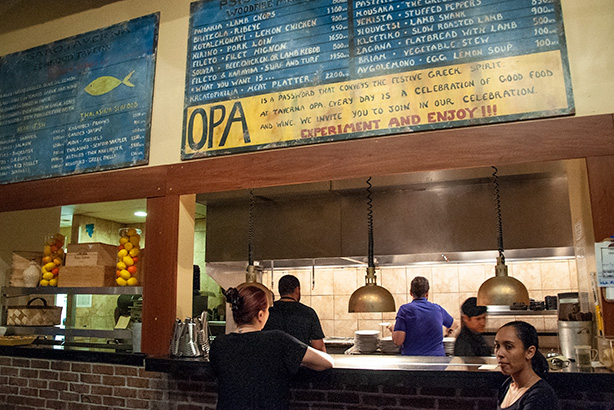 By that time, we were all feeling hungry once again, so we headed to Taverna Opa, an authentic Greek restaurant, for supper. We noticed the restaurant featured nightly belly-dancing shows and immediately decided we'd be staying long enough to see the show.
The menu featured the very best Greek meals and drinks, and I had a hard time deciding which of the delicious dishes to try. I knew at once, though, that I'd be ordering Saganaki as an appetizer. This fried cheese is doused with brandy and lit on fire right at the table!
We all ordered an assortment of classic Greek dishes as well, from Kleftiko, lamb and vegetables roasted in parchment paper, to Mousaka, a traditional eggplant casserole. The attention to detail that went into the food was phenomenal; the feta cheese was even imported right from Greece! My own Chicken Artichoke was a delicious blend of creamy and tangy flavour I adored.
Just as we were finishing up our meal, the servers came around and gave the children handfuls of paper napkins. They instructed the boys to wait for the dancing to start with a shout of, "Opa!" At that moment, they were to throw the napkins into the air.
Minutes later, the room was filled with falling white napkins as the kids in the restaurant (our three included) cheered and giggled. The servers obligingly handed out more napkins for the children to throw as the belly dancer weaved her way through the tables.
And when she invited me to get up onto a table and dance with her, I couldn't resist! After all, how often does a person get to dance on their table after finishing a meal?
With the food and entertainment finished, our day of fun in Orlando came to a close. We had taken advantage of the ICON Orlando 360 free parking, so we made the quick walk back to the parking garage and then headed for home.
Our day had been filled with excitement, adventure and plenty of delicious food, and I'm so happy we took the time to get away from the theme parks and into the city itself to find new things to do in Orlando with kids.
And we only scratched the surface of the many activities Orlando offers to visitors! From seeing an Orlando Magic NBA game to learning as you play at the Orlando Science Center, family-friendly fun is something Orlando knows very well!
So if you're making the trip to Walt Disney World or Universal Orlando, use this itinerary of things to do in Orlando with kids as a starting point and treat yourself to that one extra day to have some fun in the city. The whole family will be glad that you did!