Every child dreams of being a superhero at some point, but I've always thought one of the best lessons we can teach our little ones is that it doesn't take superpowers to be a hero. Everyday kids can do extraordinary things too! That's a concept that Barbie is embracing with this month's launch of the Barbie in Princess Power DVD and merchandise. Barbie recently recruited four Super Squad Leaders from across Canada to share their stories and ideas to help remind little girls that everyone has the ability to #BeSuper!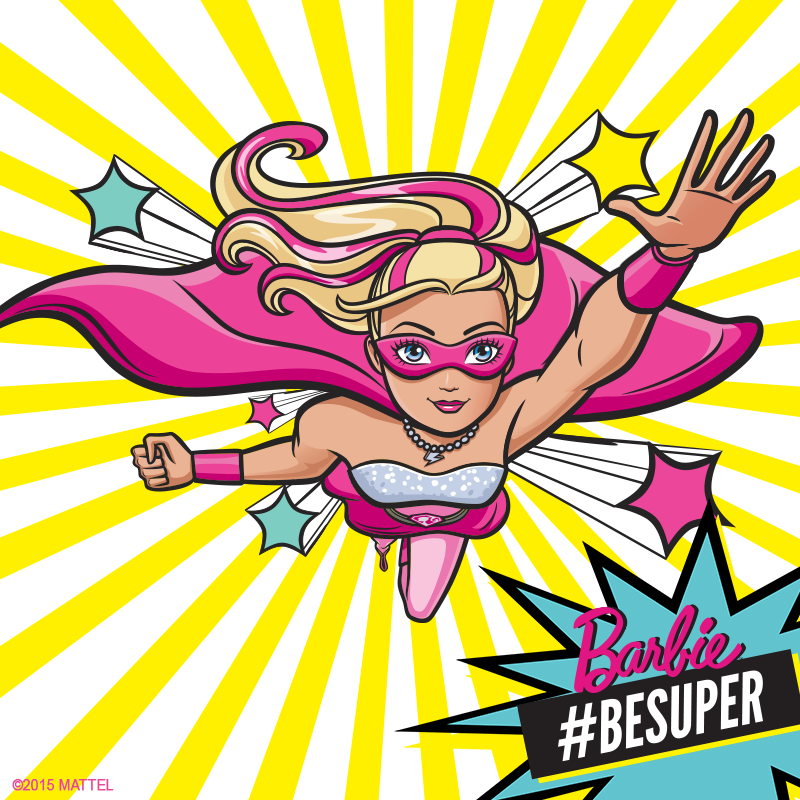 BE KIND
Kindness is a quality all parents want to instil in their children. To help encourage your little ones to find more ways to be kind, lead by example. After all, other superheroes will come and go, but you will always have the greatest superpowers in their eyes. Super Squad Leader Noemie from Ottawa, Ontario, has set a great example of kindness with her own charity fashion show called 'Happy Hearts.' She created a silent auction and fashion show raising almost $15,000 for the Children's Hospital of Eastern Ontario.
BE BOLD
Give your little ones the opportunity to set their own path and make their own decisions. Help empower them to be bold and realize that anything is possible if they put their mind to it. For example, Super Squad Leader Veronika from Surrey, British Columbia, came up with her own idea to recycle juice boxes from her school and used the money raised to provide wheelchairs for more than 60 children in Guatemala.
BE CREATIVE
To help your child reach their peak power, creativity is essential! Starting silly, imaginative play will help your child's creativity bloom. This can vary from a crazy dress-up party to kooky-craft time. Super Squad Leader Mya from Stettler, Alberta, used her creativity to create 'Lunch Apeel', a fun program that uses stickers to reward healthy eating. Mya went across Canada, gaining support for her program. Encouraging your little ones inner creativity will keep them motivated and super every day!
To me, being super often boils down to standing by your personal values, even if others pressure you to change. That's something I've worked hard to teach my boys and every so often they'll share a story that shows me the work is paying off. My oldest son Zackary has a habit of befriending the more lonely children in his class and resolutely defends them from harassment by others. And my youngest son Benjamin loves stuffed animals and brushes aside comments that they're for babies.
If you'd like more tips on encouraging your little one to be super, make sure to join the Barbie Super Squad at BeSuper.com! You'll get a downloadable handbook and your child can complete a monthly Super mission to earn badges and potentially win great prizes! To really get a little girl excited about showing her super side, don't forget to stop by Walmart Canada and pick up some of the exclusive #BeSuper apparel and accessories available too!
Barbie is so excited about the launch of this new program that the company has a very special giveaway just for you! Two lucky Mommy Kat and Kids readers are going to win a Barbie #BeSuper prize pack containing Barbie clothing, dolls, books, accessories and a $20 Walmart gift card, a $100 total value! To enter to win, just register for the Barbie Super Squad and leave a blog comment with your child's Super Squad name and how they completed the monthly mission!
While superpowers may be appealing, they're sure not the most important thing about being a superhero in my opinion. In fact, I think trying our best to be good people each day earns all of us super status! I love that Barbie is embracing that concept as well because every newly inspired "SuperKid" helps make the world a better place!
Barbie #BeSuper Giveaway