For over a year I've shared information about some of my very favourite P&G products and why those products are a must in my household. And thanks to my relationship with P&G Canada, I've learned so much about the work that goes into making the best and most effective products possible. Innovation has been a trademark characteristic of P&G products, from the development of odour-absorbing Febreze to the research and testing that lets Tide provide the best possible fabric cleaning.
Now that hard work from the scientist and researchers at P&G is being rewarded in a big way! In the recent 2015 BrandSpark consumer survey, twenty amazing P&G products received the coveted Canadian Living Best New Product award. From cosmetics and body wash to laundry detergent and toothpaste, it's clear that I'm not the only one that thinks life is better with P&G in the house!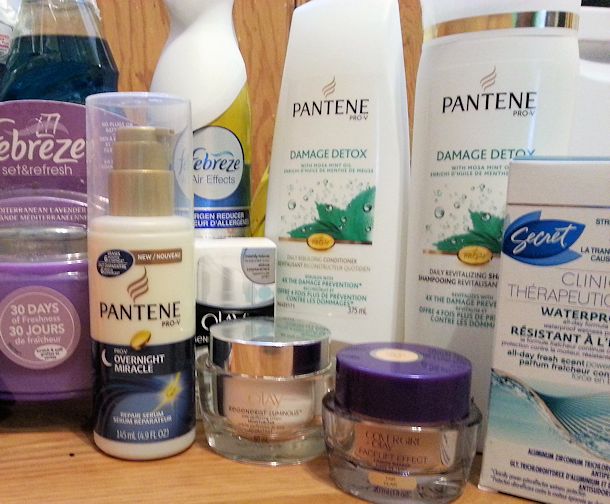 I've had the chance to try many of the award-winning products in the past and I have a few personal favourites. The Pantene Overnight Miracle Repair Serum has done wonders for keeping my hair soft and smooth in the harsh winter weather. I simply dispense a few pumps into my hand, work it through my hair from the ends up and fall into bed. The next morning my hair is soft and manageable with no residue on my pillow. Gorgeous hair has never been so easy! I also love Tide Simply Clean & Fresh laundry detergent. Designed to provide a thorough clean at a lower price than traditional Tide, it's perfect for families on a budget that want to save without sacrificing cleaning power.
While I love many of the Best New Product award winners from P&G, the company wants to see what you think of them as well! That's why P&G has put together a fabulous prize pack so that you can put the best to the test. Containing Pantene Pro-V Damage Detox Shampoo, Pantene Pro-V Damage Detox Conditioner, Pampers Swaddlers (Size 3), Pampers Sensitive Wipes, Febreze Air Effects Crisp Clean, Tide Simply Clean & Fresh and Gain Flings, a $55 total value, you're sure to find some new products to love in this package! To enter to win, just leave a blog comment about your favourite P&G product.
While I've used many of the award-winning products, there are others that are brand new to me and I can't wait to give them a try. The Gillette Venus Embrace Sensitive razor sounds like the perfect way to get smooth springtime legs without irritating my winter-worn skin. And now that I'm in my mid-thirties, keeping my skin looking firm and youthful is getting more and more important so the COVERGIRL+Olay Facelift Effect foundation is going to be a must in my cosmetics collection from now on. But no matter what products your house needs, you can't go wrong with the items on the Best New Product award winners' list. Find a few to test out to see why they're Canada's must-haves!
P&G Best New Product Giveaway