It's easy to spend multiple days exploring the four different parks that make up Walt Disney World and see new things every day. But if all you have is a 1 Day Park Hopper and you want to make the most of your visit, this is the information you've been looking for.
Enjoying the best of all four parks in twelve hours might seem impossible but with some strategic planning and a little luck, it can be done. On a recent trip to Orlando, I decided to prove that with a 1 day park hopper pass and a whirlwind day that took me from the plains of Africa to the surface of Mars!
Disney's Animal Kingdom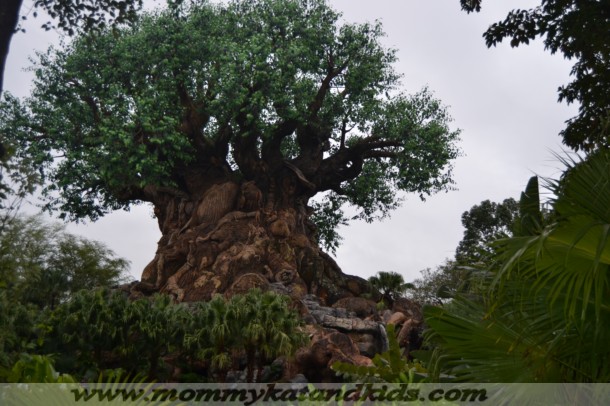 Since Disney's Animal Kingdom closes earlier than the other parks, it's a great place to start the fun. The Tree of Life is a must-see, with its stunning carving depicting over 300 different animals.
After taking a few minutes to admire the tree, I was off to Expedition Everest, one of the park's most popular roller coasters. As a first ride, it's a great one with a fast-paced coaster and a very close encounter with the Abominable Snowman. In fact, it was such a great ride that I just had to go on it twice!
Then it was time to walk through the Maharaja Jungle Trek and see the giant fruit bats, tigers, tapirs and other animals inhabiting the area. With the fun of seeing animals up close fresh in my mind, heading to the popular Kilimanjaro Safaris ride was my next top pick. Watching lions, elephants, giraffes and more roaming in expertly designed areas that simulated their natural landscapes was thrilling.
After all that walking, I was ready for a break. And watching the hugely popular 4D live show It's Tough to be a Bug was the perfect way to relax while enjoying some great entertainment. Featuring 3D special effects, smoke, scents and more, it's one of the top attractions in the park for good reason! My personal favourite moment was right at the end when the seats simulated the feeling of bugs crawling away underneath me!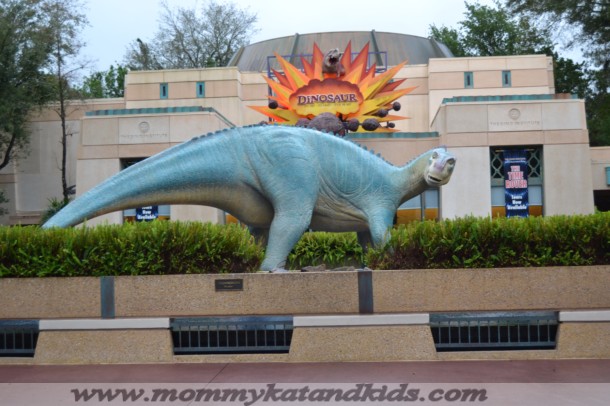 Finally, it was off to DinoLand U.S.A. to try the DINOSAUR ride. This fun-filled coaster takes riders on an adventure through time to bring back an Iguanadon before the meteor that killed the dinosaurs hits the earth. This ride was a perfect way to end my animal-filled adventure in Disney's Animal Kingdom and since it was almost noon, I grabbed a light and delicious noodle salad and a serving of steamed edamame from the Gardens Kiosk before catching the shuttle to Disney's Hollywood Studios.
Disney's Hollywood Studios
When it comes to high-excitement rides, this is the park of choice and I couldn't wait to see why. After a picturesque stroll down Hollywood Boulevard, I was ready to check out the Twilight Zone Tower of Terror for the first time. Getting to the front of the line on this ride was half the fun as eerie hotel staff ushered me into a strange room to watch a quick clip about the hotel's mysterious history. Then it was into a maintenance room and onto the ride itself. Shooting up into the air and then plunging down was so much fun and had me laughing as much as screaming. This was another ride that I just had to experience twice!
After that, I headed to the Rock 'n' Roller Coaster Starring Aerosmith. After getting exclusive backstage passes to an Aerosmith concert, I piled into the "limousine" roller coaster for a fun-filled ride through city streets to the show. The lights and music on this ride were a blast and had me wanting to rock out again. But with time at a premium, I decided instead to head over to the hugely popular Star Tours ride.
Star Tours is a 3D motion-simulated ride featuring C-3PO and R2-D2 that let me blast off into space and join the rebel alliance. One of the best things about this ride is that it features multiple storylines and destinations, so you can ride it over and over again while seeing new planets and characters each time.
I loved the attention to detail in this ride and really did feel like I was flying off in a Starspeeder 1000. Darth Vader even made an appearance! As much as I wanted to try this ride again and see how the story changed, I decided that it was time to hop on a bus to Magic Kingdom since I'd experienced the most popular rides of Disney's Hollywood Studios.
Magic Kingdom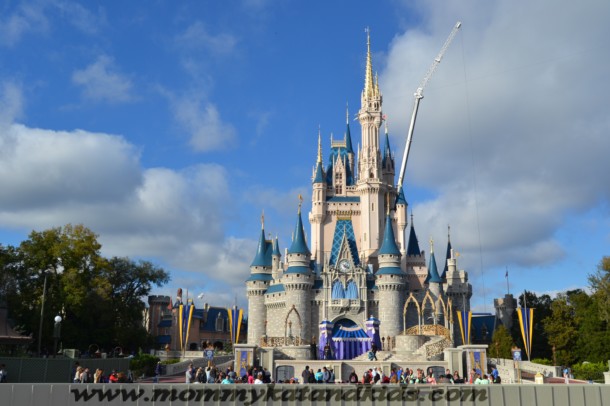 Stepping into this iconic park really does feel like magic and I was thrilled to have the chance to walk down Main Street, U.S.A. I fuelled up with a gourmet hot dog at Casey's Corner and watched the Dream Along with Mickey show at the entrance to Fantasyland. Then it was time to experience one of the most popular rides in Magic Kingdom…Space Mountain! This roller coaster whirls through outer space in pitch-blackness, making it a very unique ride since I had no way of knowing what was coming next!
After that I was off to Liberty Square to check out the Haunted Mansion, a ride that had been my favourite one when visiting Disneyland. Strolling through the mansion itself and playing with the many ghostly interactive elements makes this ride worth a wait in line, and the popular stretching room is always a blast. But the ghosts themselves are what I've always loved most about this ride and watching them whirl, twirl, dance and sing was a highlight of my trip.
After rushing around the various parks all day, I was a little hot and tired, so visiting Frontierland and taking a ride on Splash Mountain seemed like a great way to cool down. Watching Brier Rabbit's adventures as I sailed through the mountain was a relaxing break, and the splash at the end was so refreshing! And with time left before dinner, I decided to ride the Big Thunder Mountain Railroad as well. The railway and mining theme of this coaster is very entertaining and the ride itself is fun and fast without being overwhelming for younger riders.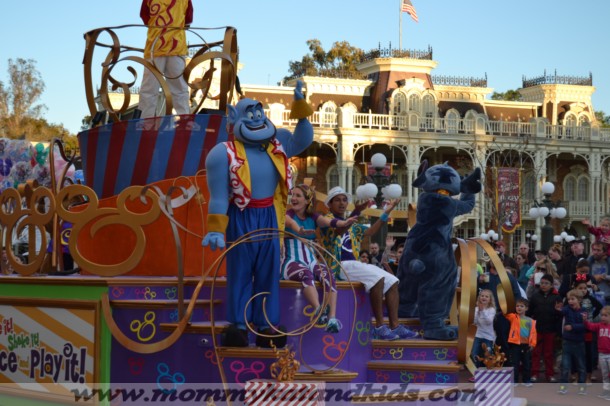 A final walk down Main Street U.S.A. gave me the chance to catch the end of the Celebrate a Dream Come True Parade before leaving Magic Kingdom. Dinnertime was fast approaching and I knew there would be no better place to eat than Epcot. With my 1 day Park Hopper, it took just a ride on the riverboat and another on the Monorail to take me to the entrance of the final Walt Disney World park.
Epcot
If there's one Disney park that's best seen at night, it's definitely Epcot. I arrived just as the sun was setting and Spaceship Earth was being illuminated. The result was spectacular and made entering the area feel like walking onto another planet. While Epcot is geared more towards education, that doesn't mean there aren't also still some amazing rides. I decided to try one of them before dinner: the popular Mission SPACE Orange Team ride.
Of all the rides I experienced in all four Walt Disney World theme parks, this was easily one of my favourites. The ride uses a centrifuge to simulate actual G-force during launch and re-entry. Each member of the four-team crew is given a job on board the vessel to help ensure the mission is a success. The simulation was incredible but it was the realism of the takeoff and landing that made this ride so impressive to me.
Then it was time to eat! The World Showcase, featuring landmarks and cultures from eleven different countries around the world, is a hungry traveller's dream come true and I decided to eat at the Rose & Crown pub and dining room in the England pavilion. The best thing about the restaurants in the World Showcase is that they hand out buzzers so that diners can explore while waiting for a table.
I took advantage of the wait to stroll past the different pavilions, each lit up beautifully against the night sky. I enjoyed a glass of wine in Italy, watched a traditional dance performance in Morocco and got a little nostalgic at the scent of pine permeating the Canada pavilion.
Dinner was delicious and the service highlighted one of the aspects I especially love about Epcot: the staff members in each pavilion are residents of that particular country. The English servers made fabulous suggestions for food and drink choices and soon I was digging into a mouth-watering plate of fish & chips.
The night ended with IllumiNations: Reflections of Earth: a fireworks show complete with colour and light cinemegraphics projected onto the centre of the lake. It was a magical end to an even more magical day and a show I will certainly never forget.
Of course, it's impossible to see everything that Walt Disney World has to offer with a 1 day park hopper. Even after a week in the four parks I'm sure there would still be some attractions or shows that were missed. Personally, I can't wait to explore Epcot more thoroughly the next time I'm in the Orlando area.
But if you want to ensure that you've experienced the best and most popular attractions Walt Disney World has to offer, these rides and shows are a must. Get some comfy shoes, grab the park maps and see if you can try all of them in a day!