My boys and I absolutely love going camping.
From large excursions with the Scouts group to family getaways to nights in the backyard, if we're under the stars cuddled up in a blanket around a crackling fire, we're in our happy place.
And as with many other special things in life, one of our favourite things about camping is the food!
Like most kids, my boys are never going to turn down classics like hot dogs and marshmallows.
But, I do love getting more creative with my camping food, and one of my all-time favourite ways to make easy camping meals is by using foil.
I love the versatility of being able to cook up a foil packet containing all our favourite foods. And the minimal cleanup of the method is an added bonus!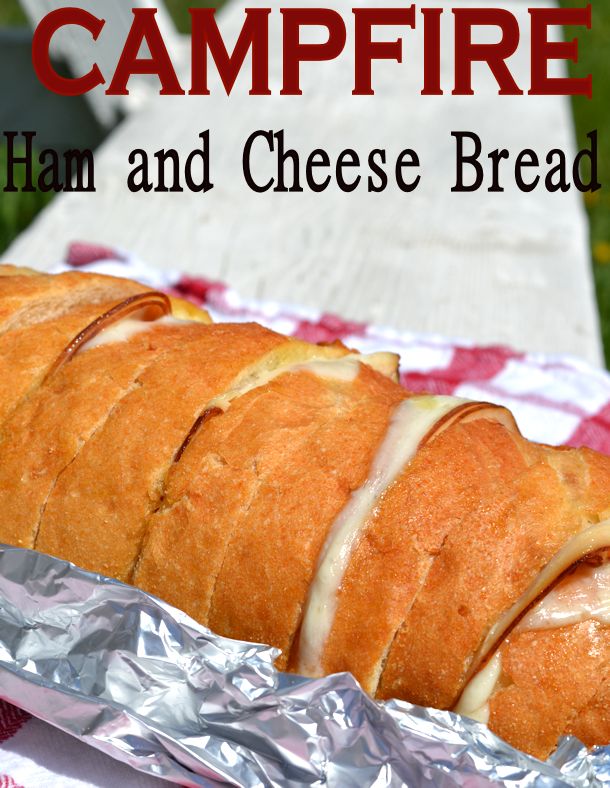 There are plenty of recipe ideas for foil-wrapped easy camping meals online, and I had a great time browsing them before our last big camping adventure.
But, I found that most of them were dinner ideas, and I wanted to make something more suitable for a camping lunch.
And so my Campfire Ham and Cheese Bread was created!
Like almost all of my favourite recipes, the beauty of this meal is its versatility.
Substitute mayo for the butter, mozzarella for swiss cheese slices, or your child's favourite deli meat for the ham.
My boys especially love oven-roasted chicken breast slices, so I did one variation with that and sharp cheddar.
I also enjoy adding veggies sometimes for a more gourmet-style sandwich; thinly-sliced red pepper is always delicious.
Best of all, Campfire Ham and Cheese Bread can be cooked either on the barbeque or on the campfire itself!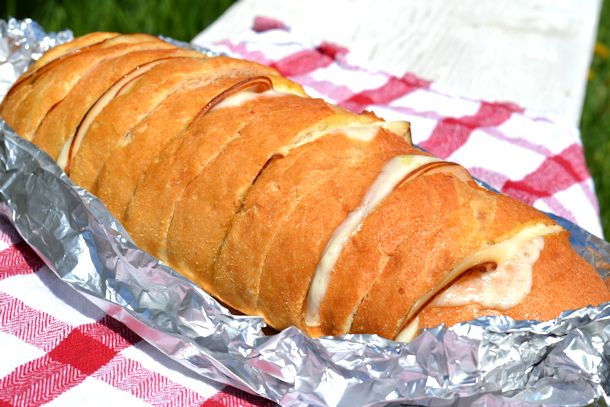 The one thing to remember when making this tasty lunch is to grease the foil, because the sandwich is sure to stick to it otherwise.
And since both campfires and BBQs can vary in temperature, keeping a close eye on the sandwich when cooking it is a must.
Since one loaf makes six sandwiches, it's a good choice for feeding a crowd.
It's also a perfect meal to make ahead; just keep the foil-wrapped loaf in your refrigerator or cooler until it's time to toss it on the grill!
Looking for more easy camping meals for your next excursion? Here are some of our family's favorite camping recipes for breakfast, lunch, dinner, and dessert!
Breakfast Camping Recipes
Lunch Camping Recipes
Dinner Camping Recipes
Dessert Camping Recipes
From tasty make-ahead mains to scrumptious desserts to other fun foil-wrapped meal ideas, these camping food ideas should help inspire you to whip up a new family favorite on your next camping trip.
It's a great year to make your summer extra delicious!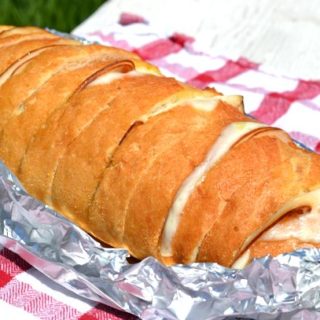 Campfire Ham and Cheese Bread
Easy pull-apart sandwich cooked on the barbeque or campfire!
Ingredients
1 loaf French or Italian bread
1/4 cup butter, softened
1 tbsp. mustard
6 swiss cheese slices
6 slices deli ham
Instructions
Cut twelve slices into loaf of bread, stopping about 1/4 inch before the bottom.
Mix together butter and mustard until combined. Spread every other cut with the butter/mustard mixture.
Stuff one slice of cheese and one slice of meat into buttered slices to create six sandwiches.
Wrap loaf in large sheet of greased foil to create a foil packet. Place on barbeque or campfire and cook at a medium heat for about twenty minutes, turning loaf every five to ten minutes.
Carefully open foil packet, pull apart sandwiches and serve.
Notes
This sandwich can be made with your favourite deli meat and cheese as an easy variation.
Nutrition Information:
Yield:

6
Serving Size:

6
Amount Per Serving:
Calories:

384
Total Fat:

18g
Saturated Fat:

8g
Trans Fat:

1g
Unsaturated Fat:

7g
Cholesterol:

45mg
Sodium:

804mg
Carbohydrates:

41g
Fiber:

3g
Sugar:

3g
Protein:

15g