When my youngest son was a toddler, I learned about balance bikes for the first time. While I liked the concept, I have to admit that the idea of buying a bike with no pedals that would be used for just a year or so seemed like a bit of a waste. I couldn't help but wish there was a more versatile option that would still help my young son learn to ride a two-wheel bike sooner.
Now, an innovative new company has made my dreams of the ultimate versatile balance bike come true with the launch of its Kickstarter campaign for the Leg&Go bicycle! Its eight-in-one design is suitable for children from eight months to six years of age and it is sure to be a huge hit with both kids and parents.
The basic sturdy birch plywood frame of the bicycle can be modified in three different ways to change the height and adjust the suspension. Put the seat low for the perfect baby bike. Flip it over for a classic balance bike. Invert the frame pieces to create a comfort bike with natural suspension. And by adding optional footrest pieces, children can glide down hills with ease.
But the unique versatility of the Leg&Go bicycle doesn't stop there! For the very youngest children, the Leg&Go can also be converted into an elephant rocker. Its natural suspension makes the rocker especially comfortable and the design ensures that babies can't tip the Leg&Go or catch their feet underneath.
And when children get older, the Leg&Go offers further customization options! Add pedals so kids can master riding a two-wheel bicycle or convert the device into a tricycle with an optional tow wagon. To top it all off, if the company reaches its maximum Kickstarter goal, its development team will create a snow package so that the Leg&Go can even be converted to a GT-style sled!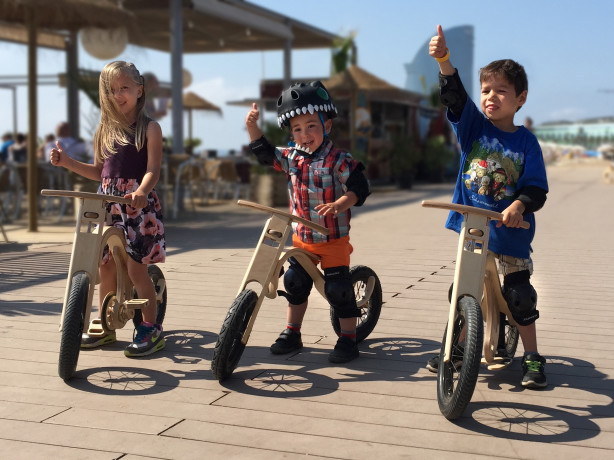 The Leg&Go is live on Kickstarter right now and can currently be purchased for a special discount price of just $179. With only 100 units available at this price, they're sure to go fast so don't miss out on your chance to get one! Check out the company's website for more information on the bike's construction and design, then visit the Leg&Go Kickstarter page to reserve a bike for yourself. With its sturdy construction and unique eight-in-one design, the Leg&Go is the only bicycle your child will need for years to come!