With summer vacation less than a week away, I'm already planning fun activities my boys and I can enjoy during the next few months. And since Saskatchewan summers are pretty hot, that's sure to include lots of time playing in the water! Spending the day at the beach, visiting the local splash park and even just running through the sprinkler in the back yard are all favourite pastimes for my boys and for me in the summer!
Since the whole family loves to get wet, having a good set of towels for drying off after fun in the water is always a good thing! This summer, I had the chance to review some stylish and fun new towels that provide added functionality for kids and adults alike. Snappy Towels are the hottest new summer accessory this year for all kinds of reasons!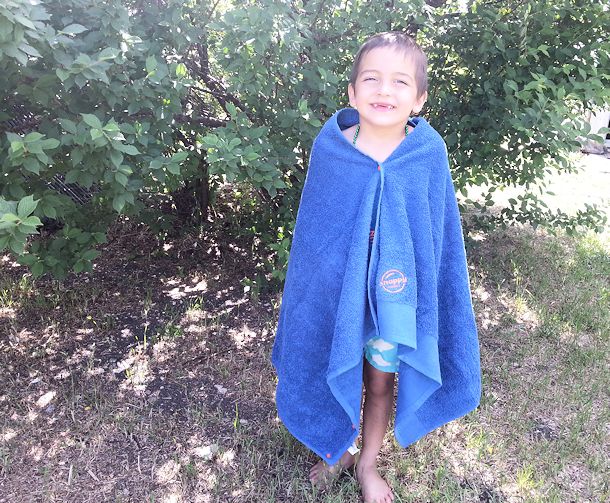 These towels feature strategically placed snaps to provide versatility that just isn't an option with regular towels. A Snappy Towel can become a cape, a hooded towel or a cover-up. It can even be snapped together with other towels to form a beach blanket! My boys and I each received a Snappy Towel to review and all three of us have fallen in love.
My boys' personal favourite way of using the Snappy Towel is as a hooded towel after swimming or playing in the sprinkler. They love how easy it is to dry off their head just by wearing the hooded towel. But my youngest also loves wearing his Snappy Towel as a cape. In fact, he'll sometimes wear it around the house just for fun even when he's not wet! Personally, I love using the Snappy Towel as a cover-up because it helps me dry off quickly, but doesn't restrict my movements.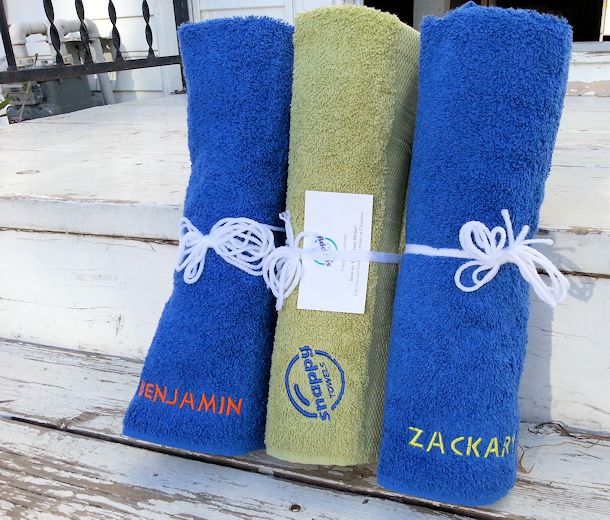 As an added bonus, Snappy Towels offer optional personalization to add an extra special touch to a child's towel. And shipping is free in the United States and Canada with the purchase of two or more towels! With a variety of fun colours, they're a perfect gift and a great way to kick off summer fun.
Would your kids love to dry off with one of these clever towels this summer? Snappy Towels is very generously offering one lucky Mommy Kat and Kids reader their very own set of two Snappy Towels, a $58 value! To enter to win, just check out the Snappy Towels website and leave a blog comment about which colours of Snappy Towels you would choose if you won.
Snappy Towels have already been a great addition to our warm-weather adventures and I'm sure that we'll love them even more when we're lying on the beach or hopping out of an icy cold pool. If water activities are a part of your summer, Snappy Towels are a great way to make the season even more fun. Order some for your kids today!