If there's anything that can make a bedroom feel instantly more inviting, it's a good comforter set. And until recently, that was something that was noticeably absent from my bedroom. I had high quality Egyptian cotton sheets and a comfy pillow-top mattress but my blankets were noticeably blah. So when Maple Harbour gave me the chance to review one of its products, I was thrilled. The company offers an assortment of stylish and fun sheets, quilts and comforter sets sure to add personality to any bedroom.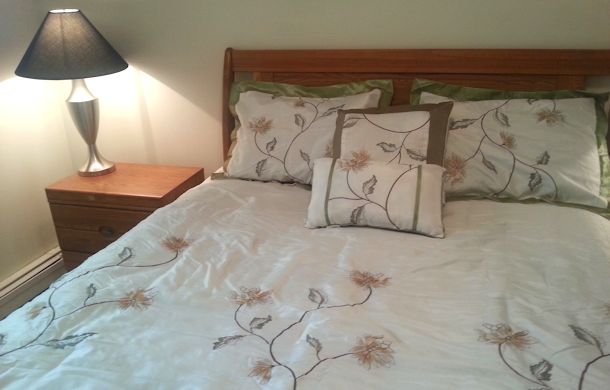 Since I'll soon be moving out of Saskatchewan, I decided on the eight-piece Flora Comforter Set to review because it had an outdoorsy look that reminds me of my home province. I love the idea of bringing that memory of the prairies along with me when I leave and I also loved the subtle, yet striking colours of the comforter.
When the set arrived, I couldn't wait to get it on the bed. I decided to forgo the bed skirt that was included with the comforter set because I found the ruffles a little too feminine to suit me. But the comforter itself was absolutely stunning and so plush too. It had a great bright sheen to it and the embroidered greenery and satin trim added the perfect contrast. I also loved the included accent pillows. They dressed up the bed perfectly to give it a touch of hotel luxury.
But the highlight of this set was how comfortable it was. The top of the comforter had a bit of a rough feel because of the embroidery, but the underside was as soft as silk. Cuddling up under this blanket after a long day was absolute bliss! And with four pillowcases and the two accent pillows, I was guaranteed all the comfort I wanted.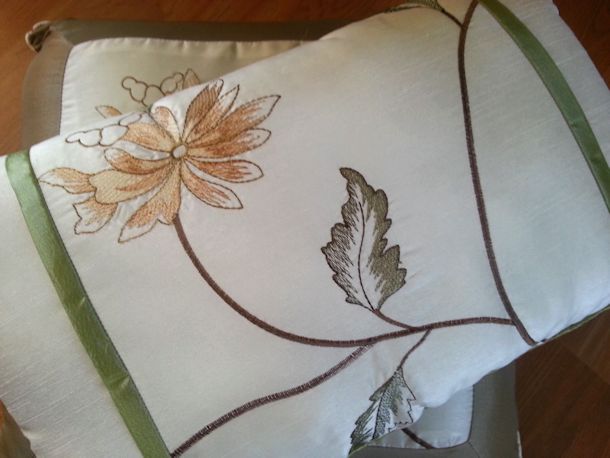 Maple Harbour has plenty of other gorgeous bedding sets for both children and adults as well as kitchen textiles, curtains and more. Since I'll soon have a new house to decorate, I'm already looking at the company's children's bedding sets for my boys! If you want to add some extra personality to your room, make sure to check out the full selection of products online. You're sure to find décor that makes your house feel like a home!