With the end of June just one week away, plans for summer have already begun for most families. And for many, that means planning for summer camp! I still have so many great memories of attending overnight camp as a child and I learned plenty of fun skills too. But while I brought back a lot from those camp days, my forgetful nature meant that I left things behind too…literally!
Luckily, my boys won't be going through the same thing thanks to the handy new Write On Labels from Stuck on You! The company's personalized labels have been a must on my shopping list each new school year and now the Write On Name Labels and Write On Clothing Labels are helping to ensure gear that goes to summer camp with my boys comes back home safely again!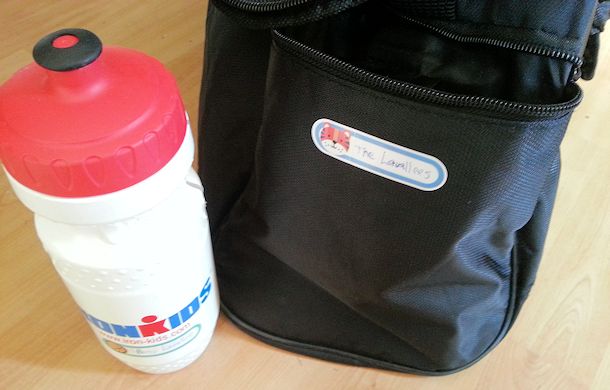 As it happened, we had the chance to test out the labels right away since my boys had two different weekend Scouts camps to attend. I carefully labelled clothes, camping dishes and water bottles with the handy labels and an ordinary ballpoint pen. The clothing labels ironed onto clothes for permanent labels that were laundry safe. And the stick-on name labels featured a waterproof cover that made them safe for the dishwasher, microwave and more. I loved how durable the labels were once I had put them on the boys' gear; they came back after camp had ended looking like new!
Stuck on You also sent me two adorable Cool Kids Hats for the boys as well, and in addition to being ideal for camp they're going to be great for summer fun! The toggle string keeps the hats in place whether my boys are running around at the beach or hiking through the prairies. And the personalization ensures that nobody accidentally walks off with the hats when they're set down!
To help you get your kids ready for summer fun, Stuck on You is sponsoring a fabulous giveaway! One lucky Mommy Kat and Kids reader is going to win a Stuck on You $50 gift certificate to stock up on summer gear for their child! To enter to win, just leave a blog comment about an activity your child has planned for the summer.
I love how convenient these new labels are for all kinds of summer activities, and because they are washable, easy to personalize and durable, they're especially useful for families with more than one child since I can use half the labels for Zackary and the other half for Benjamin. Check out the full range of products from Stuck on You online and find ones that help ensure your kids bring back all their belongings along with those memories!