While I'm pretty happy with my body overall, I'm always interested in finding new ways to tone up a little more, burn extra fat and improve my general health. And when I can find an easy and fun way to do that, I'm even happier. I'd heard of FitTea products before and I always thought the company's tagline "Give us a few weeks and we'll give you a new waistline" sounded intriguing. An all-natural tea that helped promote fat burning and boost immunity sounded like a dream come true to me and since there's nothing I love more than a soothing cup of tea, I couldn't help but want to give the product a try. Recently I had the chance to do just that with a FitTea review about how this tea worked for me.
Initially I thought that the FitTea I had been sent was a loose-leaf product, but when I opened the bag I realized it was even better. Traditional tea bags just aren't the best choice for extracting the maximum flavour and health benefits from tea leaves and while loose-leaf tea is delicious, it's also a little fussy to make since having a tea ball at the ready is a must. FitTea solves the problem by using large silk pouches, keeping the tea in its proper loose leaf form and allowing proper steeping while still being quick and simple to use. For those that prefer the traditional method, however, a loose-leaf variety is also available.
While boiling a cup of water to try my first cup of FitTea, I browsed the list of ingredients. I saw that green tea was the top item on the list and I have to admit that I was a little worried about that. I've heard about the benefits of green tea many times but I've just never been a fan of the taste. Still, with other ingredients including rooibos, ginger, pomegranate and stevia, I hoped that I would find the tea enjoyable since I'm much more likely to regularly drink a beverage that has a taste I love.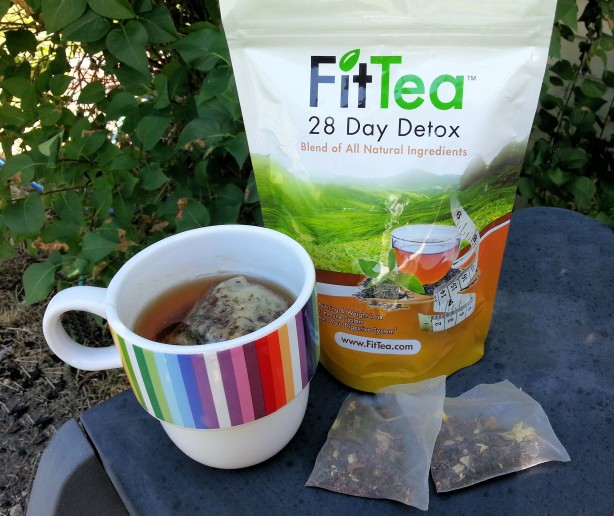 I brewed up the tea and took a first sip. To my delight, the beverage didn't have the grassy bitterness of green tea at all! Instead, it had a pleasant citrus taste that was slightly sweet and very appealing. To suit my own personal preferences, I couldn't resist adding a splash of milk for creaminess as well. After finishing the cup, I knew that I would have no issues with drinking a cup of FitTea every morning!
Of course, the great taste of the tea was just a bonus; what I really wanted to learn was how my body reacted after a few days of drinking FitTea. The product is said to promote fat burning, improve the immune system and cleanse the digestive system. While I haven't used it for the full 28 days yet, I have noticed that my energy has increased noticeably. Even though I drink the tea in the morning, I've found that since starting my FitTea review, I don't burn out in the late afternoon like I often did in the past.
I also noticed a definite improvement in my digestion. As it happened, I received this product shortly after having emergency surgery to remove my gallbladder due to it causing a fairly serious case of acute pancreatitis. After getting out of the hospital, I had some issues with my digestion both because of the removal of the gallbladder and because my pancreas was healing from its infection. Drinking FitTea and eating a healthy breakfast as soon as I woke up led to better digestion all day long. In fact, after following this routine for a few days, I was able to eat whatever I wanted for the rest of the day with no issues!
Overall, I was surprised and impressed with my FitTea results; the tea was pretty much exactly what I look for in a health product. It was delicious, easy to use and provided noticeable benefits quickly. And best of all, it was a safe addition to my diet thanks to its natural ingredients! Whether you want to lose a bit of extra weight, boost your energy or just provide your body with extra nutrients to help sooth and improve your digestion and immune system, FitTea is a great choice. Give it a try and see for yourself how its simple and natural ingredients can help improve your health gently and effectively!