Getting married is one of the biggest events in life, with the big day alone often taking months of planning. But staying safe and secure during all the important marriage and newlywed moments is something that doesn't occur to many couples. Master Lock has some great tips and products to help ensure that happy couples are able to easily keep important items safe and organized, from tax paperwork to the marriage license.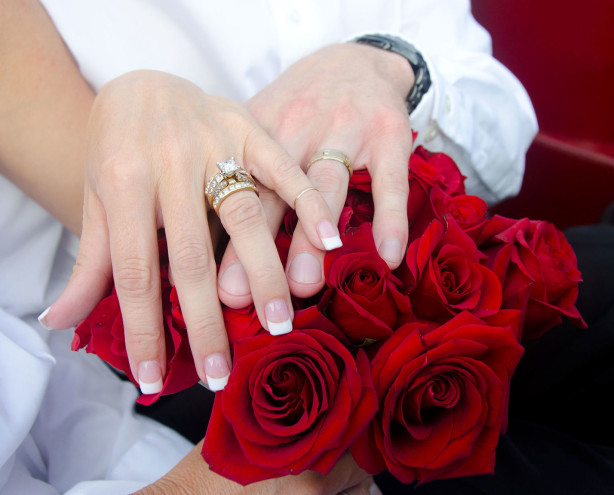 The Registry: Although more than 2 million couples tie the knot each year, a recent study shows that up to 84 percent of U.S. and Canadian residents do not include safety items on their wedding registry. Adding a durable, long-lasting safe, such as the Sentry Safe FHW40200 Waterproof Fire-Resistant File, to your registry will help ensure your valuables, marriage license and other important belongings are protected and safeguarded for years to come.
The Honeymoon: Whether you are traveling to an exotic destination or spending the weekend away, your honeymoon is a celebratory time for you and your spouse. As you pack your sunglasses, sandals and suits, don't forget to lock up your luggage with a Master Lock 4688D or 4692D TSA-Accepted Luggage Lock to protect your valuables while traveling. Make sure to keep credit cards, cash, jewelry and other small items in the portable Master Lock 5900D SafeSpace personal safe to secure your belongings while you have some fun in the sun.
The Home: Buying your dream home and moving in together may be the first time couples combine their belongings. From electronics to jewelry, your home is the place where all of your personal valuables and belongings are located. With a burglary occurring every 15 seconds, turn your house into a safe haven with added protection and security measures. Beyond customary locks, use a Master Lock 265DCCSEN Door Security Bar to resist forced entry through front, patio or sliding glass doors.
The Finances: Filing jointly with your spouse offers many advantages, and with a new marital status comes significant changes that could affect your taxes. Couples who jointly file are able to deduct two exemption amounts from their income and qualify for multiple credits. To keep all your necessary tax documents organized and protected throughout the year, use the Master Lock Vault, a free, digital safe deposit box, to store credit card numbers and digital copies of tax forms or other important documents in a secure, reliable location for easy access from any smart phone or computer.
The Commitment: Getting married should be a positive time in your life, and committing to your spouse and relationship is a significant milestone. As in other areas of your life, marriage will be full of ups and downs. Planning for the long-term, discussing your goals, compromising and making sacrifices are all important steps to creating a happy and strong foundation together.

This month, to help couples prepare for a lifetime of new experiences, Master Lock is offering a very special giveaway! One lucky Mommy Kat and Kids reader is going to win a Newlywed Prize Pack containing a Master Lock 4692D TSA-Accepted Luggage Lock, a Master Lock 4688D TSA-Accepted Luggage Lock, a Master Lock 265DCCSEN Door Security Bar, a Master Lock 5900D SafeSpace personal safe and a $50 Visa gift card, a $100 total value! To enter to win, just leave a blog comment about which of the Master Lock products mentioned in these tips is the one you would find most useful.
Since June is National Safety Month, it's a great time to think about keeping those important items safe, especially for couples preparing to start a new life together. A little foresight and preparation early on is an easy step in ensuring future years of fun and happiness together!