School is ending, Canada day is quickly approaching and here in Saskatchewan, the weather is hot, hot, hot!
I'm feeling that summertime spirit already and that means free time is spent outside in the sunshine as much as possible. But this heat has also been giving me a craving for cold, creamy treats and as much as I love ice cream, it has too much fat and sugar for me to want to feed it to my family too often!
That's why I was so excited to test out the Yonanas Frozen Dessert Maker. This fun device turns frozen bananas and other fruit into a creamy, dreamy soft-serve style treat.
Since our weather's been so tropical lately, I decided to whip up a Tropical Mango Yonanas recipe using banana and mango!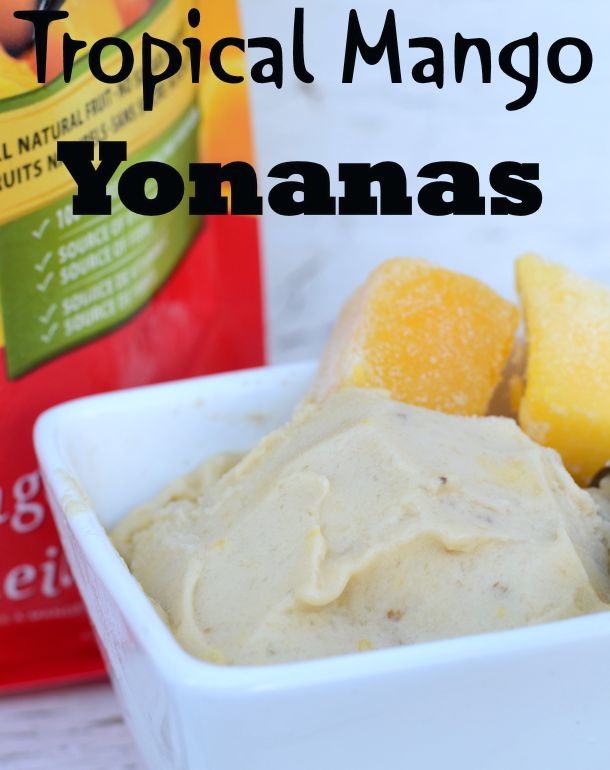 The Yonanas machine is a little noisy, but it's also very quick to use. I just pressed the frozen fruit through the chute with the plunger and the creamy concoction came out of the dispenser into the bowl.
I was impressed with how well the banana and mango blended together inside the machine. It mixed perfectly so that every bite had noticeable mango flavour.
And when I was done, I simply unlocked the top portion of the machine, rinsed all the parts and reassembled them for next time!
The boys both devoured their Tropical Mango Yonanas and declared it to be delicious. I loved being able to give them a frozen treat that contained no artificial ingredients or refined sugar!
But I have to admit, I was a little hesitant about trying the mixture myself. I'm not a big fan of bananas so I didn't expect to be overly impressed by any Yonanas recipes.
One bite later, I was a Yonanas convert! The banana flavour is very subtle; not at all the overwhelming taste I had expected. The mango came through much more strongly so that I pretty much felt like I was eating mango ice cream. And the creamy texture of the treat was absolutely addictive!
Looking for other great mango recipes? This tasty Mango Bread is full of tropical flavour as well, and a fun twist on traditional banana bread!
Or, enjoy another frozen treat with this delicious Strawberry Mango Daiquiri recipe!
The Yonanas machine makes healthy summer snacking so easy and I can't wait to get creative with some other Yonanas recipes. From Cookies & Cream to Strawberry Cheesecake to Mint Chip, there are so many possibilities in my head already!
And since the ingredients are so easy to customize, it's a great treat choice for gluten-free, lactose-free or other restricted diets. Grab a Yonanas machine, freeze your favourite fruit and get ready to enjoy delicious and healthy soft serve all summer long!
Tropical Mango Yonanas
Simple tropical soft-serve dessert made with the Yonanas machine!
Ingredients
2 frozen bananas, broken in half
1 cup frozen mango chunks
Instructions
Remove fruit from freezer and let soften approximately ten minutes.
Place half of one frozen banana into Yonanas machine, followed by about 1/2 cup of mango chunks and another half of banana. Use plunger to push fruit through machine.
Repeat with remaining banana and mango.
Serve immediately.
Nutrition Information:
Yield:

2
Serving Size:

2
Amount Per Serving:
Calories:

155
Total Fat:

1g
Saturated Fat:

0g
Trans Fat:

0g
Unsaturated Fat:

0g
Cholesterol:

0mg
Sodium:

2mg
Carbohydrates:

39g
Fiber:

4g
Sugar:

26g
Protein:

2g