Even though they don't grow here in Canada, nothing says summer to me like mangos.
I find they're at their best when bought in the early summer, and having a piece of perfectly ripe mango always makes me feel like I'm on a tropical beach.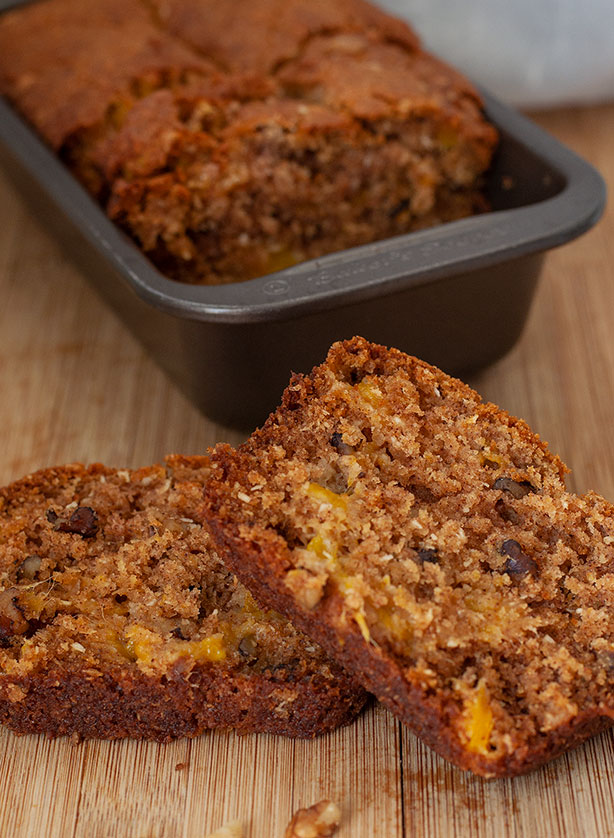 I was in my late teens when I first fell in love with mango, and I got my whole family involved with my new favourite food. We tried mango in everything from ice cream to salsa. And one of our very favourite mango recipes was Mango Bread.
My sister was the one that first discovered and tested the recipe. She tweaked the original recipe that she'd found online, and I tweaked it a little more.
In the end, we created a Mango Bread recipe that was packed with tropical flavour and a hit with the whole family.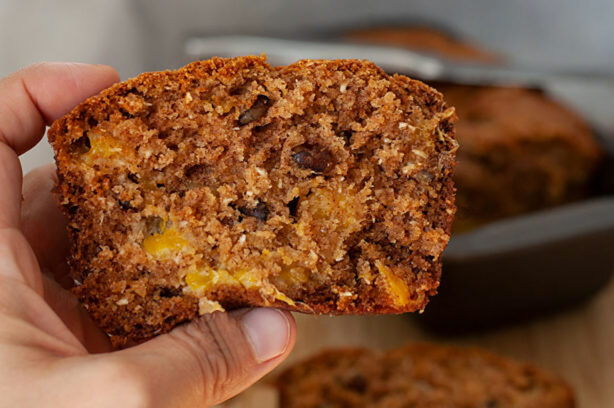 Recently, when I was browsing through my folder of printed and handwritten recipes collected over the years, I found my recipe for Mango Bread. I knew I had to see if it was as good as I remembered.
And it did not disappoint! My husband and three kids both devoured slices of the bread as soon as it was cool and within a day, the entire loaf was gone. Banana bread has always been this family's favourite, but I think that might have changed now!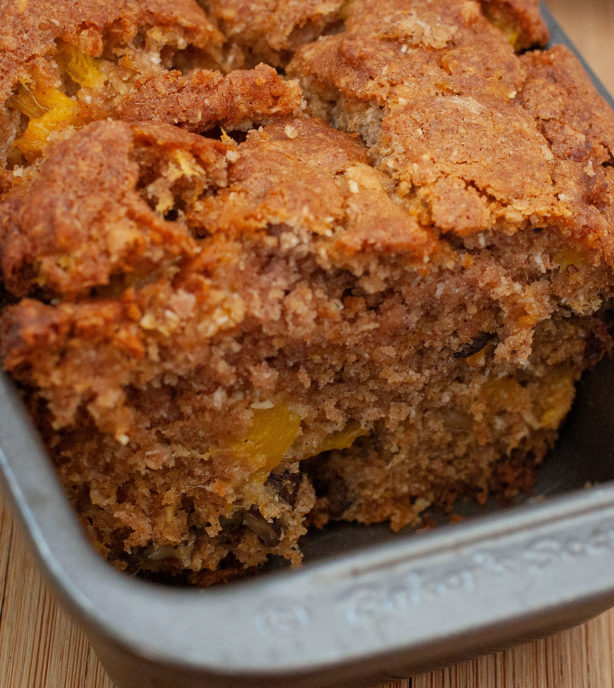 This Mango Bread recipe is simply too good not to share, so grab a ripe mango and get ready for a little slice of tropical paradise!
Got lots of mangos to use? This savoury Asiago Spicy Ranch Chicken with Mango Avocado Salsa is a guaranteed people-pleaser and fancy enough for company.
Or, for a creamy frozen treat, pull out your Yonanas machine and try this creamy tropical mango Yonanas recipe!
If you try this easy and unique quick bread, make sure to let me know what you think. I'd love to know if you love mango bread as much as my family does!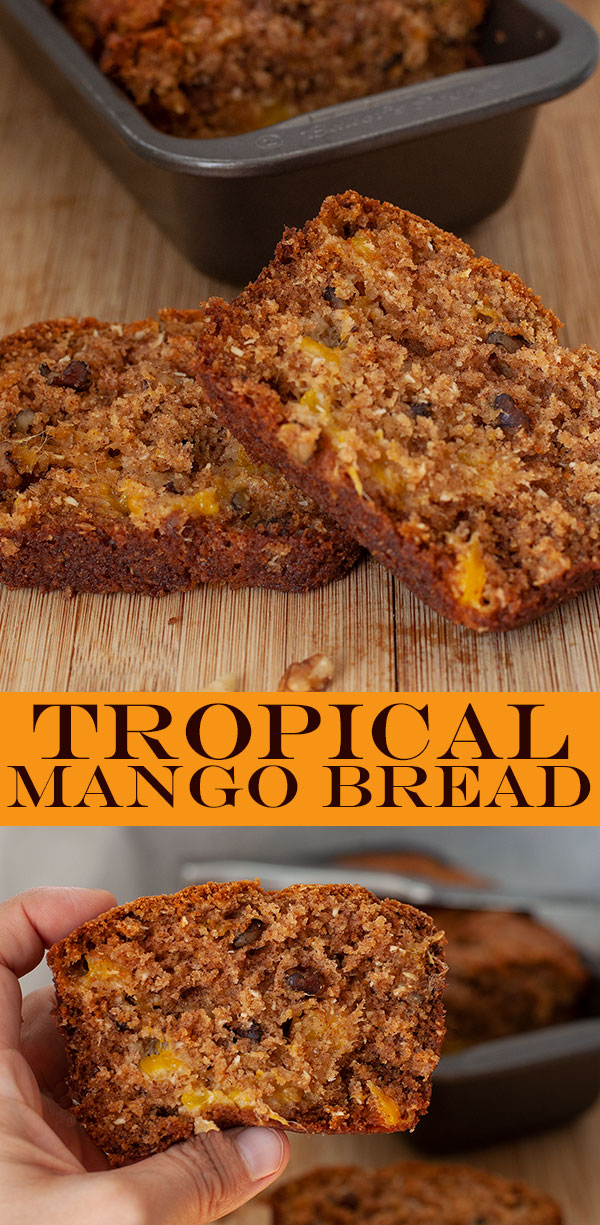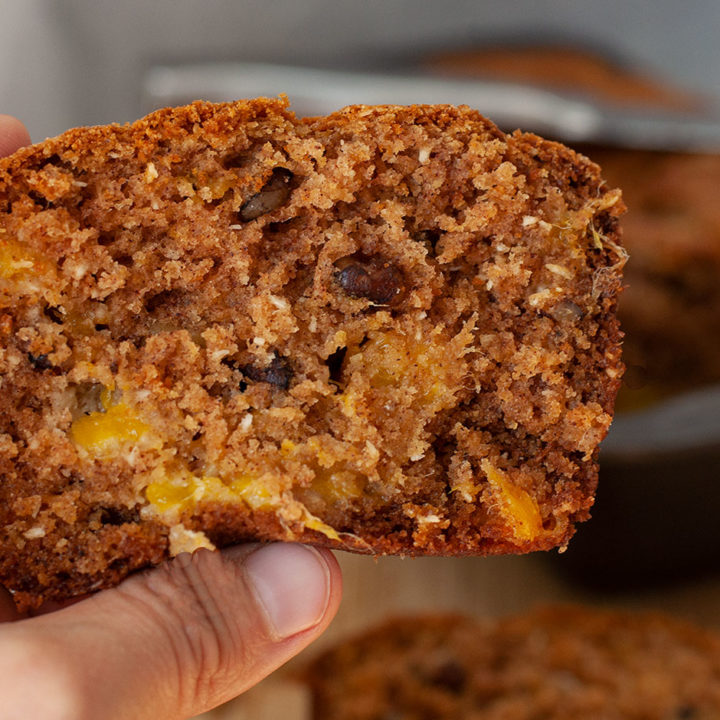 Mango Bread
Total Time:
1 hour
20 minutes
A delicious quick bread that's packed with tropical flavours.
Ingredients
1 cup all purpose flour
1 tsp baking soda
1 tsp cinnamon
1/4 tsp salt
1/4 cup butter, softened
1/4 cup vegetable oil
1/2 cup white sugar
1 egg
1/2 tsp vanilla
1 1/2 cups diced mango, approximately one large
1/4 cup coconut
1/4 cup chopped walnuts
Instructions
Preheat oven to 350 degrees. Grease loaf pan.
In large bowl, stir together flour, baking soda, cinnamon and salt until fully combined.
In smaller bowl, cream together softened butter, oil and sugar until blended.
Beat in egg until fully incorporated, then stir in vanilla.
Add wet ingredients to flour mixture and stir just until combined.
Add mango, coconut and walnuts to batter and fold in gently. Batter should still have some lumps.
Pour batter into loaf pan and bake for 50-60 minutes, until skewer inserted into loaf comes out clean.
Let cool and cut into slices. Serve on its own or spread with butter if desired.
Notes
Loaf freezes well for up to three months.
Recommended Products
As an Amazon Associate and member of other affiliate programs, I earn from qualifying purchases.
Nutrition Information:
Yield:

12
Serving Size:

12 Servings
Amount Per Serving:
Calories:

188
Total Fat:

11g
Saturated Fat:

4g
Trans Fat:

0g
Unsaturated Fat:

7g
Cholesterol:

26mg
Sodium:

195mg
Carbohydrates:

21g
Fiber:

1g
Sugar:

12g
Protein:

2g