I love to cook and I especially love mastering new cooking styles and techniques from around the world. But, until recently, I'd never really delved into French food recipes. Broil, braise, sauté, flambé…the French cooking techniques seemed a little too intimidating for me!
Luckily, that all changed when I took part in Motrin's Make it Happen Monday challenge! I set myself a goal of mastering a dinner-party-worthy menu of 3 classic French food recipes and then spent the next two weeks turning my dream into a reality!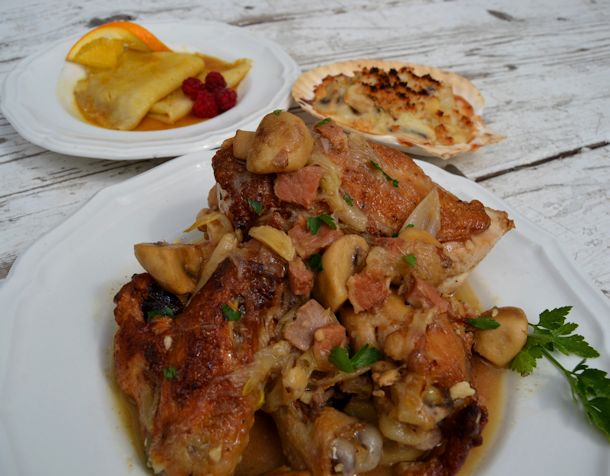 Now my menu has come to fruition and, thanks to a lot of preparation and some great advice from chef friends and others, it was absolutely spectacular. The three-course meal was everything I hoped it would be, and I loved learning so many new things along the way.
Coquilles St. Jacques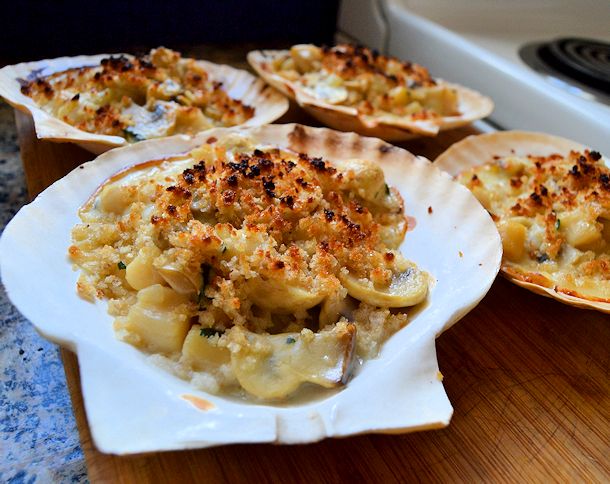 The meal started out with Coquilles St. Jacques. The mixture of scallops, mushroom and onion is often combined in a somewhat complicated cream sauce made with a roué and then served au gratin by grating cheese on top and broiling the dish.
I streamlined the meal by mixing my cheese right into the sauce so that it thickened naturally without needing flour. A crunchy breadcrumb topping provided the perfect finish.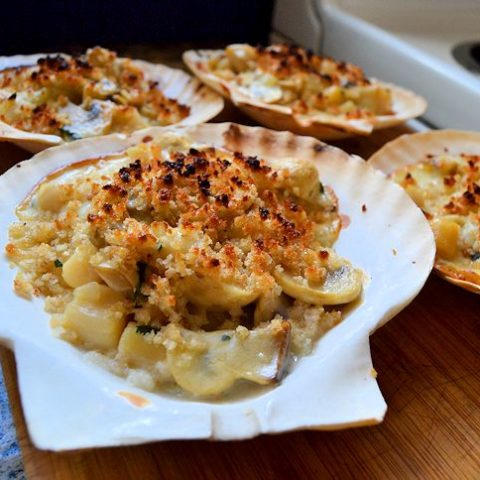 Coquilles St. Jacques
A delicious and foolproof recipe for a classic French appetizer.
Ingredients
1/2 cup dry bread crumbs
5 tablespoons melted butter
6 ounces shredded Gruyere cheese
2 tbsp. mayonnaise
1/4 cup whipping cream
1/4 cup dry white wine
1 tablespoon chopped fresh parsley
1 pound sea scallops, quartered
1/2 pound button mushrooms, sliced
1/2 cup chopped onion
Instructions
In small mixing bowl, toss the bread crumbs with 1 tablespoon of melted butter; mix thoroughly and set aside.
In another small bowl, combine the cheese, mayonnaise, whipping cream, wine and parsley; mix thoroughly and set aside.
In a skillet over medium heat, saute scallops in 2 tablespoons of melted butter until opaque. Transfer to a plate lined with paper towels. Preheat broiler for medium/high heat.
Reheat the skillet over medium heat and cook the mushrooms and onion in 2 tablespoons of melted butter until tender. Add cheese mixture and return the scallops to the skillet. Cook until heated through and the cheese is melted. Spoon the mixture into individual ramekins or pour the whole mixture into a 11x7 inch baking dish. Sprinkle the top with bread crumb mixture.
Broil in a preheated broiler 6 inches from heat for 2 to 4 minutes or until browned.
Notes
Recipe can be prepared ahead up until being poured into ramekins and then refrigerated until ready to serve. Increase broiling time by approximately five minutes until mixture is bubbling.
Nutrition Information:
Yield:

4
Serving Size:

4 Servings
Amount Per Serving:
Calories:

537
Total Fat:

34.7g
Saturated Fat:

19.2g
Trans Fat:

1g
Unsaturated Fat:

13g
Cholesterol:

133mg
Sodium:

586mg
Carbohydrates:

18.2g
Fiber:

1.5g
Sugar:

3.2g
Protein:

35.9g
Coq au Vin
My main course was definitely the most challenging of the three dishes, but luckily I found some great advice online that helped me overcome its trickier nuances.
Because the original recipe was made with rooster, a notoriously tough bird, the braising method tenderized the meat to perfection. Since the dish is now usually made with already-tender chicken, braising can sometimes have the opposite effect, leaving the white meat of the bird tough.
I decided to take the advice of a recipe online and add the chicken breasts only during the last half hour of cooking to ensure they stayed tender. By marinating the bird in wine first, I ensured that every piece of chicken still had the rich flavour I wanted.
And though this dish is traditionally made with red wine (Burgundy, to be specific), I decided to buck convention and use white wine for a lighter flavour more suitable for summer. The result was fantastic and the rich sauce certainly wasn't lacking in flavour as far as I could tell!
Coq au Vin
Cook Time:
1 hour
30 minutes
Total Time:
2 hours
30 minutes
A hearty and warming main course with rich and complex flavour.
Ingredients
1 whole small chicken cut into nine pieces
2 cups dry white wine
8 ounces pearl onions or shallots
1/4 pound salt pork, cut into 1- by 1/4- by 1/4-inch sticks
Kosher salt and freshly ground black pepper
8 ounces button or cremini mushrooms, woody stems trimmed if necessary, quartered
4 medium cloves garlic, crushed
2 cups gelatinous homemade chicken stock or low-sodium chicken broth
3 tablespoons cold unsalted butter, cubed
1/4 cup minced flat-leaf parsley
Instructions
Preheat oven to 350°F. Add chicken to a 1-gallon zipper-lock bag. Pour in wine and seal bag, pressing out air. Let stand while you prepare the remaining ingredients.
Peel pearl onions and cut mushrooms into quarters.
In a large Dutch oven, cook salt pork over medium-high heat, stirring and reducing heat as necessary to prevent scorching, until browned and fat has rendered, about 10 minutes. Remove from heat and, using a slotted spoon, transfer salt pork to a paper towel-lined plate.
Remove chicken from zipper-lock bag, reserving wine, and pat dry. Season with salt and pepper. Return Dutch oven with rendered bacon fat to medium-high heat and, working in batches, add chicken, skin side down, and cook until browned, about 7 minutes. Turn and brown other side, about 5 minutes. Transfer browned chicken to paper towel-lined plate.
Once all chicken is browned, add mushrooms to Dutch oven and cook over medium-high heat, stirring frequently, until browned, 10 to 12 minutes. Add pearl onions and garlic and cook, stirring, until lightly browned, about 5 minutes. Add bacon, wine, thyme, and bay leaves and bring to a simmer, stirring to deglaze pan.
Stir in stock. Keeping breasts aside, add chicken pieces skin side up, nestling them into the Dutch oven so that they are partially submerged but top of skin is above the liquid. Transfer to oven and cook, uncovered, for 1 hour.
Add chicken breasts, nestling them skin side up amongst the legs, and return to the oven. Cook until breasts are just cooked through, about 20 minutes.
Transfer chicken pieces to a clean rack set over a rimmed backing sheet. Set Dutch oven over medium-low heat and simmer until sauce is reduced and thickened, about 10 minutes. Whisk in butter, then season with salt (if necessary) and pepper. Stir in half of parsley.
Return chicken to pot, spooning sauce on top. Garnish with remaining parsley and serve.
Notes
Bacon can be substituted for salt pork if desired. Red wine is traditionally used in this dish and can be substituted for the white.
Recommended Products
As an Amazon Associate and member of other affiliate programs, I earn from qualifying purchases.
Nutrition Information:
Yield:

6
Serving Size:

6 Servings
Amount Per Serving:
Calories:

1134
Total Fat:

75g
Saturated Fat:

24.7g
Trans Fat:

0g
Unsaturated Fat:

19g
Cholesterol:

364mg
Sodium:

346mg
Carbohydrates:

7.7g
Fiber:

1.1g
Sugar:

2.9g
Protein:

73.9g
Crepes Suzette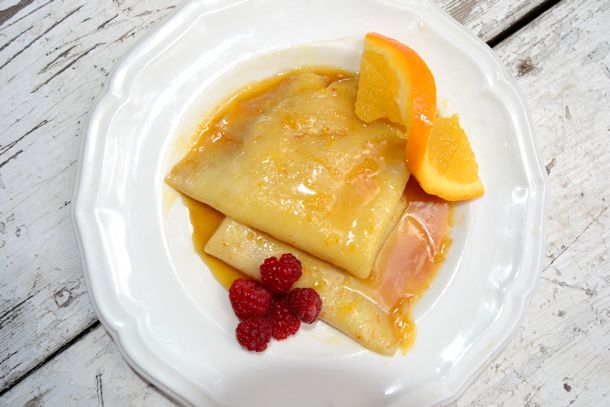 My dessert was the dish I had been most nervous about for two different reasons. First, it involved cooking a sugar caramel, which can sometimes be a tricky process. Second, it required a flambé at the end, a technique I'd never tried before.
The crepes themselves cooked up quickly using my favourite Basic French Crepes recipe, and the orange caramel was surprisingly easy to cook up as well. All that remained was to pour the Grand Marnier over the crepes and set the pan alight.
The liqueur flared up at the first touch of the flame and the result was beautiful! Now that I've seen for myself how easy it is to flambé, I'm going to be using the technique at my next dinner party. It's such an impressive end to a meal and the crepes themselves were absolutely delicious.
I'm so happy that I challenged myself to try something new in the kitchen and I can't wait to cook up some other tasty French food recipes now. No matter what goals you have, joining in the Motrin Make it Happen Monday movement is a great way to get inspired and turn your dreams into reality!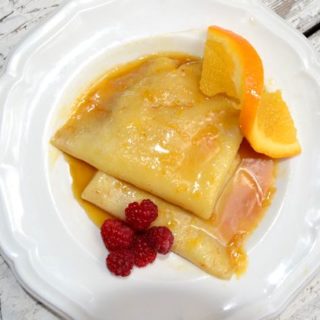 Crepes Suzette
A decadent French dessert featuring a Grand Marnier flambe!
Ingredients
6 basic crepes
3 tbsp granulated sugar
2 tbsp unsalted butter
2 tsp grated orange rind
1/3 cup orange juice
3 tbsp orange-flavoured liqueur, preferably Grand Marnier
Instructions
Make Basic Crepes, reserving any additional crepes for future recipes.
In large skillet, melt sugar with butter over medium heat. Add orange rind, orange juice and 1 tbsp of the orange liqueur; bring to boil. Reduce heat and simmer for 1 minute until sauce is thick and resembles caramel.
Add 1 crepe to skillet, turning to coat. Using tongs, fold crepe into quarters; move to side of skillet. Repeat with remaining crepes, overlapping around edge of pan.
Drizzle crepes with remaining liqueur. Remove from heat and ignite pan. When flames subside, serve crepes.
Nutrition Information:
Yield:

2
Serving Size:

2 Servings
Amount Per Serving:
Calories:

441
Total Fat:

14.7g
Saturated Fat:

7.4g
Trans Fat:

0g
Cholesterol:

49mg
Sodium:

298mg
Carbohydrates:

63.1g
Fiber:

0.3g
Sugar:

49.6g
Protein:

3.5g
Disclosure: This post was brought to you by Motrin. The opinions expressed herein are those of the author and are not indicative of the opinions or positions of McNeil Consumer Healthcare or its parent company Johnson & Johnson Inc.