When I take a moment or two to watch my boys, I'm always amazed by how quickly they're growing. The years are slipping by faster and faster, and I know soon these precious childhood moments will be gone. In our fast-paced lives, taking time to enjoy my boys' childhood is more important than ever, but it's not always easy with so much on the go!
Luckily, if there's one thing that I've learned as a parent, it's that it doesn't take much to make an ordinary evening special. A cool activity and a fun treat can take a regular weeknight and turn it into a special occasion. And recently my family decided to do just that on an ordinary Wednesday, with a little help from McCain Deep 'n Delicious!
Our goal was to plan a fun family activity night, complete with McCain Deep 'n Delicious cake for a special treat. In previous weeks, we've had nights of board games, movies and video games, so I wanted to switch things up with a new activity. I headed to the local dollar store with a gift card for our activities and my fun custom tote bag and grabbed materials for a fun family art project!
I loved the idea of working together to create a piece of art, and then being able to hang it on the wall and enjoy it in the coming weeks. And since we're celebrating a new season, fall-themed artwork was the perfect choice. The project started with coating a hand and arm in paint and pressing it down on a canvas to create a tree trunk. Then we decorated the "trees" with fingerprints, jewels and paper flowers.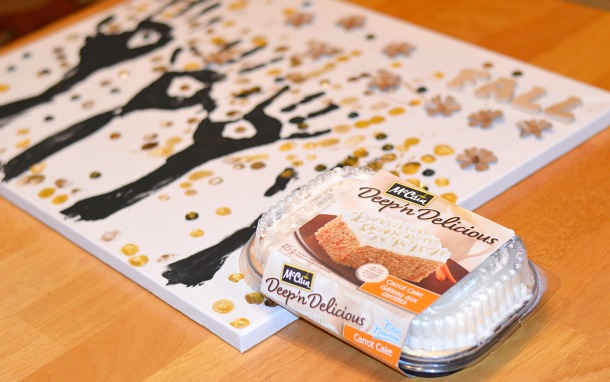 Finally, I hung the finished canvas on the wall and we sat down to celebrate our great work with a piece of McCain Deep 'n Delicious Carrot Cake. I have to admit that I was the one that decided on the variety; carrot cake is my absolute favourite! And since my boys are happy with pretty much any flavour of cake, I decided we should all try the new variety. The flavour was fabulous, the cream cheese icing was addictive and as far as we were concerned, the cake was the perfect end to a night of family fun!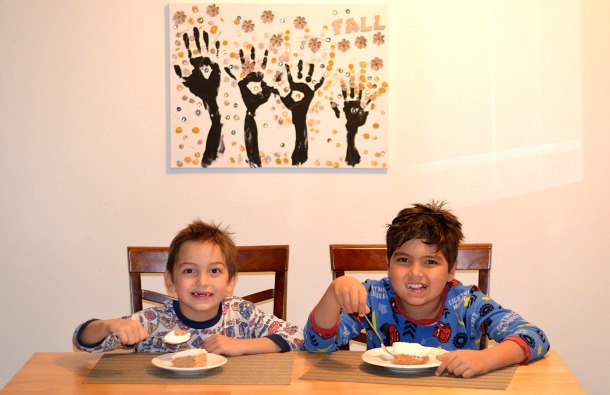 Creating this piece of artwork was such an entertaining and meaningful moment, and the canvas has me thinking about my family every time I look at it. Since we do have fairly bland white walls that don't show it off as much as I'd like, I'm actually thinking about getting a black frame for the canvas so that I can enjoy it even more! After all, not only is it decorative, it will one day be a memory of how small my boys once were.
Best of all, our night of family art was one that we were able to squeeze into the precious three hours between my boys getting home from school and going to bed. But as quick as our project was, we all enjoyed every minute…and the cake at the end! If your family has been feeling rushed lately, why not plan a family activity night of your own? Something as simple as a few craft supplies or board games and a tasty McCain Deep 'n Delicious cake can create memories that will last a lifetime!
Disclosure: This post was brought to you by McCain Foods Canada. The opinions expressed herein are those of the author and are not indicative of the opinions or positions of McCain Foods Canada.