In just a few weeks, one of my very favourite holidays will be arriving…Halloween! I'm notorious for going overboard with food, decorations and treats during almost every holiday celebration, but Halloween has always been one of my personal favourites. Custom tombstones, creative costumes and more help to make the day one that my boys and I anticipate for weeks in advance.
But there's no doubt that all the candy involved in the holiday isn't necessarily the healthiest choice for little ones. And I learned years ago that switching up those treats for something different, and ideally healthier, isn't disappointing for little ones at all. In fact, they often get extra excited about getting a more original addition to their treat bag!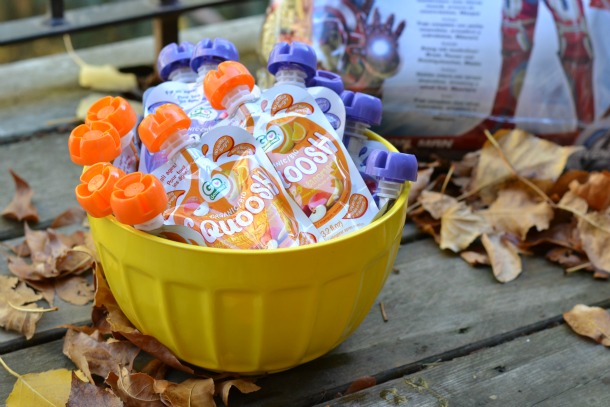 In the past, I've given children hot chocolate packs, mini popcorn bags and even fun Halloween-themed toys either instead of or in addition to a few sugary treats. And this year I'll be following that trend once again by handing out tasty and popular Go Gourmet Squoosh fruit pouches from Baby Gourmet! Available in SpinApple (apple, cherry, yogurt, spinach and quinoa), BeetBerry (banana, apple, beet and blueberry), OrangeBango (mango, carrot, banana and apple) and SquabbleBerry (apple, blueberry, squash and banana), these pouches pack big nutrition into a delicious little package.
The tasty snacks each contain a full serving of organic fruits and vegetables and boast a fun kid-friendly design that appeals to both toddlers and older children. In fact, my nine and six-year-old boys both prefer Squoosh pouches to any other pureed fruit treat. And with four delicious flavours, there's sure to be a favourite for every child. Paired with a mini comic book and a chocolate bar just for fun, I'm sure kids will be thrilled with their Halloween goodies from our house this year!
If you'd like to add a bit of extra healthiness to your Halloween treat bowl, Baby Gourmet is here to help! The company is very generously offering one lucky Mommy Kat and Kids reader a prize pack containing $50 of Squoosh fruit pouches! To enter to win, just leave a blog comment about which of the four flavours you think would be the favourite in your household.
Indulging in candy and chocolate is a part of the fun of Halloween, but adding a bit of extra health to the event with nutritious and delicious Squoosh fruit pouches just makes sense to me. And considering kids love the treats so much that they don't even mind the added nutrition, trading junk food for healthy snacks has never been easier. Find Squoosh pouches in grocery and retail stores across Canada and make Halloween a little healthier this year!