I've always been a little bit nuts for nuts. Cracking whole assorted nuts and eating them right out the shell has been a Christmas tradition in our house since I was a child. And whether I'm making a flavourful vegetarian curry or a batch of tasty homemade chocolates, adding nuts just makes food better. But the best part is that nuts are a great source of so many essential nutrients too!
Now Happy Planet, a proudly Canadian company that makes some of my very favourite fresh soups, is bringing the goodness of nuts to its new line of smoothies! Just in time to help you stick to your newly formed healthy eating and exercise habits, these smoothies comes in four delicious flavours and are packed with all the goodness of almonds and cashews! I recently received the new smoothies to test out for myself and I couldn't wait to try them all.
The smoothies are available in Coffee, Vanilla Chai, Salted Caramel and Chocolate flavours and can be purchased in both large 900ml bottles and individual-sized 325ml bottles. I opened a single-serve Salted Caramel and took a sip. Immediately, I knew I'd found my new favourite snack for those mid-afternoon slumps! The caramel flavour was fantastic and the smoothie had a great creamy texture that made it hard to believe it was both dairy and soy free!
Of course, my boys wanted in on the taste-testing too, so I poured them each a glass of the Chocolate Nut Smoothie. Flavoured with rich Dutch cocoa, both boys loved these smoothies that provided them with a good source of iron in every serving. And when I tried a sip myself, I knew why. The smoothie was like drinking a chocolate milkshake…without the milk, of course! In fact, both boys liked the smoothies so much that they now request both the Chocolate and Salted Caramel varieties for breakfast a few times a week!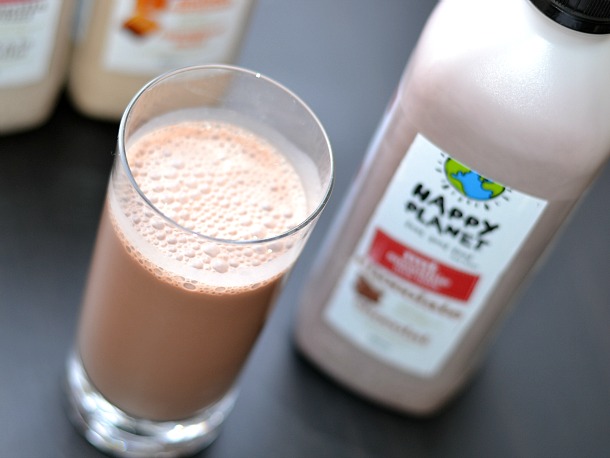 The Vanilla Chai Nut Smoothie was delicious as well, but the Coffee variety has become my personal favourite. Made with cold-brewed coffee, it has just a bit of a caffeine boost in each bottle to add some get-up-and-go to my day. I used to be notorious for drinking a cup or two of real coffee in the afternoon and then having trouble falling asleep at night. Drinking a Coffee Nut Smoothie over ice provides me with an iced coffee-style beverage and a bit of an energy boost without wiring me up so much I can't fall asleep. It's my perfect afternoon drink!
If you'd like to try the new Happy Planet Nut Smoothies as well, you're in luck! The company is very generously offering one lucky Mommy Kat and Kids reader one month of Happy Planet Nut Smoothies in the form of 30 free product coupons, a $180 value! To enter to win, just leave a blog comment about which flavour of Nut Smoothie you're most excited to try.
Like all Happy Planet products, these smoothies are made with fresh, natural ingredients and contain no preservatives or colourings. And the almonds and cashews used to give the smoothies their delicious creamy texture are rich in potassium, which helps maintain healthy blood pressure, cholesterol-lowering monounsaturated fats, magnesium to support bone strength and copper, a nutrient that plays an important role in hormone production and brain function.
Happy Planet Nut Smoothies are available now at groceries stores across Canada and whether you're currently following a dairy-free diet or just want to find a healthy and tasty smoothie, you're sure to love them. Pick one up today and enjoy all the goodness of almonds and cashews with each delicious sip!