Growing up in a household that didn't have a lot of extra money, I was raised with the mentality that cheaper is always better. But as an adult, I realized that some purchases just shouldn't be budget purchases. Shoes, skincare and, above all else, a comfortable mattress, are always worth spending a little more.
Luckily, getting a great night's sleep doesn't have to cost a fortune, as I learned when I had the chance to review the Novosbed mattress. I used a memory foam mattress for the first time about fifteen years ago and loved it for many years. When I moved in with my fiance, I switched to his traditional spring mattress with a pillow top. It was comfortable, but I missed the way the foam had perfectly contoured to my body. So when I had the chance to review the queen-sized Novosbed mattress with Medium firmness, I leaped at the chance.
Novosbed prides itself on offering the ultimate bed-in-a-box experience and seeing how compactly it's packaged really is impressive. The mattress arrived at the door in a box that was heavy, but no higher than about three feet. My fiance and I carried it upstairs together without a problem and then opened the box and cut the plastic off the mattress. Immediately it started to expand and within about four hours, it was a full-sized plush mattress. I couldn't wait to sleep on it that night and see how I liked it.
The mattress was a lot firmer than the pillow top that we'd been using for the last year and while I didn't mind the difference, Jeremy found it too hard compared to the mattress he'd used for so long. He wanted to be able to sink into the mattress a little faster than the memory foam allowed and had trouble settling down so that he could fall asleep.
That's when we had the chance to really see what makes Novosbed such a great choice. Not only does the company boast a 120-night free in-home trial, it also offers an optional Comfort+ Kit that adds pillow top comfort to the Novosbed mattress in just minutes! The kit features a springy mattress top, a protective cover and a mattress cover extender so that the top is held in the perfect place as if it's part of the original mattress itself. We rolled the topper onto the mattress, zipped the extender around the side of the mattress and made the bed again.
Jeremy noticed the difference immediately and while it still took him about two weeks to get used to the different firmness of the memory foam mattress, he was soon sleeping in total comfort. He especially loved how the Comfort+ Kit made it so much easier for him to settle into bed initially thanks to the added softness!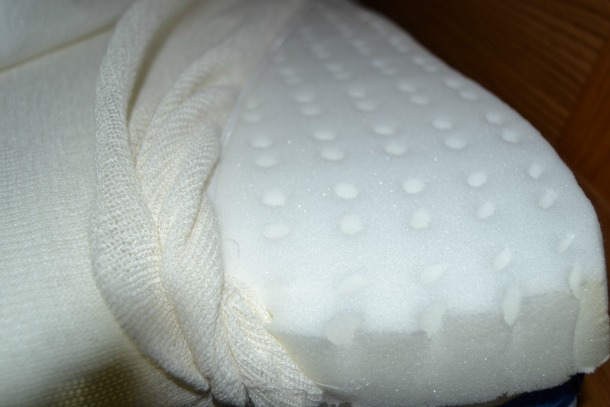 Novosbed mattresses are made with ultra-dense memory foam and luxury fabrics that give them comparable quality and comfort to much pricier memory foam mattresses, yet are available for as low as $999. One of the things I love so much about Novosbed is that the company stands behind their product so confidently. Not only is the mattress shipped free to your front door for the 120-day trial, but if you decide you need more support, Novosbed will also ship you a free Comfort+ Kit to add extra plushness to your mattress!
If you're new to memory foam mattresses, there is definitely an adjustment period when first using one (as Jeremy learned firsthand). I highly recommend sleeping on the Novosbed for at least two months before deciding if it's right for you. And thanks to the company's free trial, there's no risk if you don't end up loving your new Novosbed. Just contact the company to arrange a return and have your money refunded!
Want to experience the quality and comfort of a Novosbed mattress for yourself? Right now you can save $100 on the purchase of your mattress by using the exclusive coupon code mkak100!. With three different mattress firmnesses to choose from, there's a Novosbed for everyone available at a can't-beat price.
Having used a much pricier memory foam mattress in the past, I already knew that I liked the firmness and support memory foam offered. But I wasn't sure if the Novosbed, with its lower price tag, would compare. I was thrilled when it was every bit as comfortable as my previous mattress had been at its best! But what was even more exciting for me was seeing how much Jeremy grew to love the mattress…with the help of the clever Comfort+ Kit, that is!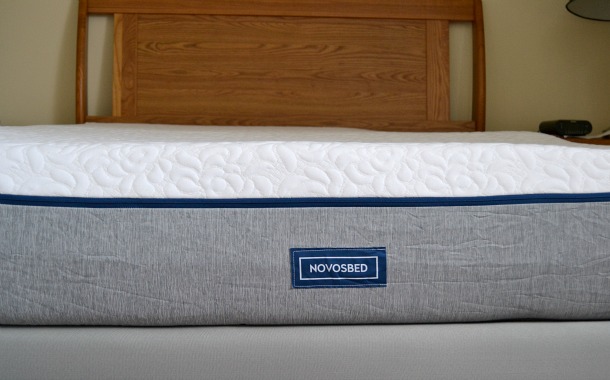 The Novosbed really offers everything a person could want in the best memory foam mattress. The high quality, great price, fifteen year warranty, optional free Comfort+ Kit and risk-free trial means that you have plenty of time to ensure you've made the best choice for your sleeping needs. If you need a new mattress, you owe it to yourself to give this one a try. Since Novosbed's top goal is ensuring its customers are comfortable, you've got nothing to lose and a great night's sleep to gain!