For anyone that loves cars, the North American International Auto Show in Detroit is a chance to indulge in endless eye candy and new auto innovations to the heart's content. But it's also a chance for manufacturers to show off their latest and greatest developments. And Ford Canada is always at the forefront with vehicles, technology and transportation debuts that go above and beyond expectations.
This year was no exception, and I was honoured to be among a select group of Canadian bloggers that were offered the chance to attend the show with Ford and experience the future of the company firsthand. Toys, trucks and transportation innovation are all part of Ford's plan for the next year. These are four of the ways Ford is blazing into 2016 in style!
Ford Partners with LEGO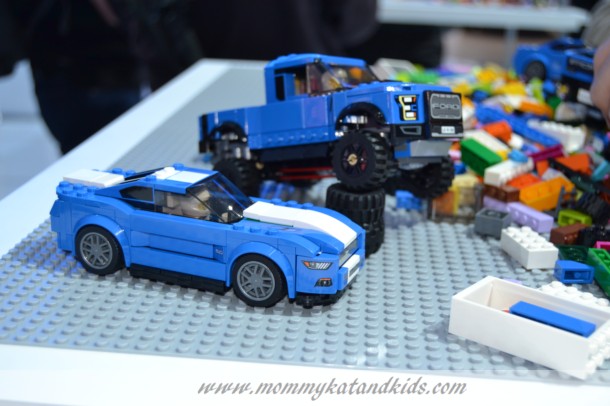 If there's one thing my boys love more than cars, it's their beloved LEGO sets. And now they can have both thanks to a partnership between the beloved brick company and Ford! Available this March, LEGO is offering two fabulous Ford vehicle sets in its LEGO Speed Champions collection: the Ford F-150 set and the Ford Mustang set. The Mustang features 185 pieces and retails for $14.99. The F-150 set, complete with a custom garage, contains 664 pieces and retails for $49.99. The attention to detail on these sets are what had my heart racing…the truck even features a working suspension system!
The New 2017 Ford Raptor
For anyone that needs a truck with plenty of muscle, but still wants a truck with looks that wow, the 2017 Ford F-150 Raptor has it all. Boasting a sleek look and top-of-the-line features, this truck is a powerhouse of style and strength. The aluminum alloy body doesn't just add durability; it also makes the truck 500 lbs. lighter than before. The internal bypass FOX Racing Shox mean that heading off the beaten path is smoother and more comfortable than ever. And the twin-turbo 3.5L EcoBoost engine is predicted to deliver even more power than the previous V-8 engine!
Best of all, the Raptor's SuperCrew model has the oversized, roomy design that makes it a blast to drive both for work and play. Coming from a farming province, a truck that's tough enough to handle constant work but still roomy enough to drive around the whole family is pretty much a dream come true. And the Raptor has all that and more in its new 2017 design!
The FordPass App
Ford knows that as populations continue to grow and life expectancy keeps increasing, transportation needs are going to keep evolving. To someone that lives in a heavily populated urban area, driving can often be a pain instead of a pleasure. And for those that are able to make use of public transportation, carpooling and other methods of mobility, buying a car might not make as much sense. That's where the new FordPass app comes in. This free service is available to everyone, regardless of whether they own a Ford (or even a car!) to help make traveling easier than ever.
The app combines a variety of different features into one easy-to-navigate system. FordGuides, FordPay and Ford Appreciation are among a few of the options that will help users to navigate through life a little smoother. For example, FordPay allows users to find cheap parking options nearby and pay with the touch of a button. And FordGuides allows people to access a live mobility assistant that will help navigate users to their final destination.
Of course, everyone loves getting rewarded for their loyalty, so app users can also earn rewards from partners including McDonald's and 7-Eleven. And in the future, new options that allow users to arrange ride sharing and plan door-to-door transportation are planned. My personal favourite feature is the pilot plan to add shared ownership options for Ford cars and then track payments and usage using the app. In busy urban areas, shared ownership of a vehicle is a great way of getting the most bang for your buck. The app is set to debut in April and I can't wait to check it out.
Ford Safety and Luxury Innovations
One of the reasons I'm such a fan of Ford is that the company puts such a strong focus on safety. And the company is constantly finding new ways to make its vehicles even safer for its owners. The industry-first partnership between Ford and Corning to offer a new Gorilla glass hybrid windshield is the perfect example. Not only is the glass much stronger than that of a traditional windshield, it's also much lighter…making it the perfect choice for the stunning 2017 Ford GT Supercar! I had the chance to watch as a solid 2-inch ball of ice was shot at a sheet of the Corning glass at high speed…with not even a mark left on the glass!
While safety is always my top priority as a parent, a little luxury is one of those things that turns driving from a task into a treat. And it simply doesn't get more luxurious than massage seats in your favourite vehicle! Ford's massaging seats are available in select Ford vehicles including the Explorer and the F-150 and are guaranteed to help you get rid of that work stress when making the commute back home. Having test-driven quite a few Ford vehicles, I've experienced the comfort and safety of the cars for myself. And after seeing what Ford has in store for the new year, I know that's not a trend that will be ending any time soon!
Visiting the North American International Auto Show is always a treat, but the chance to learn firsthand about what Ford has planned for the future is what really gets me excited about the event. And whether you're looking for the newest luxury vehicles, toys for the kids or even ways of traveling that don't involve driving at all, Ford Canada is looking forward to help meet your needs. It's one of the many reasons that Ford is a brand North Americans have trusted since the first Model T rolled onto the road back in 1908!