When I was a child, my mom taught me the basics of good nutrition in all kinds of ways. She cooked from scratch often, shunned takeout and convenience food and always checked food labels when shopping. Almost as soon as I learned to read, I'd also learned that the first ingredient listed on a product label was the ingredient with the largest proportion in the product. (I had to put back many boxes of cereal I wanted since my mom refused to buy any that had sugar as the top ingredient!)
Now that I have kids of my own, food nutrition is even more important to me. And that's why I'm happy that the Food and Consumer Products of Canada, the Retail Council of Canada, the Canadian Federation of Independent Grocers and Health Canada have partnered together to help educate Canadians about food nutrition and food labels with its new Nutrition Facts Education campaign!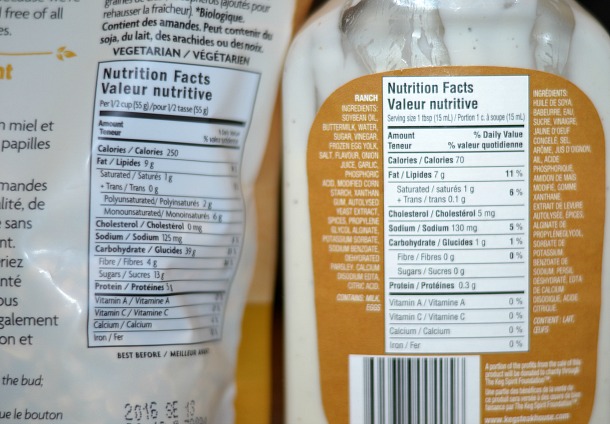 Just visit Canada.ca/nutritionfacts to learn about how reading food labels and the Nutrition Facts Table properly can help you make healthy lifestyle choices. Then take the Focus on the Facts quiz to show off your knowledge and enter to win one of six $300 grocery gift cards. You can enter every single day to better your chances of winning!
I took the quiz for myself to see what it was like and since my mom raised me to look at food labels, I found the four questions fairly easy. So I was amazed to learn after finishing the quiz that the overall average score was just one out of four correct answers. It's a great example of just how important this campaign is, since a better understanding of food labels makes better food choices so much easier!
Want a chance to test out your label reading savvy? The Nutrition Facts Education campaign is here to help with a fantastic giveaway! One lucky Mommy Kat and Kids reader is going to win a $100 grocery gift card so that you can go on a shopping spree and pick up some healthy and delicious food for your family. To enter to win, just take the Focus on the Facts quiz yourself and leave a blog comment about what your score was!
Whether you're a master at reading food labels or you never glance beyond the calories per serving, visiting FocusontheFacts.ca and taking the quiz is a fun and easy way to learn something new and get the chance at a great prize too. For example, I learned that the nutrition facts table must include information on 13 core nutrients including calcium, iron, Vitamin C, protein and sodium, but can also include information on optional nutrients such as folate, selenium and zinc.
If you're trying to lose weight, cut back on your sodium intake or reduce your daily sugar, understanding food labels and the nutrition facts table can make meeting your goals quicker and easier. So visit FocusontheFacts.ca to take the quiz, enter to win and learn about making informed food choices. When it comes to ensuring your family's best health, knowledge is definitely power!
Nutrtion Facts giveaway

Disclaimer: This post was a sponsored post. The opinions are completely my own.