It's no secret that I'm not a fan of cleaning. But living with my highly organized and incredibly patient fiance means that I've become a lot better at ensuring our little townhouse is always neat and organized. We spend time every day making sure the basic chores are done and as a result, we don't need to do a deep, thorough clean very often. I have to admit, I'm pretty pleased with how organized I've become in the last few months!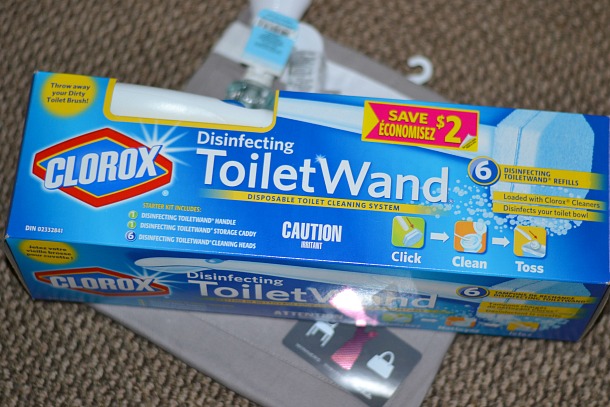 But there are still some chores that are just flat out unpleasant and living in a house with one bathroom and three males means that cleaning the toilet is one of those chores! Luckily, Jeremy doesn't mind it that much and is usually the one to tackle the dirty job. But I want to do my part too, so when Clorox sent me a cleaning kit containing a HomeSense gift card, cleaning apron, air freshener and its new Clorox Disinfecting ToiletWand Disposable Toilet Cleaning System, I decided to see just how easy it made cleaning the dirtiest item in our home.
What I love about the new Clorox ToiletWand is its hands-off approach to toilet cleaning. I simply open the storage container, stick the handle into a cleaning head and start scrubbing. When the toilet is clean, the push of a button ejects the brush head into the garbage and the job is done! I was impressed both with how much cleaning solution was in the brush head and with how effectively the brush scrubbed away grime. It took just minutes to get my toilet sparkling!
Of course, the seat and back of the toilet still needed to be cleaned, so I also used Clorox Disinfecting Wipes to quickly polish up the rest of the toilet bowl. And just like that, the toilet was fresh, clean and disinfected. I especially liked knowing that the germ-covered brush was going straight into the garbage instead of being stored and used again.
The replacement heads cost around sixty cents each, making the price of cleaning fairly comparable to using liquid toilet bowl cleaner and a traditional toilet brush. And the ease of use and hands-free cleaning make the job so much quicker that it's definitely worth the cost of the refill heads for me!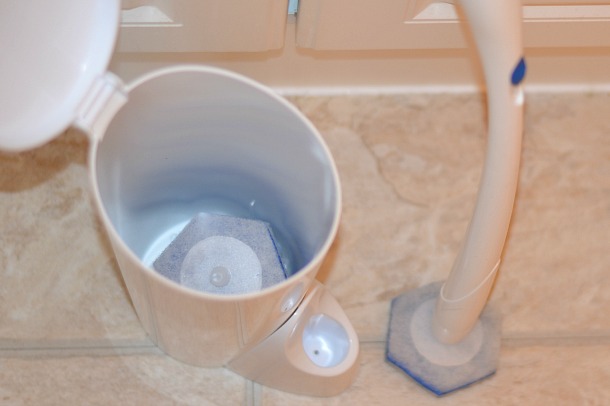 The Clorox Canada ToiletWand system and refills are available now at stores across Canada and are a must for anyone that hates scrubbing the toilet as much as I do. Seeing how quickly and thoroughly the toilet went from filthy to sparkling was almost enough to make cleaning the toilet fun! Give the system a try and see what you think of this new way to keep your toilet clean, fresh and germ-free.