I have a lot of friends in the Toronto area, so I've heard of the Medieval Times experience in the past. In fact, I've often read about my best blogging friend's trips to Medieval Times Toronto with her boys in envy…the idea of watching live jousting and sword fights while enjoying a medieval feast sounded like so much fun! So when I had the chance to visit Medieval Times Orlando with my boys and their grandparents on a recent trip to Florida, I was thrilled. I wasn't sure what to expect, but I was sure the night would be entertaining!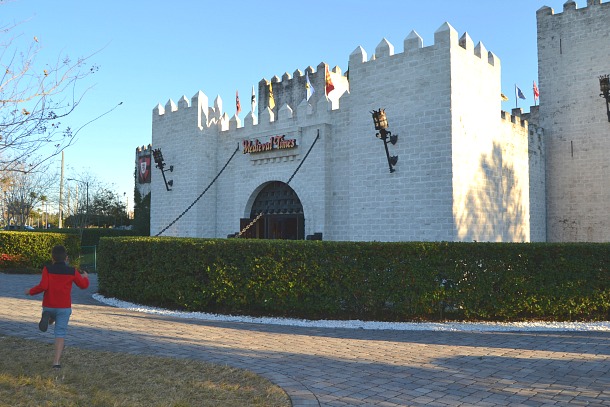 The fun started as soon as we arrived and walked towards the towering castle. We all had the immediate impression of being transported back in time and Zackary couldn't wait to get inside. When I picked up our tickets, we learned that we would be sitting in the green section and cheering for the Green Knight. After receiving our crowns and entering the main hall, we had just enough time to get a pre-dinner drink, buy the boys each a green flag and admire the suits of armour. Then we were ushered to our seats so the tournament could begin!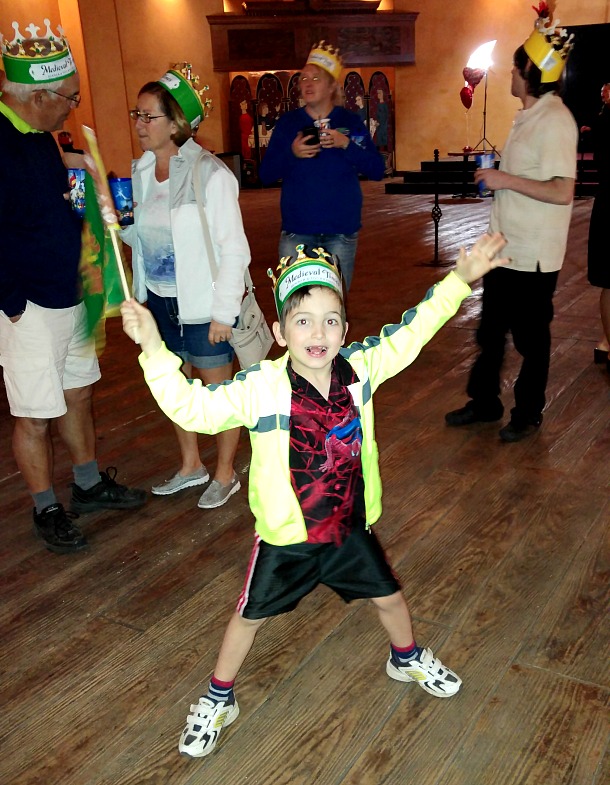 The Medieval Times tournament involves the knights of six different realms competing against each other to become the champion of the kingdom. The realms have names but are also identified by colour and, to add even more suspense, an evil villain from a neighbouring kingdom makes periodic appearances as well. As we watched the different events, squires brought our food…served traditionally without cutlery, of course!
I was surprised to learn that in addition to the traditional jousting and sword fighting I had expected, the event also featured a gorgeous falconry performance and trick horses. It was a surreal and somewhat magical moment watching the animals perform, and I loved every minute of it. The hearty food was the perfect compliment to the show, though eating half a chicken without cutlery was quite the messy experience!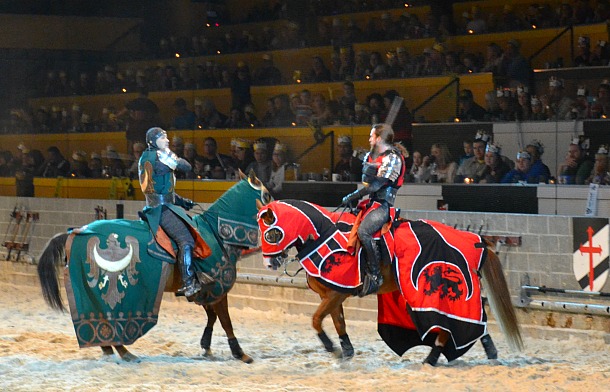 For the boys, however, the heroic deeds of the knights were the highlight of the entire event. They cheered passionately for our Green Knight and his two allies and reveled in every victory. A few times I glanced over at Benjamin and saw the agony on his face when one of the knights on our "team" had been defeated or seemed to be losing. He would be almost in tears, yet moments later a victory from one of our allies had him celebrating with unrestrained joy.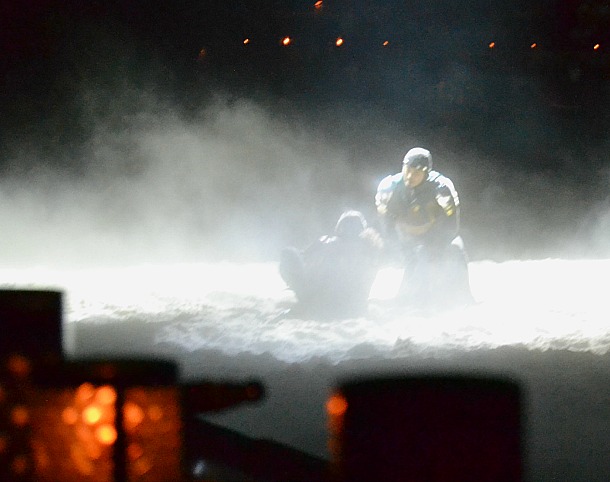 There's never a guarantee that the knight a person is championing will win the tournament…or even that one of the knight's two other allies will. But on our first trip to Medieval Times, we were lucky enough to be seated in the section cheering for that night's victor! Our Green Knight defeated all others and then fought a passionate battle to defeat the evil ambassador from the neighbouring kingdom. The man was banished, the stadium rejoiced and my boys were on cloud nine. It was definitely an ideal first experience at Medieval Times!
While I haven't had the chance to attend the Medieval Times event in Toronto, I'm sure it's every bit as thrilling. And if you're in the area and would like to check it out for yourself, I have a great giveaway just for you! One lucky Mommy Kat and Kids winner is going to win two tickets to Medieval Times Toronto, a $132 total value! To enter to win, just leave a blog comment about whether you've ever been to Medieval Times before.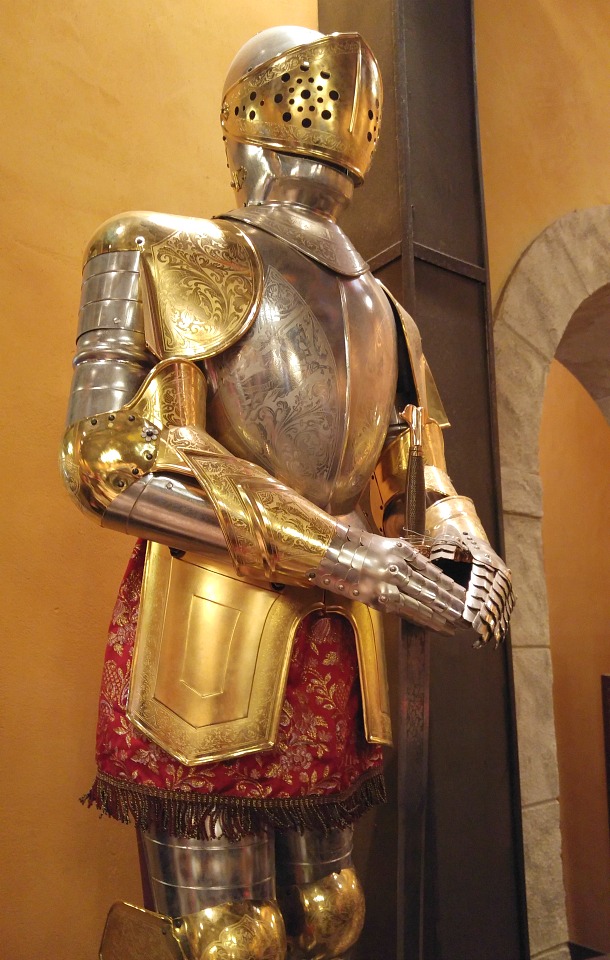 Visiting Medieval Times Orlando was a fabulous experience for the entire family, and something that I can't wait to do again. The meal and tournament is family-friendly fun at its finest and all ages will enjoy the energy and excitement. In fact, many of the people around us were couples on dates! From watching the deadly accuracy of the falcon as it grabs targets out of the air to the majestic white horses prancing in sync to the sparking swords of the knights as they battle, the fun is nonstop from beginning to end. If you're visiting a city with a Medieval Times venue or happen to be lucky enough to live close to one, make sure to plan a dinner with your family. Whether you're celebrating a special occasion or just want to enjoy a unique night out with loved ones, this is one dinner that kids and adults alike won't soon forget!