When it comes to a new baby, there are lots of fun little purchases to make, from cute onesies to first toys. But there are also those bigger purchases that take more thought and research in order to make the absolute best choice for baby. And one of the most important purchases any new parent will ever make is the all-important car seat.
When my boys were first born, I knew that I'd need a great car seat. Living in a rural Saskatchewan town meant that I had to do lots of driving just to get basic essentials like groceries. And since my boys would be spending a fair bit of time in a car seat, I wanted one that was versatile, comfortable for my children and, above all else, safe.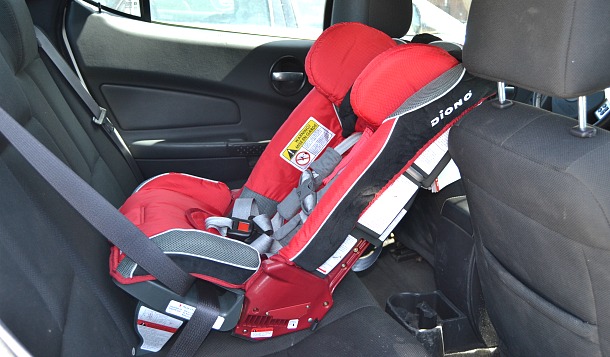 I only wish that the Diono Radian RXT Convertible Booster had been around back then! This car seat combines all the essentials parents want in a car seat so that everyone can enjoy the drive in style. My favourite feature of the car seat is definitely its versatility. With the ability to safely secure children from five to 120 pounds, it's the only car seat purchase a family will ever need to make!
In its rear-facing position, the car seat holds babies between five and 45 pounds. Forward-facing, the car seat safely secures children in a five-point harness from 22 to 65 pounds. And for older children, the seat can be used as a booster up until 120 pounds! Functionality like that means big savings for parents since there's no need to continually be upgrading to a different car seat.
But that's just the start of what makes the Diono Radian RXT such a great car seat. Since safety is always the top concern, Diono has ensured that its car seat exceeds all safety standards so parents can be confident their child is protected in an emergency. The seat has been NCAP tested at almost two times the force of a standard crash test. Its reinforced steel frame and side impact system help keep babies safe even in the event of a side-impact crash. And the SafeGlide camlock adjuster means that getting the perfect harness fit for a little one is a breeze!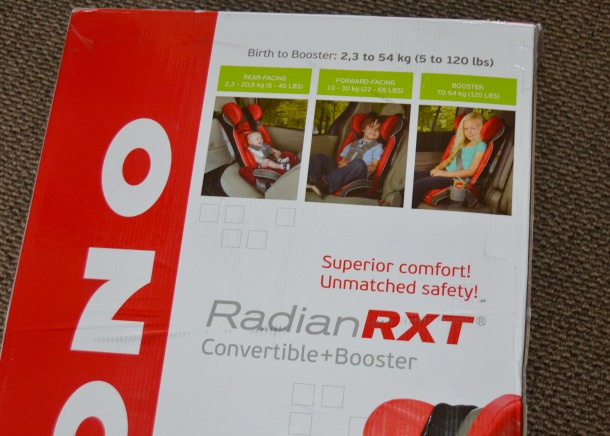 Best of all, the safety and versatility of the car seat is topped off with comfort that will have little ones eager to hit the road! The comfort memory foam lets children sit back and relax while also providing added energy absorption. Older children will love the fold-out armrests and ample shoulder and leg room. The car seat can even be equipped with up to four cupholders, with one included with the seat. Since my youngest son has always loved storing small toys or treats in his cupholders, this is a feature I really love!
Have a big family? The Diono Radian RXT fits three across in most mid-sized vehicles and even folds flat for travel. Having had to fly with a car seat before, I know how cumbersome the experience can be. I love that Diono has put the forethought into making that experience easier on parents! And the company's unique SuperLATCH system makes installation quick and easy.
Available in five fashionable colours and boasting stain-resistant, machine-washable fabric covers, the Diono Radian RXT really does have it all. Parents can even purchase optional carry straps in order to easily transport the car seat when it's folded. And with a ten-year life, it may even last for more than one child!
The Diono Radian RXT is available at retailers across Canada and with so many great features and such amazing versatility, it's a great car seat choice for any new parent. Choosing a good car seat is one of the most important decisions a new parent makes, so I love that Diono is making that decision so easy. Check out the seat's features for yourself and see why it's such an ideal choice for you and your baby!