Living in a house with a train conductor and two school-aged boys means that dirty clothes are a permanent part of my life. I do the laundry about twice a week and every time, I'm amazed by just how filthy my family's clothes can get. Washing all those clothes isn't the most rewarding experience since I know that the garments will be just as dirty a week later. But Arm & Hammer has found a fun way to make laundry a rewarding experience…and it's something you won't want to miss!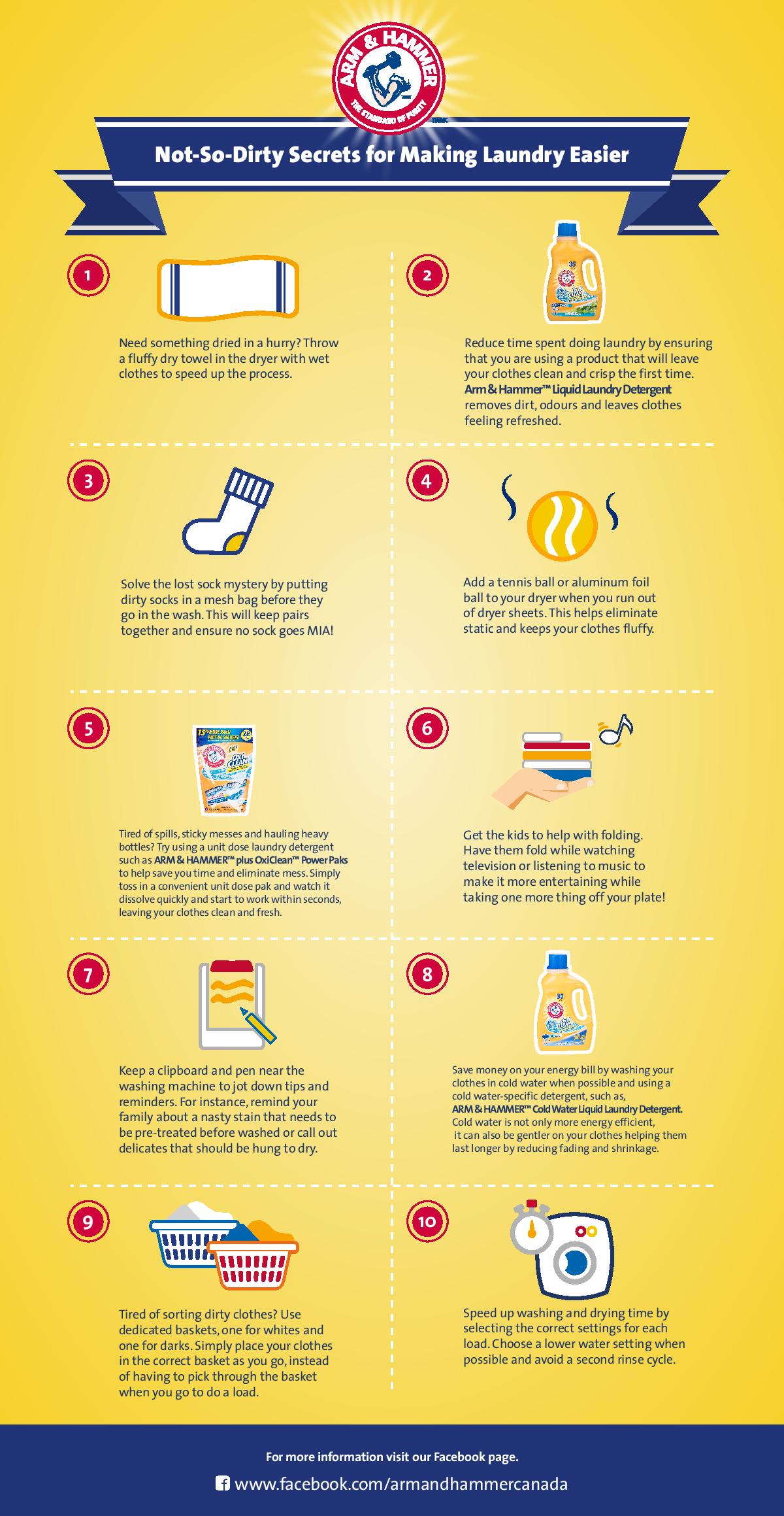 First, use these ten simple tips to ensure washing your family's clothes is quicker and easier than ever. Click the image to download a full size version and print it out for your own use! The tip about using a dry towel with wet laundry to speed drying time is one I've used many times in a pinch. It's so convenient for those occasions when you really need a certain outfit that isn't quite dry!
Then, head out and pick up your favourite Arm & Hammer laundry products. But this time, when you make your purchase, you won't just be getting clean clothes for a great price. You'll also have the chance to win amazing prizes thanks to the new Arm & Hammer Laundry Rewards Program! Every time you purchase two or more Arm & Hammer Laundry products on a single receipt and upload your receipt via text or online, you'll be entered for a chance to win a grand prize of $10,000, a monthly prize of $1,000 and a weekly prize of a $100 gift card. Best of all, you'll also receive credits that can be redeemed for digital rewards!
To claim your entry and earn your rewards, just text 16 SIMPLE or 16 NATURE or 16 MACHINE to 76477 and follow the instructions. Register or log in to track your rewards and submit a photo of your receipt to receive your credits and enter to win the fab cash prizes. Or, if you prefer entering online, visit www.cleanupandwin.ca and upload an image of your receipt to get your credits and entries! Credits can be redeemed for all kinds of great prizes, from movies to music to eBooks. And of course, every purchase also earns you entries in the prize draws too! Doing the laundry has never been such a rewarding experience.
The Arm & Hammer Laundry Rewards Program launched last week and runs until August 28, 2016, so you have all summer to enter the amazing grand prize, monthly and weekly draws while you earn credits towards fun family prizes. Finding a way to make doing the laundry fun certainly isn't easy, but Arm & Hammer has managed to do it! Check out the www.cleanupandwin.ca website for full details on the promotion and get ready for a summer that's extra rewarding…even when you're washing clothes!