Right now, my fiance and I each drive fairly basic passenger car sedans. My own Ford Taurus has had a lot of miles added to it since I bought it two years ago, and I'm thrilled with how reliable and comfortable it's been. But before too long, Jeremy and I want to upgrade that Taurus to something bigger and more versatile. So when I got the chance to review the 2016 Ford Flex, I couldn't wait to see if it might be the vehicle we'd been searching for.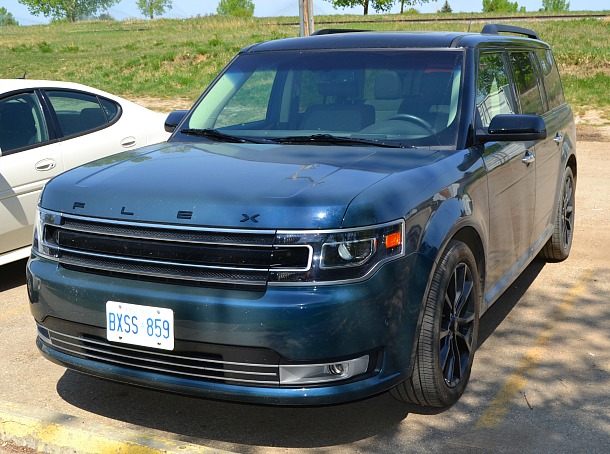 I have to admit that part of the reason I was so excited to test-drive the Ford Flex was because I think it looks so funny. The boxy rectangular shape certainly isn't designed to look sleek and sporty, and I'd always giggled to myself a bit when I saw one driving down the road. But there's no doubt the Ford Flex is a popular family vehicle choice and I wanted to see just what it was about this crossover that made drivers flock to it, and its "unique" design.
As soon as I sat down in the driver's seat, I started to understand the appeal of this distinctive family vehicle. It is easily one of the most comfortable crossovers I've ever driven, and I loved how high up I felt in the seat. My boys loved the roomy back just as much, and the spacious rear hatchback storage had ample room for my soccer coaching gear, even with the huge bag of 12 soccer balls!
While the Ford Flex looks and feels big, it's surprisingly easy to drive and manoeuvre, even for somebody like me that's used to driving a smaller, more compact vehicle. I loved little details like the Blind Spot Information System that alerted me if there was a car in my blind spot, and the Active Park Assist, which automatically parallel parked the car for me. Comfort features including heated seats and Sirius satellite radio made driving long distances a pleasure for the whole family. This vehicle would definitely be the ultimate choice for a road trip!
But beyond all that, the versatility of the Ford Flex is what truly makes it a must-have for any big or busy family. The spacious back hatch converts into two extra seats at the push of a button, giving the vehicle seating for seven in total. Yet when extra space is more important than extra seating, another quick push of a button gives me ample room for bags of sports equipment during a tournament or bags of groceries on a big monthly shopping trip. And I was pleasantly surprised by just how much room the back hatch still had to offer even with the two extra seats being used. I could still easily store Zackary's baseball gear and a few bags of groceries while also having room for seven passengers!
Like most Ford vehicles today, the Ford Flex is equipped with the Ford SYNC system and MyFord Touch, a combination touch-screen and voice control program that lets the driver control climate, GPS, entertainment and phone using either the centre screen or the voice controls. With the press of a button, I could call my fiance to let him know I'd be a few minutes late, speaking to him through the car's speaker system. Or I could quickly and easily switch from my favourite Symphony Hall station on Sirius to a kid-friendly channel after picking up the boys.
The one downside to the Ford Flex is definitely its price. With a price tag of around $35,000 for the SE model or $50,000 for the Limited edition like the one I got to drive around for the week, this vehicle is definitely a luxury choice for a family. Even when browsing used car sites for the Ford Flex (yes, I loved it THAT much), the cheapest one I found here in Saskatchewan was almost $18,000 for an eight-year-old Flex. But for a family that needs the unparalleled versatility the Flex offers, it may well be worth that price. This crossover can even tow up to 4,500 pounds, making it as useful for the on-the-go camping family as it is for a sports family like ours!
There's no doubt that the 2016 Ford Flex has everything a busy family needs in a vehicle. It's comfortable, easy to drive despite its size, roomy enough for any carpooling you might need to do and loaded with little extras to help streamline your life. Personally, I'd say it's the perfect vehicle for a family with older, active kids or for a family of four planning on a possible new addition. And while it is a pricey choice, it is hands down the most easy to drive and luxurious crossover I've ever experienced. I've certainly figured out why people love this big rectangle box so much! If you're looking for the perfect crossover for your family, why not take the 2016 Ford Flex for a test drive and see what you think? It may just be the dream vehicle you never knew you wanted!