There are some things my boys enjoy that I don't understand at all. Their obsession with watching other people play video games on YouTube is something that goes right over my head. And their love of jump scare games completely confuses me.
But there are some types of entertainment that we can all agree on, and one is the Teenage Mutant Ninja Turtles! The mutant superheroes were favourites of mine when I was a child so now that they're back in action, I couldn't be happier to see that my boys love them just as much.
The DVD release of the newest TMNT movie, Teenage Mutant Ninja Turtles: Out of the Shadows, means that there are even more fans of Leonardo and his crew these days, and if you're starting to hunt for that perfect gift for your favourite Turtles fan, Mega Bloks has just what you're looking for! The Mega Bloks Teenage Mutant Ninja Turtles Battle Truck Building Set features the Battle Truck from the movie, three TMNT figures and so much more!
This set contains 411 pieces and is designed for ages seven and up. Boasting moving parts, shooting nets, lights and even sound effects, it's sure to provide tons of fun for kids both during the building process and once it's complete! My personal favourite feature is the shooting sewer lid on the side of the truck. I know my boys are going to have tons of fun shooting down the enemy foot soldier as the heroes drive around in their green machine!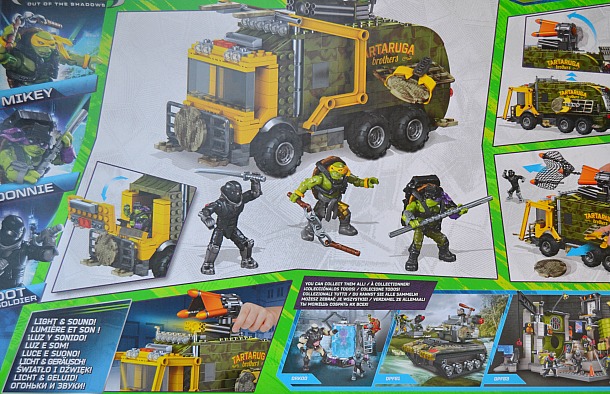 With tons of other fun interactive features, from moveable forklift arms to an opening roof hatch, this battle truck is packed with fun. And if your kids have seen the new movie, they'll love acting out their favourite scenes with help from the truck and the included figurines.
The Mega Bloks Teenage Mutant Ninja Turtles Battle Truck set is available at Walmart, Toys'R'Us and Amazon.ca now and is a great choice for the TMNT fan on your holiday shopping list. For even more fun, combine this set with some of the other available sets to create an entire world of Teenage Mutant Ninja Turtles fun! Any fan of Leonardo, Michelangelo, Donatello and Raphael will love building and playing with this Battle Truck!