When it comes to convenient cooking, the microwave is still the king of the kitchen for most families. Being able to heat up leftovers, cook frozen convenience meals and even sometimes create whole meals in minutes is a lifesaver for a busy family. And now, Breville is making the kitchen's handiest appliance even more useful with the new Breville Quick Touch Crisp! This ingenious microwave not only features settings for heating beverages, softening butter and more, it even features a clever integrated grill and crisping feature that allows you to grill pizza, sandwiches and more to perfection right in the microwave!
Recently I was given the chance to review the Breville Quick Touch Crisp for myself and I'm sure it goes without saying that I was thrilled. My previous microwave was as basic as basic could be, so upgrading to this stylish stainless steel beauty was a delight. At first glance, it seemed fairly similar to any other modern microwave, but as soon as I opened the door, I saw the difference. The variety of settings was more extensive than any microwave I've ever owned. And of course, the special grilling feature and crisping pan added way more versatility.
To test the microwave, I decided to whip up one of my favourite varieties of frozen pizza. To be honest, I refuse to even warm up an already baked pizza in the microwave since I find the end result so unappetizing. So, I knew that cooking an entire frozen pizza would be a great test of the microwave's abilities. I placed the pizza in the crisping tray, chose the Frozen Pizza setting and entered the size of the pizza to let the machine automatically calculate the correct cooking time. Then I simply waited and watched.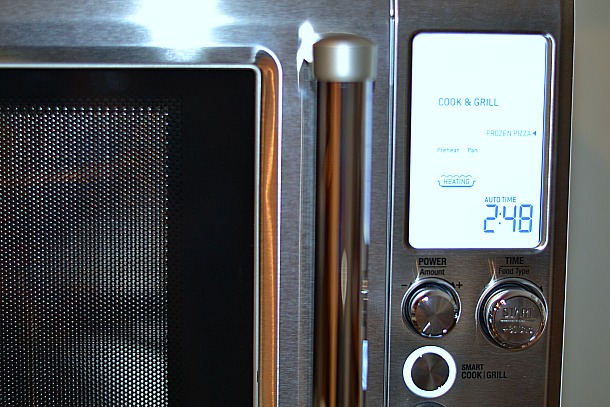 About ten minutes later, I pulled out my finished pizza. To my shock, I liked the results even better than oven-cooked results! The crust was crisp without being too crunchy and brown, a frequent issue I have when cooking my thin-crust pizzas in the oven. The cheese was bubbly and the spinach was perfectly cooked. Best of all, cooking my pizza in the microwave had been faster and used less energy!
While the microwave worked great for my frozen pizza, I found that I loved it even more for whipping up quick appetizers and snacks over the holidays. Instead of using the oven to cook a tray of spring rolls, bacon-wrapped scallops and other festive fare, I could use my Breville Quick Touch Crisp to cook snacks faster with perfect results. I especially love that the settings let me enter the weight of the food. It ensured that no matter how little or how much I was cooking, the microwave adjusted the time and heat accordingly.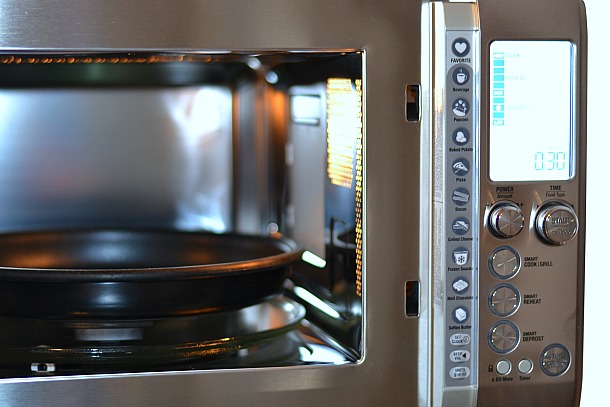 And while the browning/crisping feature is fantastic, the Breville Quick Touch Crisp also works fabulously as a regular microwave too. I especially appreciated the "Favourite" option, which let me save my most-used setting for quick and easy heating or grilling. Other popular settings for common tasks, including melting chocolate, baking potatoes and even making grilled cheese, meant I was spending less time cooking and more time relaxing!
From heating up leftovers to cooking frozen snacks, the Breville Quick Touch Crisp ensures that your food tastes its best in record time. And as a busy mom with two boys that are constantly "starving," that's a top priority for me! If you're looking for a new microwave for the new year, this sleek and versatile machine is a great choice. Check it out for yourself and see just how many amazing things it can do!