I've always been a big fan of natural products in the house, whether I'm looking for safe and effective cleaning products or bath and body care for my boys. So, when I discovered ATTITUDE last year, I fell in love. The company's philosophy is simple: parents deserve high-quality products with worry-free ingredients for their families. I'm especially fond of the company's sun care collection since I don't care for commercial sunscreen. The mineral-based sun care did a great job of protecting my boys on our Caribbean cruise last year!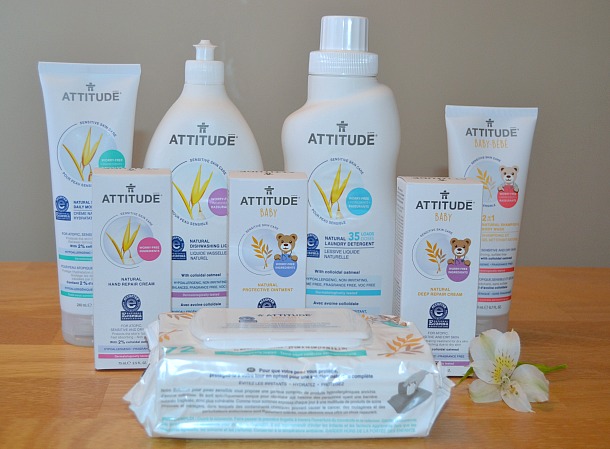 But for infants or children that have sensitive skin, even ATTITUDE's worry-free ingredient lineup may not be enough. Which is why the company has introduced its brand-new ATTITUDE Sensitive Skin Care collection! Boasting products both for babies and families, this new line has been tested in an independent laboratory and received EWG verification and the National Eczema Association seal of acceptance. The addition of up to 3% colloidal oatmeal in the products helps soothe and protect the sensitive skin of babies, children and adults!
Recently I received some of the top products in the collection so that I could test them out myself. Sensitive skin runs in our family, so I'm all too familiar with the irritations and sudden reactions that certain products can trigger. What I immediately loved about the ATTITUDE Sensitive Skin Care line was that the company recognized that it's not just babies that need sensitive skin solutions! The collection includes products ranging from laundry detergent and dish soap to shampoo and body wash so that even adults with sensitive skin can enjoy the benefits of this collection. I've often developed itchy skin and uncontrollable sneezing when using certain brands of laundry detergent, so I was especially excited to be able to use a worry-free alternative when washing clothes!
The ATTITUDE Sensitive Skin Care Natural Hand Repair Cream was another personal favourite for me. Saskatchewan winters are notorious for leaving my hands so dry and chapped that my cuticles will often crack and bleed. And the additives in normal hand creams often offer only temporary relief without actually helping my hands heal. The rich and creamy ATTITUDE hand cream didn't just soothe my hands, it helped them to heal and prevented future damage. And I loved the non-greasy formula that absorbed quickly and let me get back to my day!
Of course, even though many children and adults suffer from sensitive skin woes, babies tend to suffer even more since their skin is so much more delicate. And while there are plenty of creams and lotions available to help soothe sensitive skin once it's become irritated, there are far fewer products that actually help protect a baby's skin to prevent issues in the first place. The ATTITUDE Bebe Sensitive Skin Care line offers a great assortment of creams and ointments to help heal and protect sensitive skin, but it also includes products like body wash, baby wipes and even gentle cleaners to help ensure a baby's delicate skin doesn't become irritated in the first place. I though the ATTITUDE Sensitive Skin Care Baby Wipes were an especially innovative idea. Generally, baby wipes are used to clean and then an additional cream is needed to soothe and protect. With the ATTITUDE baby wipes, skin is being additionally protected against irritation as well!
If your family has issues with sensitive skin, I have great news! Right now, ATTITUDE is offering its brand new Sensitive Skin Care collection at special discounted prices so that you can test it out for yourself and see what you think! Order online and see how effective these colloidal oatmeal-enriched products are when dealing with skin irritation. But that's not all! ATTITUDE is also very generously offering one lucky Mommy Kat and Kids reader a prize pack of ATTITUDE Sensitive Skin Care products for the family worth $100! Containing laundry detergent, dishwashing liquid, body cream, body wash, hand repair cream and protective ointment, it has everything you'll need to help protect sensitive skin from irritation!
What I love most about the ATTITUDE Sensitive Skin Care line is that its product line is so inclusive. Rather than just providing products to treat skin issues, it offers products to help prevent as well. Finding a dishwashing liquid that doesn't dry and irritate my hands is something I've found almost impossible. Now instead of just applying lotion after washing dishes, I can help prevent the issues immediately with the ATTITUDE Sensitive Skin Care cleaning products! Whether you suffer from sensitive skin yourself or you have a child with eczema or easily irritated skin, this is one product line you'll want to check out. Worry-free ingredients and soothing colloidal oatmeal help keep skin healthy and the whole family smiling!