The final months of winter don't have a whole lot of appeal for most people. The fun of the holidays is done, the weather is miserable and almost everyone has started to miss the sun. But one thing that can brighten up even the darkest winter day for me is a stylish new addition to my winter wardrobe! Of course, after the holiday buying spree, I don't want to be spending too much on new clothes. And with DressLily, I don't have to! The company offers stylish looks at great prices to help update a winter wardrobe easily and affordably.
Recently I was able to pick a few favourite items from DressLily to create some new winter looks and I couldn't wait. I'm a big believer in combining timeless designer items with affordable pieces to create a style that looks rich and luxurious without the hefty price tag. With my choices from DressLily, I got to work adding my favourite winter wardrobe items and showing off the finished styles.
I started by pairing my favourite authentic Aran wool sweater from Ireland with a new cozy pair of Plaid Fitted Leggings. I bought the sweater on my honeymoon but I'd been having trouble pairing it with anything but jeans. The plaid leggings suited the sweater perfectly and when I added a pair of fur-lined boots, I had the ideal outfit for the chilliest winter days.
Next, I grabbed my new Cowl Neck Striped Trim Ruched T-Shirt in blue and paired it with my favourite jeans from Maurice and my Alegria flats. The top is made from a cozy sweatshirt-like material, but with the striped details and fitted style, it was anything but casual! I headed out to run errands in this outfit after adding my Aritzia Italian wool winter coat and the combination of the brighter blue shirt with the rich grey coat was pure elegance.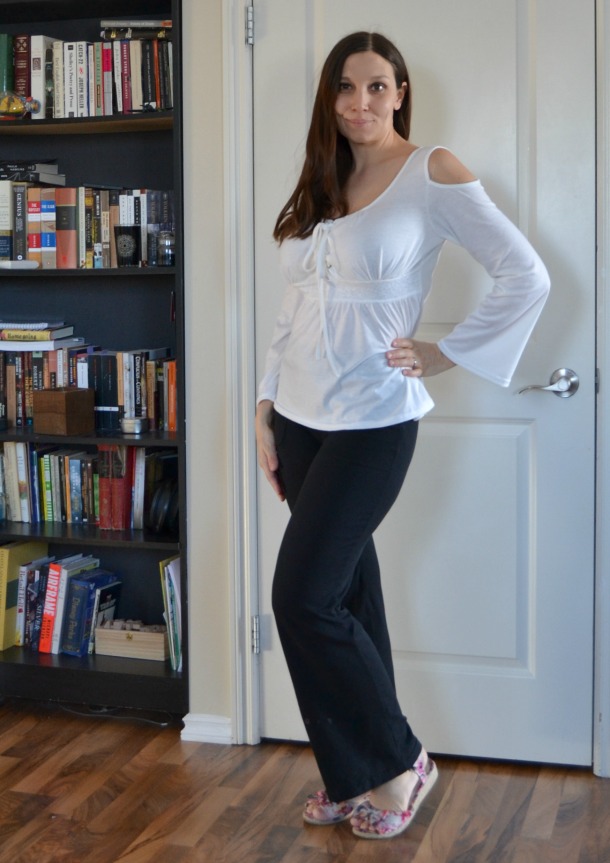 Of course, part of the fun of fashion is getting pieces that you love "just because," and that was my motivation behind choosing the Lace Up Cold Shoulder Bell Sleeve Top. This flowy shirt looks like it's straight out of a Final Fantasy video game and as a huge fan of fantasy, I couldn't resist adding it to my closet. It's sweetly romantic when paired with jeans and so comfortable for relaxing at home when worn with yoga pants.
Finally, I chose the uniquely cut Fashionable Solid Colour Asymmetric Women's Skirt in a dusty rose colour. This was one of those fashion choices that I knew might not work for me, but a unique style is all about taking those occasional risks and since the skirt was less than $7, I decided to give it a try. Paired with a tight-fitting patterned top, it was stylish and stunning for date night or a nice dinner out.
The total for all four of my new clothing additions was under $50 and they've added so much versatility to my wardrobe. The stylish blue top is definitely my favourite but I know that the white lace up shirt is easily going to get the most wear since it's so dreamy and comfortable. If you want to perk up your month a little without spending a ton, check out DressLily and see if there's one or two pieces that might brighten up your winter wardrobe. Adding some new styles to your closet has never been so affordable!