My oldest son has been a hockey fan almost since he learned what the sport was. Even though our constant moving in the last two years has meant that he's been unable to play on a team, he is constantly following the hockey scores, reading about his favourite players and, of course, cheering on his favourite teams. We love encouraging his passion for the sport by taking him to games when we get the chance and with some great CHL teams in Saskatchewan, we have plenty of opportunities to do that. But a night at the rink can get pricey pretty quick, and that's why I was thrilled to learn about the newest AIR MILES Perk available to collectors!
AIR MILES Perks are special savings offers and rewards available to anyone that collects AIR MILES…no mile redemption required! And right now, AIR MILES has partnered with the CHL to offer 25% off ticket purchases to CHL games so that you can take the whole family out for a night of cheering on your team, and save a ton when you do! We had the chance to attend a Regina Pats game thanks to AIR MILES and, as expected, it was a night the boys won't be forgetting any time soon!
What I love about CHL games is that they generally really celebrate the city and include some fun benefits that larger venues aren't always able to offer. For example, the boys each received a special Valentine's Day treat bag courtesy of the Regina Pats at the game on February 14 containing lollipops, stickers and a few other fun treats. We also enjoyed some freshly made mini doughnuts before sitting down to watch the game.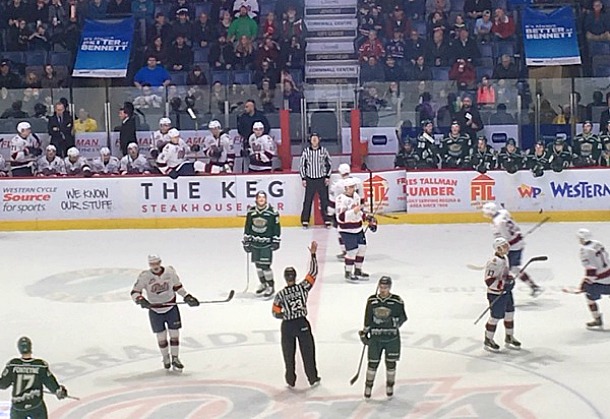 The seats were in the back center and gave us a great view of the ice. The game was off to an exciting start with the opposition up by two and the Pats coming back with a goal to get in striking distance of the lead. But then the Everett Silvertips jumped ahead by another two points, with their goalie making some professional-level saves to keep the Pats at bay. Our home team did manage to sneak in another goal before the end, though!
Want to surprise someone special with a hockey night out? AIR MILES is very generously offering two lucky Mommy Kat and Kids readers two tickets to a participating CHL game of their choice! To enter to win, check out this AIR MILES Perk for yourself and leave a blog comment about which team you'd be cheering on if you won!
I love that AIR MILES has fun ways of rewarding collectors like this one, especially since it lets me save money and treat my boys to a special night out. When I combine the savings from my AIR MILES Perks with the AIR MILES Cash I earn that helps cover the cost of gas at Shell or snacks at Sobeys, a fun night out with the family couldn't be more affordable! Hockey season doesn't last much longer, so take advantage of the savings now!