Even though summer is hands-down my favourite season, fall has always been my top time to try new fashion and beauty looks. Whether it's because I have more time indoors due to the change in weather or just that I tend to discover more fun beauty products and clothes to test, I love making the most of the season by rocking some new looks.
This year, the 2017 Best New Product Awards sent me an amazing bag featuring some of its winning products this year and I noticed right away that there were some beauty products that I'd love. If you're looking for the best in new beauty items for fall, make sure to check out these five award winners chosen by Canadian shoppers just like you!
Jergens Moisturizer for Wet Skin
With two boys in school and a new baby in the house, just finding time to shower is a challenge. Finding time to put on moisturizer? Almost impossible! That's why I love this innovative moisturizer. I just apply it quickly right after showering and before drying off to ensure soft skin. It's one of those little beauty additions that instantly makes me feel as good as I look, and it's especially important when dipping temperatures leave skin feeling drier.
Pantene Pro-V 3 Minute Miracle
After a summer of sunshine and swimming, my hair always looks a little less-than healthy. But with just three minutes, my hair goes from dried and fried to healthy and hydrated. The deep conditioning mask works to restore hair's moisture for natural shine that I love. After using this conditioning treatment, I usually just brush my hair and let it air dry to show off the sleek shine to its fullest.
Pantene Pro-V Air Spray
I've never been a fan of hairspray, since I feel that soft, touchable tresses are the ultimate appealing look. But there are times I still need some type of hold to keep my mane under control. That's where Pantene Pro-V Air Spray comes in. This spray provides just the right amount of hold but still leaves hair soft, brushable and touchable. It's like not wearing hairspray at all while still getting the benefits!
Aveeno Absolutely Ageless Daily Moisturizer
I'm incredibly picky when it comes to skincare. Dealing with hormonal acne for my entire life means that using heavier anti-aging products isn't an option. But my maturing skin does still need some extra moisture and nourishment. This moisturizer is the perfect solution. It's lightweight, absorbs quickly and leaves my skin feeling soft and healthy. And the SPF 30 formula also helps prevent aging due to sun exposure!
Burt's Bees Lipstick
Since the first time I slicked the original Burt's Bees Beeswax Lip Balm onto my lips and felt that addictive peppermint tingle, I've been a fan of the company. And the new Burt's Bees lipstick is a perfect example of why. Available in fourteen different shades, it provides full coverage and eight hours of moisture. After using this lipstick, my lips actually feel softer and healthier than they did before!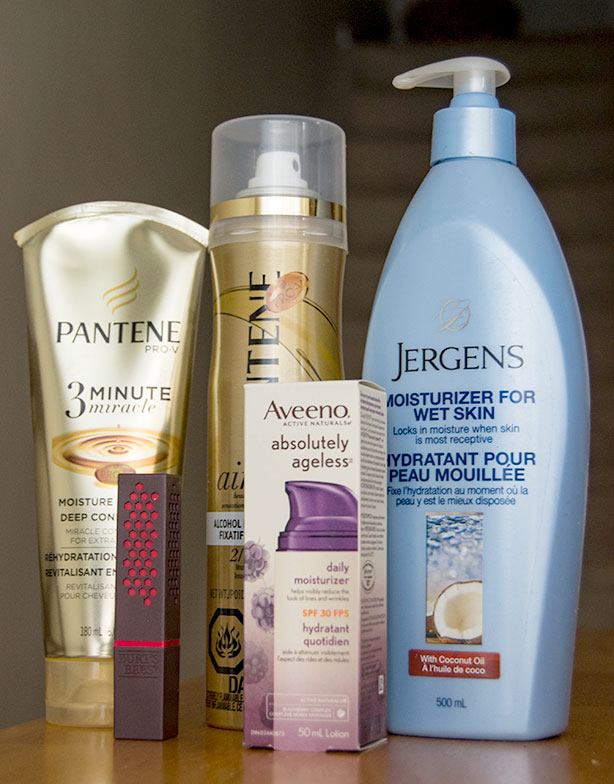 To help you indulge your own fall beauty style, one lucky Mommy Kat and Kids winner will receive all five of these products, a $60 value! To enter to win, just leave a blog comment about which of the five items you'd most like to try.
These top picks of mine are only a handful of the award-winning food, beauty and personal care products chosen by Canadians in the 2017 Best New Product Awards, so make sure to check out the full list and see which other ones you might want to try. And to receive special offers on new products like these ones, sign up for Shopper Army and earn fun rewards for sharing your opinion!
These five 2017 Best New Product Award winners are a great way to test out some new looks and some of them are ones that I know I'll use all year long. While I usually save deep conditioning products like Pantene Pro-V 3 Minute Miracle for colder months, the Jergens Moisturizer for Wet Skin is something that I'll be making sure is always waiting in the shower! Give one or two of these a try and see what you think. You may find a new favourite must-have for your beauty routine.