Being a first time mom can be overwhelming, especially in the first year! From post-partum recovery, to adjusting to a new sleep schedule (or lack thereof!), to learning to recognize your baby's cries and wants, the first year is a struggle for even the strongest of women. To help make baby's first year a memorable one for you and baby, these three tips may get you through the first milestones with ease: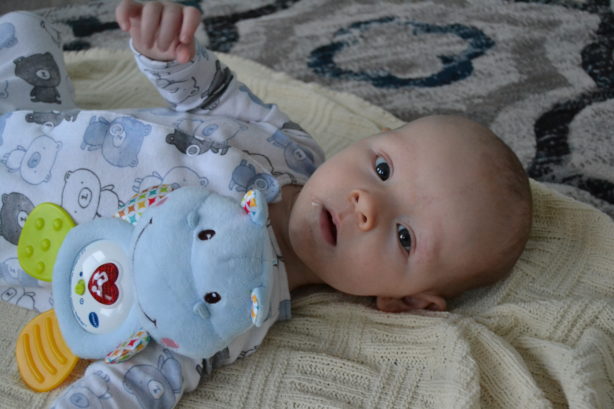 Take a Postnatal Vitamin
Most new moms walk around in a state of exhaustion. Eating well can be tough when caring for a newborn, so taking a postnatal vitamin can fill in any nutritional gaps and help give you and baby what you need when nursing. First Response Prenatal & Postnatal Gummy Multivitamins are a go-to. They come in an easy to take gummy format – perfect for pregnancy and beyond to provide calcium and other essential nutrients, like B vitamins and folate.
And don't forget to get enough fibre and water! I find the my daily vitamin tends to slow down my digestion, so I take a daily spoonful of a fibre supplement along with a big glass of water to help keep my digestion on track. Breastfeeding moms especially need to make sure they're drinking plenty of water, so consider drinking a glass before every meal.
 
Recognize and Treat a Gassy Tummy
Babies can be quite gassy, passing gas more than 20 times a day! With plenty of opportunity to swallow air whenever they feed, or suck on a pacifier and cry, it can be challenging to prevent gas buildup. But keeping the baby's head higher than its stomach when feeding, and burping them often can help minimize it.
Using a slow flow nipple if bottle feeding or working it out through a gentle massage also works, but in a pinch, try Ovol Drops. They provide gentle and fast relief of colic, bloating or gas by helping to break up gas bubbles that causes the discomfort. You should only use Ovol Drops on the advice of a doctor.
 
Baby's First Tooth? Ensure a Good Sleep for You and Baby
As early as 3-months, babies can begin teething, causing discomfort and disrupted sleep for both mom and baby. A trick I swear by is Baby Orajel Homeopathic Teething Gel. With the soothing power of Chamomile, this teething gel offers safe, effective and naturally-derived medicinal ingredients for your baby to treat you both to a full night's rest.
And a good teether can go a long way to making baby more comfortable through the teething process. For a natural choice, consider a hardwood or cotton terrycloth teether. A teether that can be frozen to help soothe sore gums can work wonders as well!
No matter what challenges a first time mom faces, I think the biggest help can often just be having somebody to talk to. So if you know a new mom that might be struggling, consider taking her out for coffee and some conversation. When it comes to dealing with the wild, wacky and wonderful world of parenting, a little support can make a world of difference!