When it comes to television and movies, my boys are constantly finding new favourites to enjoy. But some shows have stood the test of time to keep them entertained even after years of watching, and one of their favourite tried and true television series is SpongeBob SquarePants.
The absurd story of a cheery sponge living in a pineapple and working as a fry cook is one that still makes my boys giggle, and that's why they were thrilled to receive SpongeBob SquarePants: The Complete Ninth Season! Here's a brief synopsis: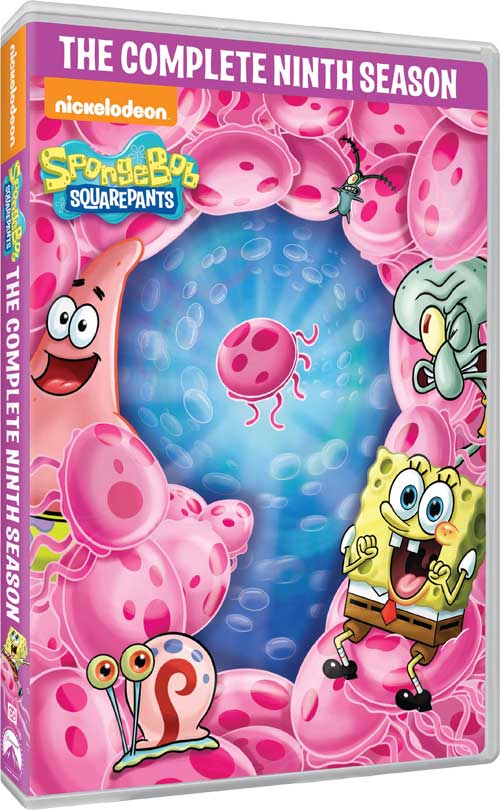 Get ready for endless hours of nautical nonsense with the complete 9th season of SpongeBob SquarePants! Soak up over 20 tales and three double-length episodes, including the latest food craze to sweep Bikini Bottom, SpongeBob's search for a new job, and a mysterious goo bubble battle! Plus, teach Squidward the art of kah-rah-tay and shake things up with SpongeBob at Bikini Bottom's milkshake academy! Then, witness the wedding of the century as Mr. Krabs joins in krabby matri-money with the one thing he loves most – cold hard cash! Dive in for more under-the-sea shenanigans in 5 bonus Krabby Patty Shorts. This 4-disc set is packed to the gills with F.U.N. and is guaranteed to bring you a tidal wave of laughs!
Since we do quite a bit of travelling, I love having a series like this on DVD for family road trips or other excursions, and that's exactly when I first put it on for the boys. I love that with a DVD collection like this, I can let the kids watch one or two episodes on short excursions, or binge-watch the entire season on longer trips.
And from the laughter coming from the back seat, my boys enjoyed having the series in the car just as much as I did! Watching the antics of SpongeBob, his best friend Patrick, his penny-pinching boss Mr. Krabs and the rest of the Bikini Bottom gang meant my boys were entertained the entire two-hour drive from Saskatoon to Regina when we needed to make the trip for an appointment.
Whether your kids are long-time SpongeBob fans like mine or just love occasionally watching an episode or two, having this four-disc DVD set in the house or car is a great way to ensure that they have entertainment when they want it. Find it in stores now and get ready for underwater fun with everyone's favourite sponge!