Disclosure: I am participating in the FujiFilm Canada campaign managed by SJ Consulting. I received compensation in exchange for my participation in this campaign. The opinions on this blog are my own.
When it comes to capturing holiday memories, I'm guilty of the same thing that so many of us are. I tend to take hundreds of photos, load them onto my computer and then leave them there. It's rare I ever think to print a few of them to frame or decorate my house. But when I do, I always enjoy having those personal photos on display.
That's why I was so excited to review the new Fujifilm Instax SQUARE SQ10 Hybrid Instant Camera and the Instax Share SP-3 SQ Smart Phone Printer. These two devices give me a fun and easy way to print photos in a flash and share them with friends and family…while also still being able to store them on my computer for future enjoyment.
I must admit, I was especially looking forward to trying the Instax SQUARE SQ10 camera. I already own a Fujifilm Instax Mini, and I always have a lot of fun watching my little instant photos develop. But with that camera, I have no way of saving the photo I've taken. The new SQUARE SQ10 prints instant photos, of course, but it also saves the digital file so that I get the best of both the instant and digital worlds!
Using the camera couldn't be easier. I simply choose my photo mode and hit the shutter button. I have the option of either printing the photo immediately in the Auto Print mode or choosing to print it later in the Manual Print mode. Either way, the photo is saved to my gallery so that I can browse photos and upload them to my computer later.
The camera also features a variety of filters to add special effects to my photos as I'm shooting. From sepia filters with an old-school colour scheme to filters that brighten and intensify colours, getting the perfect look for my photo has never been easier! I can also adjust brightness and vignette when shooting to personalize my photos even more.
To add an extra special touch to presents this year, I've used the Instax SQUARE SQ10 as a way to replace our standard gift tags with fun photo tags instead. Taking pictures of our sweet Baby Cormac is something I spend a lot of time doing, so it just made sense to add some of his photos to our holiday presents for grandparents and other family members!
And when I want to share that perfect photo that I snapped with my phone, I have the Instax SHARE SP-3 to help me out! The printer uses the same square film as the camera, and includes ten different filters so that I can edit my smartphone photo in a fun and unique way before printing. I love how easy it is to print off photos with the push of a button on my phone!
To help you capture and share your holiday memories easily, Fujifilm is offering an amazing giveaway you won't want to miss! One lucky reader is going to win a Fujifilm Instax SQUARE prize pack worth $620! To enter to win, just use the form below. Please note that this giveaway may appear on other blogs, and that your information is being provided to Fujifilm and not to Mommy Kat and Kids.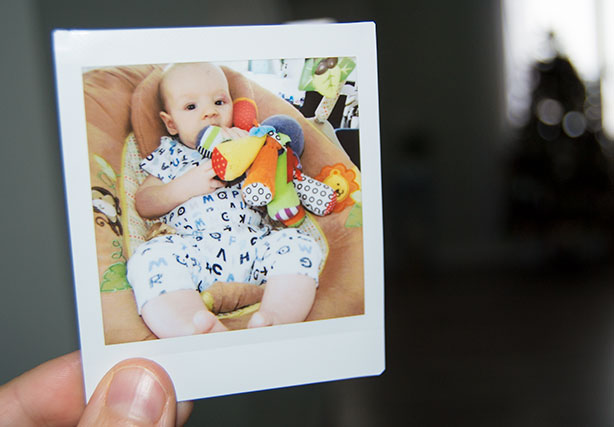 I can't wait to print all kinds of fun holiday memories with help from the Instax camera and printer this year, and I'm sure Cormac will love seeing all the fun photos from his first Christmas when he's a little older! The Instax SQUARE SQ10 and SHARE SP-3 are both so easy to use, and I love having actual prints of my favourite photos to show off. Find the products at stores across Canada and have fun printing and sharing your photos instantly this holiday season!