Keeping kids entertained at the best of times can be a struggle. With their interests changing and their concentration moving from one activity to another, ensuring that you have plenty on hand ready to keep them focused when it's needed is a must – but what do you do when things are getting tough financially? While there may be a short term loan available if you find yourself in a financial emergency, keeping children entertained doesn't have to be a costly affair. Here are a few top tips for keeping the kids entertained on a shoestring budget.
Make-Believe Games
A child's imagination is their greatest tool and when things get boring, it can definitely make for some incredible entertainment. Of course, they tend to lose themselves in their own imaginations a lot of the time, no adult help needed. But when they want to spend time with you, the imaginative play doesn't have to stop. Conquer kingdoms, fight dragons, play doctor or frankly anything that you or they can come up with. I promise you that they'll love spending a bit of playtime with you no matter what adventure you're embarking on.
Go To The Library
For some kids, the library could be the most boring thing they've ever done, but getting children to read is a valuable thing to do. If you know that your child isn't going to be a fan of staying in the quiet space, pop over there with them, pick up a few books or maybe even a movie, and head back home for some reading or movie time! Better yet, stop by the library on the way to a park or beach and encourage reading outdoors so kids get a bit of fresh air all at the same time. If you want to make the day extra special, you could even pack a small picnic.
Pick Up Some Street Chalk
Street-friendly chalk is inexpensive to buy, and can mean hours of fun with your children. Discount stores tend to sell these chalks in tubs, and the large sticks mean even tiny tots can get involved with ease. Draw pictures, make a hopscotch field, or even mark out goals for a quick football game. If you have concrete or paving in your garden, kids can even be left to their own devices. The best part about this chalk, however, is that you can draw on the street outside and with the next rainfall or a simple bucket of water, it'll all be washed away.
Get Creative
Break out the pens, pencils, paper, paints, and anything else you can find for an arts and crafts afternoon. Get creative with spare vegetables or sponges to make stamps, or break out the pasta for some 'pasta art'. Let your and your children's imaginations run wild for an entire afternoon. Whether you opt to keep the artwork or not, the fun you and the kids will have while making it will be worth the clean-up afterwards.
Make The Most Of The Back Yard
With summer on its way, making the most of your yard if you have one is a must. There's no need to spend money on pricey play equipment; if you have any open space, a simple hose or some cheap water pistols can make for hours of summer fun. Similarly, a cheap ball can make for plenty of kick-around time, if you don't own one already! Playing in the yard provides hours of free fun, and will encourage little ones to be active and get fresh air all at the same time. If you don't have a yard, a nearby park or open space will certainly suffice.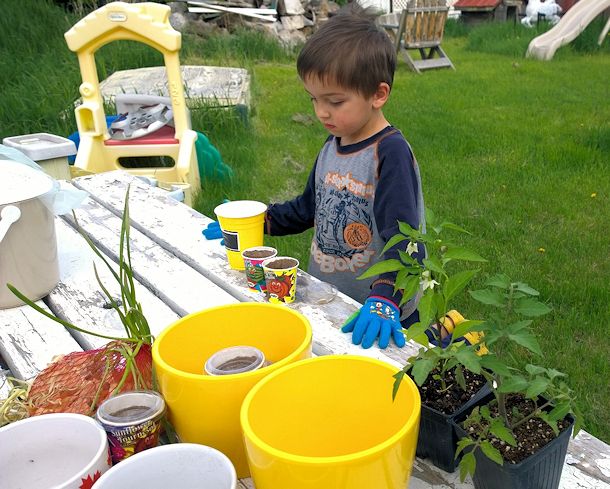 These tips are a great starting point when you're looking for ways to keep your kids entertained without needing to spend much, or anything at all. Whether it's breaking out the garden hose, or chalking up the garden paving, a little bit of imagination and some encouragement from you can keep kids happy for hours on end, no screens required!